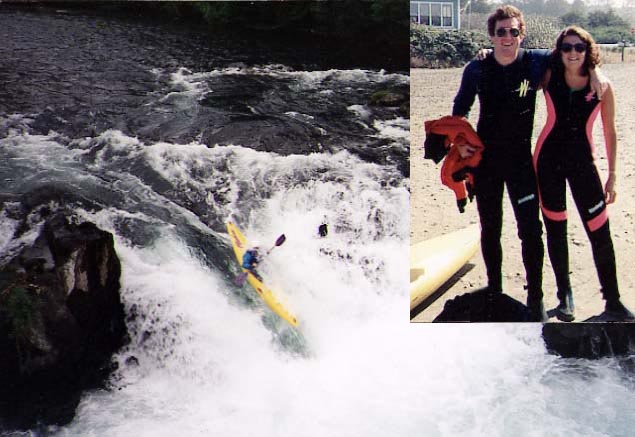 Pacific Beach with Sean Sheehan.
I'd tell you my age, but then I'd have to kill you.
I'm a former climber, avid skiier,bike rider, hiker, and paddler.
My husband got into paddling in a serious way in 1983, and was boating 150 days a year (not bad for a person with a real job) so I decided to join him. I actually took a class on a bet...
So, I started in 1984, in a truly hideous fiberglass boat, then a borrowed Mirage. a Dancer, a Freefall, a couple of Crossfires, now I have a composite Photon and am looking at a Kix. For 8 years I was the editor of the local kayak club (one of the oldest in the country, see www.wakayakclub.com
Last year I was the President of the club, and helped put on the first Rodeo we've had here in Washington since the late lamented Wenatchee Rodeo in 1989.
Most years I've paddled between 75-100 days a year, but this year we've had such a fantastic ski year, and the snowpack still hasn't melted...we're looking towards a real bigwater spring.
I usually paddle class III, but have been known to do some class IV,usually in Idaho. Most years I can be found lurking around the Wenatchee most of the spring, the White Salmon later in the summer, and the Payette in September, or at the Powerhouse most any time.
Claim to Fame : Ran a Stolen Boat Page and got a notorious boat thief put in jail, 1996.

Julie ===============================================================================
"Le coeur a ses raisons que la raison ne connait point."
"The heart has its reasons which reason knows nothing of."- Pascal ===============================================================================