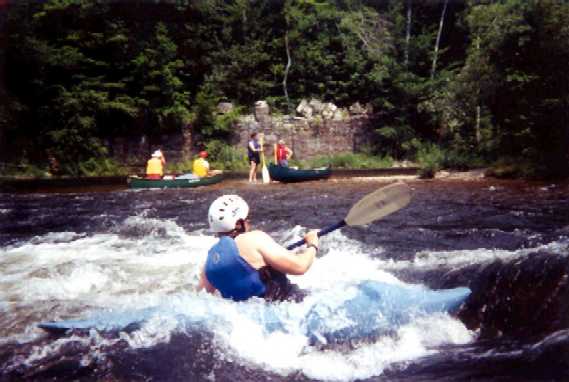 Surfing on Deerfield River
My name's Mary Malmros. I'm 36 years old. I live in Boston, about three blocks from Fenway Park. I've been paddling for not quite one year, since my last birthday: my introduction to paddling was a birthday present from two dear friends, and the rest is history. I had brief and off-putting experiences with canoeing (OC2), the usual stuff, summer camp or your big brother bossing you around from the stern, etc. I come from a sailing background, so almost everything about paddling has been new for me. My first experience was duckying, and I knew I wanted to do more, but illness and injury kept me out of it for nearly all of last summer. In the fall I took up sea kayaking, which I love but don't get to do as much as I would like -- mostly because I live in an apartment and don't have anywhere to keep a nice fast long kayak. I get enough strange looks as it is, walking around my neighborhood with a whitewater kayak on my shoulder or carrying it up the stairs to the top floor of my building. I paddle class II and am about ready to start trying class III. My boat's a Rip, and unlike most paddlers, I gave her a name: the Mermaid Queen, or simply the Queen for short. It's a sailing thing, I guess. I also raft whenever and wherever I get the chance -- I just blew an opportunity to run some whitewater in Malaysia, and I am still kicking myself. My biggest problem with paddling is that there are so many things I want to do, and not enough time to do them all. I want to do big long wilderness trips in a kayak, and ocean trips, and I want to learn how to paddle my boat in ocean surf, and I want to learn more about playing in whitewater, and I want to try slalom, and I want to try expedition kayaking and big ol' long multi-week raft trips to who knows where...As for right now, I'm mostly paddling rivers of New England with hopefully some coastal stuff this summer, and hoping for opportunities to travel to other places as well. Look for me on the Deerfield!

-- ::::::::::::::::::::::::::::::::::::::::::::::::::::::::::::::::::::::::::
Mary Malmros
Very Small Being
malmros@shore.net
"I would not exchange the sorrows of my heart
for the joys of the multitude"