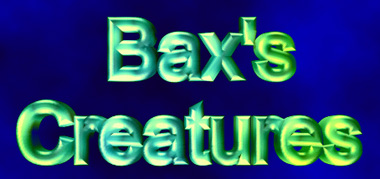 Welcome to Baxton's Creatures.
Well, the kryogenic freezer didn't come out the way we had hoped but it works. They don't freeze in space but they can't get out unless it is activated a second time. Come back in a day or two to download it. Also go to out corresponding site. www.angelfire.com/bc/WcW/norns.html, it's got all of our downloads.
This site was created by Justin and Baxton and will be updated by them every once in a while. Come back soon when we have norns and cobs for you to download.
Pages on our site
Palace OF the Evil Shee