TALES FROM THE HIP
In Ontario today it is: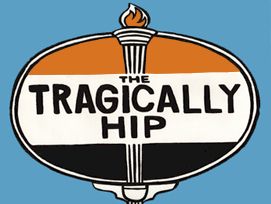 Click on thumbnail to enlarge pic of me the creator!
Sign My Guestbook
View My Guestbook
Want to find out when Hip concerts are and order tickets over the internet? Then Clich HERE!!!!!!
Tales from the Hip
Hey everyone welcome to my Tragically Hip page. Enjoy
>A quick Bio of the band! Tragically Hip are a politically correct Canadian guitar rock band who have proved massively popular in their native country, and have earned comparisons to Green On Red and early R.E.M. further abroad. The line-up comprises Bobby Baker (guitar), Gordon Downie (vocals), Johnny Fay (drums), Paul Langlois (guitar, vocals) and Gordon Sinclair (bass, vocals). Downie is an accomplished songwriter, his keen eye evident on early songs such as 'Small Town Bringdown' in 1987. The band originally formed in 1983 when Downie, Baker and Sinclair were all studying at Queen's University. Quickly signed to MCA Records after a series of explosive live appearances, the Kingston, Ontario-based band achieved triple platinum status with their 1990 debut album Up To Here. It also brought them their first Juno Award as 'Most Promising Group'. Road Apples was promoted with tours of Europe and Australia. Another Juno Award followed the release of Fully Completely, which also achieved multi-platinum sales. The attendant single, 'Locked In The Trunk Of A Car', produced by Chris Tsangarides ( Lords Of The New Church, Concrete Blonde ), gave them their first Canadian number 1. Day For Night, while not offering any significant advance in the band's formula, consolidated their status as Canada's pre-eminent college rock group. They toured with Neil Young and the Rolling Stones, before releasing the reliably melodic Trouble At The Henhouse.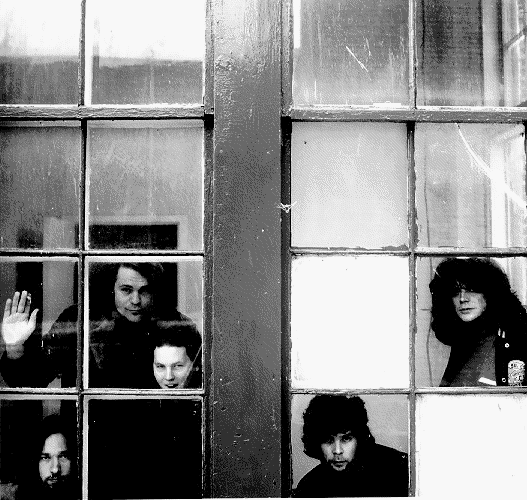 Gord and the boys

Just another creative promo pic from the Tragically Hip.
New Years Day at the ACC

For those of use who were lucky to see the show it was a great one as usual. The Hip always put on an energetic and entertaining show.
>Here is the play list from New Years!
>Click HERE if you would like to purchase Tragically Hip merchandise!
>THIS YEARS BIGGEST QUESTION!
Q: Is there ANOTHER ROADSIDE ATTRACTION in store for the summer of 2000?
A: The second that the touring info is released it will be posted on this website!
IVC Free Poll
Who is your favorite Hip member?
Promo Pic

Now here is a good looking bunch of boys.

"A mega five piece from the King's town area"

(Johnny Fay)
>A classic concert shot!
>Here are the Hip in Philly with some of the Flyers!! >A little role reversal!
>Once again in Philly The Hip run into Jimmy Page and Robert Plant behind the scenes!
>Hip Guitar Tabs and Chords for the hardcore fan!!!

>Download The "trouble at the henhouse" screensaver by clicking here!
Here are some Hip links for other sites
>www.thehip.com>The Hip's OFFICIAL web site!

>www.thetragicallyhip.com>This is not an official site but has tons of great stuff