This is a kick ass metal band from my town, here is Crop...
Crop was formed in 1995 from a couple of local dodge city bands. released a tape in 1998. lost drummer and bassist when cd was recorded in 1999 (cd was released in july '99'). Jim Killian (drums) and Dave Bush (bass) joined right after bringing crop to another level. Crop has played with Static-x and Full Devil Jacket. And to all of you who are checking this out please click on the comments page and let us know what you think and what you want to see from Crop, also leave your E-Mail address so we can add you to Crop's E-Mailing list to keep you up to date on the bands progress and up comming shows. NOTE: Dave was recently replaced by bassist Ianyamof Gibbons.

"We just got back from The Milwaukee Metal Fest. It was definatly worth the trip. We seen some good bands and some not-so-good bands, meet alot of new people and seen some old friends. All in all it was the shit. Thanks to everyone that was at the necropolis stage when we played. We would also like to thank Philip McKnight fordriving our lazy asses all the way there and back."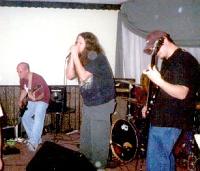 Go here for Crops home page
Go here for audio