~Gumbalinas' Home~
Welcome to my first Home Page!
So nice of you all to drop in... Since I am not very lucky at sending pictures of my family through email, I thought I had better at least try to live up to my reputaion as an Artist & Musician, somehow! LOL Hope you enjoy!
Yes, this is me... originally known in the Fibromyalgia room as "Gumby", I have now had to take on the name of "Gumbalina" since I was constantly being mistaken for a male! My hubby's name is Pokey, because he is my best friend... I was truly blessed... we are as one!
It all started out many years ago, when a little girl started to pray for her perfect, intended mate, like her Mommy & Daddy had done!
ROFL ~ Get a load of those freckles!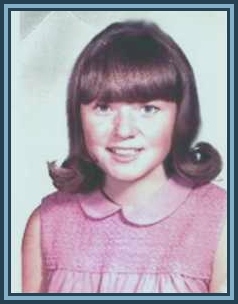 Well... it definately worked! Wow was I ever this young? LOL
I guess since I seem to be turning back the pages of time...
This is my Grandma & Grandpa Hatfield in front of thier log cabin home, where my Grandpa worked in the coals mine's of Kentucky, when he wasn't a preachin'! LOL My mother, center, was the oldest of seven children and cried, almost all the way through the
movie, "The Coal Miners Daughter"! hmmmm...
And here are the Love Birds, wow! LOL This was taken at the fair, just before they were married 50 years ago!
They celebrated thier 50th anniversary in August and are happier than ever! I was very blessed growing up... I never knew a couple, grandparents, aunts & uncles who ever fought. I think that is why I started praying for my soul mate at such an early age and married so young.
My mom got her Coy! LOL Coy Kibbey that is!
And here are the results of that! This was taken in 85,
in honor of my Dad's retirement. My oldest brother Sam, was fatally injured in an auto accident 4 days later.
His hand rests on my shoulder and it has been there since his death. He left behind Rachel Lynn, 3 years old and Steven Coy was one. Sam always took care of me...
He gave me so much in life and gave me even more in death.
Steven and Rachel became as our own children and they have kept his memory, forever alive and fresh.
An average evening with Dad, watching TV. We could never seem to get all the kids together at the same time for pictures, but we kept trying! Eric here, is one of the boys I am so worried about. He is an MP in Germany right now.
We were very blessed through the years, as we had a part in the raising of 73 children, give or take a head or two! LOL Never a dull moment in this house! Can you see why I used to hide in the closet at times? Couldn't hide in the bathrooms...
just are always too in "demand" in a household this full!
Now, don't they all look so innocent? Precious Memories!
So many get-togethers, so many birthday parties, so many church pew's, so much laundry, so very much food...
And then came the weddings!
Aren't they just beautiful? Jim & Nikki were engaged for almost 4 yrs and only gave me four days to plan a wedding!
Angela LaJoy wasn't about to do that to me!
She didn't... they gave me a month! LOL Without the aid of my best friend, Cheryl... I never could have made it! LOL
Awwwww.... Anthony Coy and Autumn! I had her picked out for him when she was 12! LOL Somehow a mother just knows. Poor little pittiful thing, this boy... gives me a crick in the neck just looking at his picture! Isn't she sweet?
~ E-mail Me ~
~ charlene kibbey maynard ~ ©
This page was up-dated last on:
September 15, 2002