COLD TRUTH 'COLD TRUTH (INDEPENDENT)

COLD TRUTH hail from Nashville, and unlike any other band in that region (or in fact the whole of the USA), they play Bluesy (Hard) Rock in the style of FREE, BAD COMPANY... The band has a very good soulful lead singer (guitarist Thane Shearon), who sounds like Paul Rodgers, Glenn Hughes and Steve Overland. There are 10 tracks on their independent CD, which has a rather good production. This is definitely quality music, and especially the beginning reveals some good Bluesy Melodic Rock material in the shape of "Break of a new day", "In her groove" and "Pocket full of pearls". On the other hand, at one point the CD gets a bit too bluesy and therefore I hope next time the band throws in some more variation and rocks a little more as well, because they surely prove with this album they are a quality band that is capable bringing some really good music. Fans of BAD COMPANY and FREE should check out this band a.s.a.p. at: http://www.coldtruth.net and e-mail them at: ColdTruth@comcast.net

(Points: 7.5 out of 10)

AHRCANA 'INTO THE PROPHECY'
(STEELBORN RECORDS/ROCK INC./BERTUS)

Out of Italy comes AHRCANA and they play typical fast Italo Power Metal in the style of LABYRINTH, RHAPSODY, VISION DIVINE... There are 8 songs on their debut CD (not counting the short intro) and it all sounds very well, although nothing new is presented here. Songs like "The travel", "Gates to realm" and "In the village" are typical Italian Power Metal tracks, which means fast and melodic. Also quite nice is the ballad "We'll reborn" which shows a very melodic (almost AOR) side of the band. Although it's not as good as the other well-known bands in this genre, still this AHRCANA is recommended to fans of LABYRINTH and RHAPSODY.

(Points: 8.0 out of 10)


DUKE JUPITER
'I/WHITE KNUCKLE RIDE/THE BAND PLAYED ON' (INDEPENDENT)

The legendary band DUKE JUPITER, on whom we did a big story in one of our Strutter'zine-the past' issues, recently re-issued 2 of their albums onto CD, as well as releasing a best of CD. In total we have now 3 DUKE JUPITER CDs. The first one is a re-issue of their '1' album, which was originally released in the very early 80s. The album wasn't as good as the following records, but still had some highlights in the shape of "Don't you look at me like that" (beautiful AOR ballad) and the 70s Rocker "Sugar blues", but most of this album sounded like a mix between Rock&Roll and Southern Rock, not unlike THE OUTLAWS, MOLLY HATCHET, LYNYRD SKYNYRD... This re-issue comes with a few bonustracks, so interesting for the DUKE JUPITER fans to check out.
I would rather recommend the band's strongest album 'White knuckle ride', which saw them moving into a Classic AOR format a la VAN ZANT, SURVIVOR, 38 SPECIAL... yet with raw lead vocals a la HUEY LEWIS. This combination set them apart from other bands in this genre, and gained them an own sound, which nevertheless attracted the AOR fans. Songs like "She's so hot", "Rescue me", "Don't turn your back", "A woman like you" and "Me and Michelle" (the best DUKE JUPITER song ever written, HIGH CLASS AOR!) are unforgettable and make this album a definite AOR Classic!
The third CD DUKE JUPITER released is the best of 'The band played on...twenty years of Duke Jupiterwas released 10 years ago, so the band is now 30 years playing as DUKE JUPITER! ', which The best of CD contains a bit of everything, so you get to hear a variety of styles, from 70s Pop/Rock, Westcoast, Southern Rock to classy 80s AOR/Melodic Rock. That last style is also DUKE JUPITER at their very best, so the best songs are "The band played on", "I'm available", "Don't you look at me like that" and "I want to love you". So we have 3 good CDs, of which 'White knuckle ride' is DUKE JUPITER's strongest record! Let's hope also their other albums will be re-issued, because they have released a few more great AOR albums in the 80s, and who knows we'll even see some new material of the band! More info at: http://www.dukejupiter.com

(Points: '1' – 7, 'White knuckle ride' – 8,5 and 'The band played on...' – 7,5)

KILLER 'BROKEN SILENCE' (MAUSOLEUM RECORDS)

A few years ago the albums the Belgian band KILLER released in the 80s were re-issued onto CD, and now in the year 2003 the band has released a complete new CD. The music has changed, because the MOTORHEADish Metal of the 80s has been replaced by typical Euro Metal of today's format. It's a pity the lead vocals of guitarist Shorty are still present, because I always found him the weakest link in KILLER. However, the music has improved a lot, because with the addition of a keyboardplayer, the band is now playing fast uptempo Melodic Power Metal with a strong PRETTY MAIDS orientated sound. This can clearly be heard on great songs like "Broken silence", "Time machine", "Only the strong survive", "A matter of time" and "Lethal virus". The album takes up to 71 minutes and really surprised me, because it is a strong Euro Melodic Metal release, but the only negative point with KILLER remains, which is the lead vocal part which still is quite average and reminding a lot of LEMMY from MOTORHEAD. Nevertheless, this CD is an improvement for one of Belgium's most well-known Metal acts ever!

(Points: 8.0 out of 10)


MERCURY RAIN 'DARK WATERS' (INDEPENDENT)

Out of England comes MERCURY RAIN, a very strong Gothic Power Metal act which plays in the style of HEADLINE, NIGHTWISH and LANA LANE. The band has a strong female singer (Sonia Porzier), and their debut CD 'Dark waters' has a strong big sound, while the artwork also indicates that we have to deal here with a professional quality band. The highlights on the disc are such great Melodic Gothic Prog/Power Metal pieces like "Broella", "The chosen one" and "The city of Ys". This is a great unsigned band from the UK, so if you like female fronted Prog/Power Metal, then please do check out MERCURY RAIN, as you will not be dissappointed! More info at: http://www.mercuryrain.com and e-mail them at: info@mercuryrain.com

(Points: 8.5 out of 10)

THEODORE ZIRAS 'VIRTUAL VIRTUOSITY' (SECRET PORT RECORDS)

The Greek guitarist Theodore Ziras released a CD some time ago, and now his 2nd CD has been released on SECRET PORT RECORDS. Musically it is a continuation of his first record, which means high class instrumental Neo-Classical Melodic Progressive Metal. The CD clocks 45 minutes, and from start to finish this is quality instrumental Neo-Classical Metal, and the most striking fact is that Theodore did everything on his own (guitars, bass, drums, keys, production etc.), so this is an one-man act and it's very impressive. All fans of Vai, Satriani, Malmsteen, Kuprij... must check out his CD a.s.a.p.! More info at: http://www.theodoreziras.com and e-mail him at: tziras@hotmail.com

(Points: 8.5 out of 10)

METAMORPHOSIS 'AFTER ALL THESE YEARS' (GALILEO RECORDS)

This project formed around vocalist/keyboardplayer/drummer Jean-Pierre Schenk took 20 months to complete, but the result is very impressive, as the album 'After all these years' is an excellent high quality (calmer) Neo-Prog album that fits somewhere between JADIS, FAF, PENDRAGON and early MARILLION. Songs like "After all these years", "New lords", "Eyes on the clock", "Another day" and "Not far from heaven" are very good Neo-Prog songs. With a playing time of 65 minutes, this CD is a pleasure to listen to for over an hour, and deserves attention from all the fans of Neo-Progressive Rock. METAMOPRHOSIS is already working on the follow-up to this album, so the future will bring us more of this interesting project.

(Points: 8.5 out of 10)

DEEP THOUGHT 'SOMEWHERE IN THE DARK' (GALILEO RECORDS)

Here's another interesting Swiss Neo-Progressive Rockalbum. The band is called DEEP THOUGHT, and after 10 years of existence they have managed to release a full-length CD. The 72 minutes of 'Somewhere in the dark' are filled with lovely high quality classy Neo-Prog a la IQ, JADIS, early MARILLION, ENCHANT... The included 9 songs are quite long in playing length (around 10 minutes), of which the highlights are "Clock" (many great keys, a la CLEPSYDRA), "Shadows of the past" (catchy, a la ASIA), "Driving" (very strong midtempo Prog Melodic Rock), "Morphios" (pure ENCHANT) and "Ice" (very good chorus, with keyboardsolo). Without a doubt, this CD is a must for Neo-Prog fans!

(Points: 8.5 out of 10)


STEELWIND 'JAWHOOK' (INDEPENDENT)

The Texas based band STEELWIND returns with a new CD, and also a slight change in style, and after listening a few times to the 2nd CD 'Jawhook' I can conclude the band has improved a lot. This new CD is clearly better than their debut, not only the general sound and production is better, but the included 10 songs are much stronger and also very diverse in style and tempo. This CD is quite an adventure which combines elements of AOR, Melodic Rock, Neo-Progressive Rock, Sympho and even Pomprock into an exciting catchy rockstyle. The CD starts with a ballad, which is quite a surprise, but the particular song "Still in love with you" is a great 80s Power AOR ballad in the best tradition of REO SPEEDWAGON, BOSTON, JOURNEY, STYX...
Up next is the titletrack "Jawhook", a good midtempo Neo-Progressive/Pomprocker with great keyboardwork, not unlike IQ. The following 4 songs are my favourites of the whole CD. First up is the catchy uptempo classy Christian AOR rocker "My flesh" (a la IDLE CURE, WHITE HEART) with it's very strong melodic chorus. Then comes the SUPERB pure early 80s AOR HEAVEN semi-ballad "When you were here", a song with beautiful harmonies and in general reminding me of FRANKE AND THE KNOCKOUTS, WRABIT, SUGARCREEK, SURVIVOR and late SWEET COMFORT BAND/early ALLIES. This is the way AOR sounded in the 80s and songs like "When you were here" are not made often anymore, so if you purchase this CD, which you must do, then first listen to this beautiful song!
Anyway, the band is quite diverse, as next track "The dream" is big Neo-Prog a la KAYAK and KANSAS. "I believe in miracles" follows, and is an awesome midtempo AOR tune with a big chorus, reminding me of classy REO SPEEDWAGON and BOSTON. "Running out of time" and "When the father tells the son" are the only songs that weren't that sensational, as these are just nice uptempo
AOR/Melodic Rocker in the style of the band's debut CD. The remaining songs are the calmer AOR ballad "Home at last" and the excellent relaxing semi AOR/Prog Ballad "For all days" (a la FOR ABSENT FRIENDS). So basically what we have here is a very interesting mixture of Neo-Prog, Pomp and 80s AOR, and all together it sounds very impressive and the 10 included songs are of a very high level, so all I can say to you is that you should purchase this CD a.s.a.p. When you buy this record, expect it to be played on your stereo a lot of times! More info at: http://www.steelwind.net and e-mail them at: STEELWIND7@sbcglobal.net

(Points: 8.5 out of 10)

HOLY MARTYR 'HATRED AND WARLUST' (INDEPENDENT)

Out of Italy comes HOLY MARTYR, and their 6-track CD 'Hatred and warlust' is a nice Power Thrash Metal album in the style of ICED EARTH. The production of the CD is not that good, and also it's pity the band moves sometimes a bit too much in the Thrash Metal style. However, instrumental it all sounds pretty good, with as highlights "Under siege", "Son of a king" and "Metallian". Fans of ICED EARTH and also Thrash Metal fans should check out this HOLY MARTYR, an Italian band that doesn't play the typical clean Power Metal we usually get to hear from Italian bands, because they are a Power Thrash Metal band with a raw edge. More info at: http://www.holy-martyr.com and e-mail them at: holymartyr@tiscali.it

(Points: 7.5 out of 10)


JACK STARR'S GUARDIANS OF THE FLAME 'UNDER A SAVAGE SKY'
(CULT METAL CLASSICS)

Guitarist JACK STARR released 4 solo-CDs in the 1980s, and also was an original member of VIRGIN STEELE, with whom he recorded their first 2 albums, which were recently re-issued onto CD. Jack also recorded an album as STRIDER and BURNING STARR, but those were Melodic Rockalbums in the BON JOVI/EUROPE style. His real roots are settled in typical 80s US Melodic Metal which can clearly be heard on the new CD of JACK STARR, yes, you read it well! 'Under a savage sky' is a complete new CD of JACK STARR, with Jack on guitar and on lead vocals the long-time-lost-but-now-found lead singer SHMOULIK AVIGAL (who sang on records by PICTURE, HAMMERHEAD, THE RODS, HORIZON).
This CD is from start to finish high class 80s US Melodic Metal and will attract fans of the early VIRGIN STEELE records and of course JACK STARR fans. Especially opener "The flame that never dies" recalls of fond memories of the 80s classic US Metal style. Other highlights on the new CD are "Cry for dawn", "I stand alone" and "Masters of fate". This is an album that will attract all 80s Metal freaks! Also very impressive is the booklet, which comes with beautiful artwork and extensive liner notes, written bu Jack himself. The CD has been released on the Greek label CULT METAL CLASSICS, whom already released 11 CDs so far, which I hope to do a label special on soon. In the meantime, more info at: http://www.cultmetalclassics.com

(Points: 8.5 out of 10)

BATTLELORE 'SWORD'S SONG' (NAPALM RECORDS)

BATTLELORE comes out of Finland, and 'Sword's song' is their 2nd CD. The band is playing Melodic Power Metal, with excellent (clean) female lead vocals (by singer Kaisa Jouhki) and (unfortunate) aggressive (raging) male lead vocals (by singer Patrik Mennander). Instrumental it all sounds perfect and some of the songs are also quite impressive, but almost every song is disturbed by the growls of the male singer, and so I can only recommend this band to people who like the mixture of clean female and aggressive male vocals. I hope in the future the band will focus on the female vocals, because she (Kaisa) has a very good strong voice, and then we will have another high quality act in the NIGHTWISH, WITHIN TEMPTATION and AFTER FOREVER style. Nevertheless, the CD still gets a good rating, because instrumental it is of a very high level, and should not be left unheard by Metalfans.

(Points: 8.0 out of 10)

HOWARD BAILEY 'CONTOURS' (QUADRASONIC RECORDINGS)

5 years ago I reviewed the CD 'Speechless', although I can't remember it that well, but anyway, HOWARD BAILEY from Canada has a new CD out called 'Contours'. The CD is filled with nice instrumental music, which is nice poprock, although later on the CD I heard some very strange sounds (House???)! Anyway, this CD is not really heavy or rocking, but more a laid-back instrumental poprock record, and I therefore ask you to check it out for yourself at: http://mindlink.net/BuriedBone and e-mail at: sonic@oberon.ark.com

(Points: 6.5 out of 10)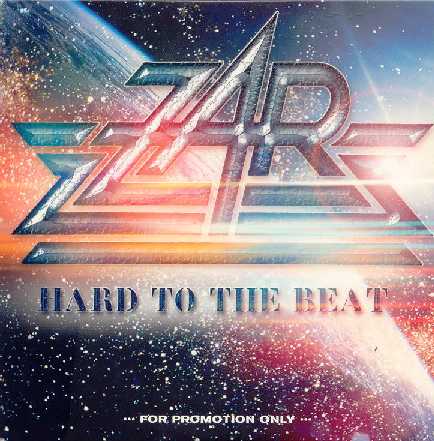 ZAR 'HARD TO THE BEAT'
(MTM MUSIC/SURBURBAN)

7 years ago the German band released it's latest CD titled 'Holy rhythm of nature', not their strongest album, as it was a slight departure from their melodic rocksound. However, it's 2003 and ZAR has finally released their 5th CD 'Hard to the beat', which is a return to their melodic rocksound. Leader Tommy Clauss (guitars) is surrounded by the very good lead singer Andre Sauber and drummer Lars Nippa. The album starts very promising, with a great big midtempo melodic rocker called "Cryin' for love" (a la JADED HEART) and especially the 2nd track is high class stuff. "Never so alone" is a superb classy 80s midtempo AOR tune in the best American tradition. Sadly, these are the 2 strongest songs on the album, because what follows are a bunch of nice melodic rockers ("Hundred rivers", "Perfect day" and "Visions of you"), good bluesy melodic rockballads a la WHITESNAKE, HUGHES/TURNER ("Waiting for the storm" and "Why don't you talk to me") and a few average songs ("Hard to the beat", "Evolution", "Living for the city" and "Schizophrenia"), so nowhere as sensational as the impressive first 2 tracks. However, it's still a nice solid melodic hardrockalbum that is well played and has some highlights here and there, though it could have been much better.

(Points: 8.0 out of 10)


BOB CATLEY 'WHEN EMPIRES BURN'
(FRONTIERS RECORDS/BERTUS)

BOB CATLEY returns with probably his strongest effort so far, his 4th CD 'When empires burn', which musically grabs back to the classy Symphonic Melodic (Hard) Rocksound of the 80s MAGNUM album 'On a storyteller's night' with a hint of TEN here and there to give it an updated approach. The material is on and off uptempo and midtempo, with as highlights "Gonna live forever" (strong chorus), "I'll be your fool" (pure 80s sound, big keys and catchy chorus), "Every beat of my heart" (AOR!), "This is the day" (huge midtempo rocker) and "When empires burn" (classy MAGNUM stuff). From start to finish, this is high class (Symphonic) Melodic (Hard) Rock at it's very best, with catchy songs and impressive vocal arrangements, all packed in a big sound which will keep you busy for almost an hour!

(Points: 9.0 out of 10)


BRIAN MCDONALD PROJECT 'VOYAGE'
(ATENZIA RECORDS/BERTUS)

Multi-instrumentalist BRIAN MCDONALD has released only 2 albums in his musical career, 'Desperate business' in the 1980s and 'Wind it up' in the 1990s, so 'Voyage' is his third album and I can easily say that this new record is his strongest release so far. 'Voyage' is totally different than anything the man has done in the past, because it introduces an updated approach of late 70s/early 80s classic AOR/Pomprock, not unlike STYX, KANSAS, LE ROUX, ARC ANGEL, AVIARY and also ROBBY VALENTINE. There are also hints of classic BOSTON, NIGHT RANGER and DEF LEPPARD, all mixed up in a HUGE AOR/Melodic Pomprocksound! The album counts 13 tracks and has a playing length of 66 minutes, so enough to keep you busy for a while. The album starts with the fantastic big uptempo 80s AOR rocker "Intimate", which sounds like classic 80s NIGHT RANGER, with great keys, hooks and vocals. Up next is the late 70s type of midtempo Pomprocker "Where you are, where I am", a song reminding of STYX, ZON, ROADMASTER, AVIARY, KANSAS, TOUCH...
Then comes one of my favourite tracks, the wonderful "In the shadows of angels", which is pure 80s AOR/Pomp with lovely keyboardwork (a la JOURNEY, SURVIVOR), and a chorus that sounds like pure LE ROUX ('So fired up'), an incredible tune that will be loved by fans of Classic 80s AOR/Pomp. "Phoenix rising" follows, and is a nice midtempo AOR/Melodic Rocker with many harmonyvocals. Back to a classy 80s sound with the great semi AOR ballad "The night you said goodbye", which sounds like NIGHT RANGER and DAMN YANKEES. The titletrack "Voyage" has again superb AOR keys and is basically a very strong midtempo AOR tune like SURVIVOR meets ARC ANGEL. "Patriot games" is a good uptempo AOR/Melodic Rocker with a message (read the lyrics!). More excellent keyboardwork can be heard on "Out of time", a Classic 80s AOR song. The calmer Radio AOR ballad "Between heaven and heart" is up next and could've been on an 80s CHICAGO or TOTO album. The DEF LEPPARDish harmonyvocals of Brian's earlier records aren't completely vanished on this new album, because the big midtempo AOR/Melodic Rocker "Normandy" has LEPPARD written all over!
"Legend" is a very impressive song, as it is a long epic tune that is almost pure Progressive Rock, yet with a melodic rock touch (a la KAYAK). "In a world made for you" picks up the melodic rockound again, and is very much like classic BOSTON. The album closes with the semi-acoustic "Unfinished bridges", which is the only weaker song. Concluded, this is another very strong release by ATENZIA RECORDS, the Swedish label that already brought us fantastic releases by ACT, JIM JIDHED, CANNATA/ARC ANGEL, HARLAN CAGE, 101 SOUTH and are expected to release many more great albums in the future. In the meantime, this album is a total must if you want to hear how high quality AOR/Pomprock sounds like in the year 2003!

(Points: 9.0 out of 10)


CRYSTAL BLUE 'DETOUR'
(MTM MUSIC/SURBURBAN)

About 10 years ago the Swedish Melodic Rock band CRYSTAL BLUE released 2 good records in the typical Scandi Melodic Rockstyle (TREAT, EUROPE, DAVINCI, DALTON), but after the release of 'Caught in the game', their 2nd CD in 1994, it became very quiet around the band, with only a THIN LIZZY TRIBUTE song recorded in 1995. Now, in the year 2003 CRYSTAL BLUE has risen from the ashes and they have released without a doubt their best record to date, namely the fantastic 'Detour' CD on MTM MUSIC. This album is clearly a very strong and impressive record that can be labelled as one of the best Swedish AOR/Melodic Rock releases this year. The album is filled with classy hooky typical 80s Scandi AOR/Melodic Rock a la ALIEN, DAVINCI, TREAT, STREET TALK...
The band has a new lead singer called Thomas Lasser, who also plays keys, and I must admit that this guy is giving CRYSTAL BLUE a positive touch, as his voice is really fantastic, sounding like a younger version of JOEY TEMPEST. The included 11 songs are all great and capture the classy AOR/Melodic Rocksound so many young new Swedish bands brought us back in the late 80s, after EUROPE and MALMSTEEN had opened the doors for them. This CD has many highlights, such as the classy uptempo AOR/Melodic Rockers (a la ALIEN) "Damage", "Back on track", "Believe me" (very catchy!) and "Never say surrender" (best song, pure classic 80s AOR a la AVIATOR), but also the midtempo AOR tunes "Someone" and "This is the time", as well as the beautiful (semi) AOR ballads "Move on" (very strong chorus, pure DAVINCI/TREAT), "You and I" and the JOURNEY inspired calmer closing track "Sylvia" (on this song you can hear how well Thomas can sing, what a voice!). The conclusion is simple here, if you like AOR/Melodic Rock, then get this record a.s.a.p.!

(Points: 9.0 out of 10)


HAREM SCAREM 'THE EARLY YEARS'
(FRONTIERS RECORDS/BERTUS)

In 1991 the Canadian band HAREM SCAREM released their AOR Classic debut, which is still seen as their best album, although their follow-up 'Mood swings' is also a near-classic, but that debut had such a beautiful pure AOR approach it will never be beat by any new record of the band. On the other hand, this 'new' HAREM SCAREM album comes dangerously close, as it contains 16 songs, including the band's original demo CD from 1989/1990 which led the band to sign a record deal with WARNER BROS back in the early 90s. CDRs have been circulating the world the past 10 years, but now there is an official CD release of this ultra-rare material, and so everyone can now hear many more Classic AOR songs by HAREM SCAREM in the style of their glorious debut. Just listen to wonderful uptempo AOR pieces like "Looking back", "One step at a time", "One of the wounded", "Last time", "You're the one", "Out of love", 'Staying away", "All over again" etc. etc. and you'll hear how good HAREM SCAREM once sounded. Even with this record, it still comes to mind that the band's classic debut 'Harem scarem' from 1991 remains their best release, but this 'new' CD captures a bit of the same Classic AOR spirit of that 1991 album, so AOR fans should purchase this album as soon as it is released on May the 26th!

(Points: 8.5 out of 10)


STORYTELLER 'ONLY THE STRONG SURVIVE' (ROADTOOTH RECORDS)
Back in the 1980s Los Angeles was the place to be, it was the mecca for Hardrockbands, basically every band emerged from there, resulting in a typical 'Hair-Metal' sound which so many bands played. Unfortunately the Grunge movement destroyed the whole scene, and only a few bands here and there hold on to their roots. The past few years it has been very quiet and I guess you can say the LA scene is completely dead, but there are always exceptions to the rule, and STORYTELLER is one of them. Do not confuse this band with the other American AOR band or the Finish Power Metal band with the same names. Anyway, this LA settled act is playing classy 80s LA Hardrock/Poser Metal with a strong Melodic Rock approach.
The first song "Save me" is a nice simple Hardrock tune that could've easily been on a RATT, LA GUNS or KEEL record from the 80s. Much better are the following 2 songs, the classy uptempo melodic rockers "Come on" and "Live my life" (catchy chorus!). Next track "Looser" and also "Young America" are just a nice midtempo groovy melodic rockers. "Question you" is a clear 80s AOR/Melodic Rock based tune, very classy sound with a strong 1987 BON JOVI approach, definitely one of the strongest songs here. In the same style as previous mentioned track is the uptempo melodic rocker "Naked", which also has a catchy singable chorus. The last 3 songs are "She's gone" (nice melodic rocker a la TRIXTER-), "Don't leave" (nice semi AOR ballad a la REO SPEEDWAGON) and "Can't stop rock'n'roll" (nice Hardrock a la LA GUNS). If KIVEL RECORDS hears this band, then there's a chance they get signed to that American retro Melodic Rocklabel, because they fit perfectly next to bands like ADRIAN GALE, TOUR DE FORCE, BARON... For now, more info on the Californian STORYTELLER, go to: http://www.storytelleronline.net and e-mail them at: musician411@yahoo.com

(Points: 8.0 out of 10)

GUTTER SIRENS 'MEMORY ANALYSIS' (SHARK RECORDS)

GUTTER SIRENS is a Polish band, signed to the German label SHARK RECORDS, whom recently released the band's album 'Memory analysis'. The CD contains 11 tracks, and is a fairly well-produced melodic Prog/Power Metal album with a strong European approach, very much like SONATA ARCTICA, STRATOVARIUS, LABYRINTH... Maybe it's not from such a high level as mentioned bands, still GUTTER SIRENS is a recommended band if you like this kind of Prog/Power Metal. The band has a very good lead singer called Doman, while there's a lot of interesting keyboardwork to be heard, played by Alex. The highlights on the CD are "Chameleon", "Appearances", "Diamond tear" and "Tears in dragon's eyes". Good record by this new Polish band, and recommended to fans of SONATA ARCTICA, THUNDERSTONE...

(Points: 8.0 out of 10)


ARMOR OF GOD '2 FACE REALITY' (INDEPENDENT)

This is quite a surprise from the USA, because ARMOR OF GOD is playing Classic 80s orientated Female Fronted AOR/Melodic Rock of a very high level, and they remind me of VXN and TANTRUM!!! Never thought I was gonna mention such legendary obscure bands from the early 80s in a review of a new CD, because '2 face reality' by the Alabama based band ARMOR OF GOD is ideed reminding of the classy early 80s AOR/Melodic Rocksound, complete with the melodic choruses and lead and harmonyvocals, and also the spacy keyboards here and there. The guitarsound is very 80s and most striking fact is the help the band got from David Huff, a legendary producer who is very well-known in the 80s Christian Rock/Metal scene, and he mastered the album '2 face reality'.
The music of ARMOR OF GOD is very sensational, and also has some resemblance to a rocking HEART, but if you know VXN and TANTRUM, then this CD is a total must for you! Most of the songs are catchy uptempo melodic rockers, with as highlights "Sacred invocation", "Innocence lost", "Heaven or hell", "Meaning of love" and "Shadow of the cross". I can't believe this CD is new, because the music is so 80s AOR/Melodic Rock! Anyway, this CD is filled with high quality stuff, so better check it out a.s.a.p.! The band also released an album before '2 face reality', back in 1998 called 'Out of Egypt', and although this is also a good melodic rock affair, it isn't as good as their latest record '2 face reality'. Check out ARMOR OF GOD at: http://www.armorofgod.com and the CD is available at www.cdbaby.com

(Points: 8.5 out of 10)

LUMINOS 'SEIZE THE DAY' (MARKET SQUARE RECORDS)

LUMINOS is playing high quality melodic Neo-Progressive Rock like only the British can produce it, with great male and excellent female lead vocals, a solid guitarsound and very strong melodies. There are 9 tracks on their debut, and especially the beginning of the album is quite enjoyable with such fine tracks like "Inner self", "A small boy, a bird in history" and "It's your turn to fly". The band also has some very calm tracks on offer here, but mainly we have a good melodic prog rockband on our hands here, highly recommended to fans of IQ, JADIS, KARNATAKA and MOSTLY AUTUMN. More info at: http://www.marketsquarerecords.com

(Points: 8.0 out of 10)
AUTOGRAPH 'BUZZ' (POINT MUSIC)

AUTOGRAPH returns with the release of a 'true' comeback album. In the mid 1990s we welcomed the return of the band, but back then it was more an unreleased album being re-issued onto CD. Now however, we have 'Buzz', which is a complete new album of Steve Plunkett and co. The band returns to the classy melodic rocksound of their debut 'Sign in please', although it's nowhere as sensational as that Classic album from 1984. Almost 20 years later, 'Sign in please' is still AUTOGRAPH's best and most successfull record, with instant classic tunes like "In the night", "Send her to me", "All I'm gonna take", "Friday", "Turn up the radio" etc. On the other hand, 'Buzz' is a real strong return. The first 2 songs ("Break a sweat" and "Shake the tree") are both good midtempo rockers a la "Turn up the radio", yet the chorus lacks a bit here. From "She's the reason" on, this album really gets interesting and stays until the end being a solid melodic rockalbum in the true AUTOGRAPH and 80s DEF LEPPARD tradition. Highlights are "Fed up with bein' down" (uptempo melodic rocker), "That" (great semi melodic rockballad), "Buzz" (catchy classy uptempo melodic rocker) and "Heart raper" (fantastic midtempo melodic rocker with a very impressive chorus, not too far away from the band's best songs "In the night" and "Everytime I dream". Concluded, this album is completely following the style of their fantastic debut 'Sign in please' from 1984, fans of that record will be pleased a lot with 'Buzz'.

(Points: 8.5 out of 10)


VARIOUS ARTISTS
'UNDRESSED/AN UNMASKED TRIBUTE TO KISS' (POINT MUSIC)

'Unmasked' is one of the least popular KISS albums everyone thought, until we received a tribute to that particular album. KISS released 'Unmasked' in 1980 and I still think it was an excellent album with many catchy melodic rocksongs, maybe even better than 'Dynasty' from 1979 which caused a stir worldwide. Anyway, 'Unmasked' contained classics like "Shandi", "What the makes the world go round", "Tomorrow" and "Easy as it seems" (pure AOR!). This tribute album contains 1 or 2 versions of the 11 tunes from 'Unmasked', performed by 14 different bands from all over the world. Let me just pick out the best ones here, which are DEMON DRIVE (the German band covers "What makes the world go round"), PRETTY SUICIDE (surprisingly excellent performance of "Tomorrow", this Female Fronted New York based band has a fantastic early 80s classy melodic poprocksound a la FIONA, LUBA, SHANDI, LISA PRICE...), DRESSED TO THRILL ("Easy as it seems" is being covered very well, good singer and nice keys here), OLIVER MONROE (German singer performs a ballad version of "Naked city"), Tommy Denander's new band TYKOON does an excellent version of "Easy as it seems" and 3 KISS tunes are covered by SHAMELESS, of which "Tomorrow" in an acoustic version. Concluded, this is a very impressive Tribute, not only the included cover versions (except the bands JENDZA and THE GEMINUS SECT), but also the extensive liner notes written in the booklet are very nice to read. This is a recommended KISS 'Unmasked' tribute album, probably the only KISS album of which the songs are never covered or played by KISS or any other band, so a good opportunity to check
it out!

(Points: 8.0 out of 10)

THE SHAMELESS 'SUPER HARDCORE SHOW' (POINT MUSIC)

The Glamrockband THE SHAMELESS returns with a new CD. The album contains Live material and a few Covers, so not really a new album, except for the song "She's not comin' home", an acoustic ballad. The included Videotrack is very nice to watch, although the soundquality is not really that good, but the audio CD sounds very good. The live recordings are a pleasure to listen to and for all fans of PRETTY BOY FLOYD, POISON and MOTLEY CRUE, this band is a dream come true. The 3 previous studio-albums showed that this band was capable of making quality Glamrock, and this Live-recording proves that they can also bring the show live on stage. Fans of classy 80s Party/Glamrock will dig songs like "Shock the world", "Steal the girlz", "Lonely nite in paradise" and "Queen 4 a day". Fans of this genre know what to do when they see this new CD of THE SHAMELESS in front of them!

(Points: 8.0 out of 10)

SABU 'RESURFACED' (POINT MUSIC)

I thought PAUL SABU was finally releasing a complete new album, but the new SABU CD 'Resurfaced' is nothing more than a 2-CD release containing 2 old records of SABU. I forgot which albums, but not the man's strongest efforts, which will always be the 1984 KIDD GLOVE record. Anyway, the included 2 CDs are filled with nice (but not sensational) groovy Melodic Hardrock with the raw vocals of Paul. With a total of 20 songs, there's enough to listen to. Highlights are "End of an era", "Cherie", "Hold on" and "If I'd never asked you to dance", which are the more AOR based tunes here. Let's hope PAUL SABU will record a 'real' new album soon and that it will be a CD in the style of KIDD GLOVE, ONLY CHILD or SABU's 'Heartbreak' album. Although the 2 CDs of 'Resurfaced' are not bad at all, it doesn't get sensational like his 80s records, but if you enjoy raw melodic hardrock you might like this after all!

(Points: 8.0 out of 10)
KEN TAMPLIN AND FRIENDS
'WAKE THE NATIONS'
(SONGHAUS MUSIC/NOW AND THEN RECORDS)

Singer/songwriter/guitarist KEN TAMPLIN has been releasing music for more than 15 years, and in all those years he never changed his music. From the start with SHOUT, and later on his solo-albums and with the band MAGDALLEN, the musicstyle has always been Christian Melodic (Hard) Rock. Also his new album is following the same style created on the SHOUT and TAMPLIN albums, although here and there this album is slightly rockier. The list of guest musicians is HUGE, including among others MARTY FRIEDMAN, JEFF SCOTT SOTO, DOUG ALDRICH, KEE MARCELLO, PETE LESPERANCE and many more famous musicians.
The CD includes 18 tracks, and has a playing length of 80 minutes, and as a bonus the album includes a DVD, with 2 Full Videoclips and a Documentary on the making of those videos. So, in total, this CD (and DVD) will give you pleasure for about 2 hours! The material is a mixture of midtempo and uptempo rockers. The best songs are the uptempo rockers "The story of love" and "Falling houses", both also featured as Videoclips, and midtempo (Bluesy) melodic rockers like "Cell phone freaks", "Peace on earth" and "Saints and heroes", and the bluesy melodic rockballad "God in heaven" that reminds me a lot of GARY HUGHES circa his 1993 solo record. It's not a sensational record, but nevertheless a recommended melodic (hard) rockalbum with 2 hours of quality stuff, and therefore I recommended to you this new CD of KEN TAMPLIN!

(Points: 8.5 out of 10)

PRETTY BOY FLOYD 'LEATHER BOYZ WITH ELECTRIC TOYZ'
(PERRIS RECORDS)

1989 WAS THE YEAR THE la Glamband PRETTY BOY FLOYD released their 'classic' debut CD 'Leather boyz with electric toyz', which is one of the best Glamrockalbums ever. Unfortunately it didn't get the success it deserved, so the band split up. About 10 years later, there was a great deal of response in favor of that PRETTY BOY FLOYD record, which was held as a classic in the Glamrockscene. The band reformed and released a few new CDs, and this 'Leather boyz with electric toyz' is a re-release of their classic 1989 album with 5 bonustracks added. Although I am not a big Glamrockfan, I still enjoy very much the songs of PRETTY BOY FLOYD, especially excellent songs like "Set the night on fire", "Only the young", "The last kiss", "Your mama won't know", "48 hours" and "I wanna be with you". The 5 unreleased tracks are not as good as that classic 1989 record, but still interesting for the die-hard PBF fans. Anyway, this CD is a good opportunity for me to say that there was indeed also high quality Glamrock made in the 1980s, because 'Leather boyz with electric toyz' is an instant classic, which may be placed next to MOTLEY CRUE's 'Too fast for love' and POISON's 'Look what the cat dragged in'. Hair-Metal rules!

(Points: 9.0 out of 10)

PRETTY BOY FLOYD 'VAULT 2' (PERRIS RECORDS)

PRETTY BOY FLOYD will never make such a Classic Record as their wonderful debut from 1989, but with 'Vault 2' they have come up with another interesting Glamrock release. The album follows up 'Vault 1' from last year, and the material included is quite diverse in style and sound quality. There's some Punk movement here ("We're a happy family", "Million miles away"), but also pure Glamrock ("Saturday night in the USA" and "7 minutes in heaven") and even Heavy Metal ("No respect for the law"), although mainly this is 80s Party/Glamrock like you would expect from this band. The sound quality is not always really perfect, but the PBF fans have something to enjoy again.
(Points: 7.5 out of 10)

WYZARD 'KNIGHTS OF METAL' (PERRIS RECORDS)

This album is being held high in the Underground scene, but after hearing the 5 tracks of 'Knights of Metal' I am afraid not many Metalfans will really dig this stuff. Surely, it's good old 80s US Power Metal, but the band has a weak lead singer, and the songs sound very dated. WYZARD was a band from Texas and they released their only record in 1984, and until last year people paid 500 US Dollars for this 4-track mini-LP! Happily, now PERRIS RECORDS have re-issued the album onto CD, with the addition of a bonustrack, so I guess the true 80s US Metalfreaks will purchase a copy of this CD a.s.a.p., but I think it's only interesting for fans of PRIEST and early FATES WARNING, so lots of high pitched vocals, but don't expect anything sensational here!

(Points: 7.0 out of 10)

ROXX GANG 'HOT DAMN' (PERRIS RECORDS)

I was never that excited about ROXX GANG, and I think that will not change with their latest effort 'Hot damn'. The band is now playing Rockabilly like Party-Rock, with lots of acoustic guitars and a Boogie rhythm! Yeah, I really don't know what to do with this release. I guess fans of the band might be interested in getting a copy, but further I have nothing to say about this release, because it is so 'damn' wicked. Be aware, because it is very different from the earlier releases of ROXX GANG.

(Points: - )

KRISTY KRASH MAJORS 'FOR THOSE ABOUT TO SNIFF...'
(PERRIS RECORDS)

PRETTY BOY FLOYD guitarist Kristy Krash Majors recorded a tribute album to THE RAMONES. He did everything on his own, the instruments and vocals. There are 13 tracks included, of which most interesting is the unreleased DEE DEE RAMONE track "Sidewalk surfin'" on which we can hear BARBARA RAMONE (Dee Dee's wife) on vocals. This is a nice tribute to THE RAMONES, recommended to fans of PBF and RAMONES.

(Points: 7.5 out of 10)

VARIOUS ARTISTS 'HOLLYWOOD HAIRSPRAY 2' (PERRIS RECORDS)

It seems like Hollywood is bringing back Hair-Metal on the map again, just like the way it was in the 1980s, because this compilation CD included 16 LA bands playing 80s LA style Glam/Party Hardrock. Some are well-known (PBF, ENUFF'Z'NUFF, KEN TAMPLIN, JETBOY), but there also a few new Underground acts. I would like to inform you about the interesting acts on this CD, which are FAHRENHEIT (their song "King of the night" is classy 80s Hair-Metal), GRAYSON MANOR ("Enemey" is a very good song), PARLOR TRIXX ("Step into my parlor" is a very strong tight melodic rocker with catchy harmonyvocals, a bit like RATT, FIREHOUSE, WHITE LION), GRANDMA MOSES and SINN are both playing catchy 80s Glam Metal a la CRUE, while SUPERGROUPIES' song "Runaround" is good 70s Rock a la STARZ. I hope some of these bands will release a full-length CD sometime in the future, maybe on PERRIS RECORDS, who knows, we'll have to keep our eyes open for it!

(Points: - )


RAZAMANAZ 'RAZAMANAZ' (PERRIS RECORDS)

This band's story goes back 10 years ago, when guitarist Michael Kelly Smith of BRITNY FOX formed the band. They recorded quite a bit material, but it had to wait until 2003 before it got officially released on CD, and so we can now enjoy the sounds of this band. The CD contains 15 tracks, and despite a few instrumentals, what remains is a good 80s type of LA/Sleaze Metal record in the vein of LA GUNS, BLACK AND BLUE and also KISS here and there. Highlights are "Urgency", "Feel it", "Tied up", "Kicks" (catchy 70s Glamrock) and "In the dust" (catchy uptempo melodic rocker), while the BRITNY FOX fans will totally love a song like "Rock'n'roll outlaw". This CD is a good 80s LA Rock record that I can easily recommend if you like any of the mentioned acts.

(Points: 8.0 out of 10)
EIDOLON 'SACRED SHINE' (PERRIS RECORDS)

This American band released a few CDs on METAL BLADE RECORDS, which gave them some success in Europe. However, the band also recorded 2 demos in 1994 and 1995, which contained material never released on any of the CDs they released. Happily, PERRIS RECORDS (the Glamrocklabel!) released a CD filled with those 2 demos, and I must say it sounds great, not only the songs, but also the sound/production is of a very high level, so you can easily call this new EIDOLON album a new CD. The music is a bit more Progressive/80s US Power Metal orientated than their other releases, and actually this might be their best release so far! Like I said before, the production is huge (especially for a demo!) and from the 11 included tracks, the highlights are "Lost horizon" (great slowtempo Progressive/Power Metal, classy 80s), "Forbidden liar" (lovely complex Prog Metal, QUEENSRYCHE in better days), "Shadows" (fantastic classy 80s uptempo melodic metal) and "Silent cries" (FATES WARNING cover). The last 4 tracks are instrumental, but quite impressive ones! Concluded, this is a recommended release to all fans of 80s US Prog/Power Metal and of course if you like EIDOLON, although this CD is more in the vein of old QUEENSRYCHE, FATES WARNING...

(Points: 8.5 out of 10)


FAIRYLAND 'OF WARS IN OSYRHIA'
(NTS RECORDS)

This is a new French band, and their debut CD 'Of wars in Osyrhia' is a superb high quality Bombastic Melodic Power Metal record that leans a lot towards RHAPSODY. Former HEAVENLY guitarist Anthony Parker and ex-DARK MOOR lead singer Elisa C. Martin can both be heard on this CD, and although some may see this as a RHAPSODY clone, you can not deny that this is a very good copy, because FAIRYLAND has some very strong songs on their first records, and with a high class production they are easily one of the better French bands at the moment. The CD contains 11 tracks, of which my favourites are "Ride with the sun", "Fight for your king", "on the path to fury", "The fellowship", "A dark omen" and "Of wars in Osyrhia". Without a doubt, this is a high quality release, filled with excellent Power Metal like RHAPSODY, with a touch of 'LORD OF THE RINGS' here and there, and excellent female lead vocals by Elisa, with beautiful artwork and a superb production, making this album a highly recommended release!

(Points: 9.0 out of 10)
FINAL REIGN 'DESTINY' (INDEPENDENT)

This American band sent me their CD 'Destiny'. Instrumental it sounds pretty good, typical 80s Melodic Metal. The main problem however is the average lead vocal of guitarist Billy Winters. His voice just isn't good enough to make any of the songs sensational. With better vocals, this would have been a much better CD, but nevertheless, I must mention the best tracks, which are "Take his hand", "Crazy", "Hey Satan" and "Battle of Michael". Maybe on a next release, the band is able to include a real lead singer in their line-up. More info at: http://www.finalreign.com

(Points: 6.5 out of 10)

WINDSEEKER 'BREATH, LIGHT AND HOPE' (DEMO)

WINDSEEKER is an Italian band, and they play Prog/Power Metal with a slightly different approach than some of the other bands. There are 3 tracks on their CD, and especially the first song "Destroyer" is an example of how good classy Italo Power Metal should sound, uptempo and melodic. The other 2 songs were weaker, and then it became clear that lead singer Mauro Gelsomini needs to improve himself on a future recording. Check out this Italian band at: http://www.windseeker.it

(Points: 7.0 out of 10)

(All reviews by Gabor Kleinbloesem, except where noted)