ARTENSION 'NEW DISCOVERY'
(FRONTIERS RECORDS/BERTUS)

'New discovery' is already the 6th studio album of the American Progressive Metalband ARTENSION, and every album is filled with high quality melodic progressive metal that combines the best of MALMSTEEN, BALANCE OF POWER and RAINBOW. Also their new CD is a fantastic record with many highlights. The album contains 10 great songs, and the combination of the melodic soaring lead vocals of singer John West, the excellent drumming by Mike Terrana, the classical keyboardwork by Vitalij Kuprij, the biting guitarwork of Roger Staffelbach and last but not least, bassist Kevin Chown, make ARTENSION one of the best US bands from the past 10 years. Back to the new release, I must mention as highlights the songs "Remember my name" (faster uptempo melodic Power Metal), "Innocence lost" (lovely uptempo melodic Prog Metal), "The last survivor" (another fantastic uptempo Prog Metal piece), "Hearts are broken" (great midtempo prog Metal) and the semi-ballad "Endless days" (also featured in a radio edit version). The conclusion is simple, every fan of the band and in fact, every living soul that likes Prog Metal must purchase this record!
(Points: 9.0 out of 10)


VARIOUS ARTISTS 'ROCK THE BONES'
(FRONTIERS RECORDS/BERTUS)

2003 is a very promising year! This is partly due to this compilation disc FRONTIERS RECORDS put out. The compilation CD is a 2-CD set that contains both released and unreleased songs on the Italian label. The released songs are from acts like HARDLINE, ERIC MARTIN, HONEYMOON SUITE, TEN, GIANT, UNRULY CHILD etc. Most of them can be found on CD 1, but also some on CD 2. However, CD 2 mainly consists of unreleased songs that will be released on various albums by FRONTIERS. And I must say that there are some very interesting releases coming up on the best label at the moment. Let's discuss the unreleased songs… ON THE RISE is a new Norwegian band and their song "Beat of your heart" is high class catchy 80s AOR that reminds me of WORRALL and HAYWIRE (remember them?). One of the highlights on this disc has got to be DRIVE SHE SAID with their new song "What's it gonna take", a superb classy AOR/Pomprocker a la TOUCH/THE SIGN, and maybe their upcoming release 'Real life' could become the AOR dream of the year!
Moving on with a new TALISMAN song called "Outta my way", a nice heavy uptempo melodic HR song but not as sensational as the band once were (remember "Dangerous", "Day by day", "Just between us" and "I'll be waiting"). Anyway, the new project of Steve Walsh (KYMERA) is also quite interesting, as their song "Who's gonna love you tonight" is a great semi AOR rocker. Long time no see, but after 20 years TRILLION lead singer Thom Griffin returns to the scene with a new project called AMBITION. His voice is crystal clear and the song he sings is the lovely semi AOR ballad Waiting in my dreams", which sounds like a mix between SURVIVOR and MARK SPIRO. Josh Ramos, the guitarist of THE STORM, TWO FIRES and HARDLINE, now has his own band called RAMOS. The band also features former EYES vocalist Mark Weitz, a man with a fantastic voice, and together they perform the great AOR ballad "The dream is alive" (a la ALIAS).
Unexpectedly I was surprised by a great new Italian band called GREEN, never heard of them, but their song "I still love…" is a very impressive melodic prog rock/metal song with a very catchy haunting chorus that grabs you right away after hearing it for the first time. Norwegian guitarist/vocalist Torben Lysholm, who once was in PUSH, now has a new band called MYSTERELL. Their featured song "Don't ever stop" is catchy pure 80s midtempo AOR in the style of TIM FEEHAN, BRIAN MCDONALD, MICHAEL MORALES… Another new project is CRUSH 40, featuring lead singer Johnny Gioeli (HARDLINE, PELL) and guitarist Jun Senoue (LOUDNESS), with a song called "Into the wind", nice uptempo melodic HR. Long time ago announced, but now we finally can hear a sneak preview of Michael Sembello's project HEAVY WEATHER. The man who scored big-time in the 1980s with "Maniac" is now moving into pure AOR territory with the song "Love doesn't live here anymore", a great classy 80s midtempo AOR song a la STARSHIP'89. Michael not only proves to be an excellent songwriter, but also his lead vocals are very impressive, he should have released such AOR stuff 15 years ago, then it would have gained him much success! Anyway, he will soon release his new CD on FRONTIERS RECORDS. It's amazing to see a guy like MICKEY THOMAS signed to Frontiers, because he was the man behind STARSHIP, one of the most successful poprockbands in the US in the 1980s. Anyway, he has a album coming out later this year, and the featured song on this compilation CD is the soft AOR ballad "Love can save the day". Mickey still has a fantastic voice, belonging to the top of AOR singers. Let's hope his CD will also contain some rockers.
Last but not least marks the return of Freddy Curci, one of the best lead singers ever and mainly known for his work with ALIAS and SHERIFF. However, his new project ZION is moving into a more Melodic Rock/Hardrock sound (a la UNRULY CHILD). The featured song "The sky is falling" is good effective melodic rock, but not as sensational or anything close to the superb AOR of his former bands. Well, conclusion is that FRONTIERS RECORDS will also be the label to watch out for hot new releases that will probably end up high in the 2003 charts at the end of the year!

(Points: - )

CHALLENGE 'SPIRIT' (SPLASH INTERNATIONAL)

'Spirit' is the third album by Californian female fronted CHALLENGE. It took some time to release this new CD, but 2003 is the comeback of the band. The CD contains 10 tracks, and starts very impressive with the great midtempo AOR song "Spirit". Unfortunately the following 4 songs are slightly disappointing, partly due to the fact the band experiments a bit with Jazzy and Bluesy elements, and also uses Trumpets and a Sax, which makes CHALLENGE music now very Pop orientated. Not the whole CD is like this, because towards the end, we get to hear 2 fantastic songs again that mark a return to the classic CHALLENGE sound. These are "Too late" (great midtempo AOR) and closing track "Turn away" (lovely AOR with beautiful harmonyvocals). Furthermore there is also a nice passionate ballad on the album called "Opening wide", with some very emotional beautiful lead vocals by Allison Lindsay. Although 4 or 5 tracks are quite good, it's a pity CHALLENGE has chosen for a more Pop orientated style. I hope guitarist Arno Verstappen provides some more electric guitar on a future CD, so CHALLENGE will be a full rock'n'roll band again. Now it sounds a bit like SASS JORDAN, ALANNAH MYLES and even JANIS JOPLIN at times, but still this is a nice record, but not really rocking if you know what I mean. Check it out at: http://www.officialchallenge.com

(Points: 7.5 out of 10)


MARC BRYANT 'NAKED SON' (INDEPENDENT)

After many demos, American singer/guitarist/keyboardplayer MARC BRYANT has his first official CD out. The album is called 'Naked son' and contains high quality melodic hardrock. The 13 featured songs are quite groovy sometimes and not many of them are uptempo, but nevertheless, each and every song on the disc also has a catchy melodic chorus and in the end it's just a great record! Most of the songs are in the same style, and come across like the perfect mix between TALISMAN, HAREM SCAREM, TYKETTO, VELOCITY (what happened to these guys!) and HARDLINE. My favourite tracks are "Sacrifice" (midtempo melodic rocker), "Farewells" (great semi melodic rock/aor ballad), "Soul searchin" (very good midtempo melodic rocker) and the catchy uptempo melodic rocker "Won't play the fool". This CD should be released on one of the melodic rocklabels in Europe as it is a high quality AOR/Melodic Rock record. Check it out at: http://www.marc-bryant.com
(Points: 8.5 out of 10)

SPIRITFALL 'WITHOUT WORDS' (INDEPENDENT)

The Californian band SPIRITFALL sent me a 5-track mini-CD called 'Without words'. The album has a good production, and also contains nice melodic Prog Metal. Especially the first 2 songs ("What happened to the first time" and "Will you cry for me") are quite nice and even remind me a bit of THRESHOLD, but don't take this comparison too serious, because the songs of SPIRITFALL are quite short and more importantly, this band is way too modern. I would rather compare SPIRITFALL to
a calmer and less proggy PAIN OF SALVATION, yet with a clear Modern Rock approach. This becomes clear in the songs "Through my eyes", "Without worlds" and especially "Together" (this is too modern). Well, a nice start, but later on the band is getting too modern with a strong US Nu-breed approach. Anyway, check out their website at: http://www.spiritfallband.com

(Points: 6.5 out of 10)


EDDIE AND THE TIDE
'STAND TALL/DIG DOWN DEEP'
(TARGET RECORDS)

The German label TARGET RECORDS has re-issued a bunch of rare albums by EDDIE AND THE TIDE onto CD. First there's the CD 'Stand tall/Dig down deep', 2 albums released at the end of the 1980s and basically, very hard to get as they were released independently. The 2 albums EDDIE AND THE TIDE released on Atlantic Records were basically good melodic poprockalbums in the style of EDDIE MONEY and RICK SPRINGFIELD, but on this CD you can hear the 2 independently records and they saw the band moving into a more pure AOR style. There were still clear EDDIE MONEY references, but some of the songs clearly are pure AOR (a la REFUGEE, MICHAEL MORALES, BRIAN MCDONALD and 38 SPECIAL). 18 songs are on the CD and it's really a pleasure to listen to the 65 minutes. Highlights are "Stand tall" (classy), "She lives for the summer", "It's about time", "Never stop believin'", "Loving you from a distance", "Light up the night" and "It's my job" (very strong chorus). These 2 albums are definitely better than the 2 Atlantic releases, and I can easily recommend to any 80s AOR freak! Available through TARGET RECORDS at: http://www.target-records.de

(Points: 8.5 out of 10)


EDDIE AND THE TIDE 'I DO IT FOR YOU' (TARGET RECORDS)

Before the 2 Atlantic releases and the above reviewed 'Stand tall/Dig down deep' CD, EDDIE AND THE TIDE released their debut EP 'Maybe I'll get lucky' in 1983 and the full-length LP 'I do it for you'. TARGET RECORDS has now re-issued also that LP onto CD, with the addition of 3 bonustracks. The music played here is typical early 80s Melodic Poprock in the style of EDDIE MONEY, RICK SPRINGFIELD, ERIC MARTIN BAND… The first 2 songs are the strongest tunes on the album. These are "Running wild running free" (high class melodic poprock) and "One in a million" (classy AOR/Radiorock). The rest is pure Poprock, such as "Maybe I'll get lucky", "Night drive", "I'm a little bit nervous", "Jean" and "Don't stop now", all great songs and very much like early 80s RICK SPRINGFIELD. The other EDDIE AND THE TIDE CD is more AOR than this one, but 'I do it for you' also offers a good deal of quality melodic poprock. Available through TARGET RECORDS at: http://www.target-records.de

(Points: 8.0 out of 10)

MAD MARGRITT 'NEW SENSATION' (PERRIS RECORDS)

'New sensation' is the new CD of the American band MAD MARGRITT. The album has a playing length of only 34 minutes, but what you get is quality stuff. They play very good pure 80s melodic rock, and especially the first 6 songs are really good. Opener "Nothing can keep me away" is catchy pure 80s uptempo melodic rock with a very cool guitar riff, and in general the song sounds like a mix between late 80s POISON and early 80s melodic poprock (!). Next track "Midnight rendezvous" is very good, as this is (again) uptempo 80s melodic rock with a chorus that sounds familiar, but is nevertheless deadly catchy. "Sensations" is a short interlude, followed by the good melodic rockballad "Can't get over you". "Someone to love" is up next and this is a great uptempo melodic rocker. Then comes the lovely AOR/Melodic Rockballad "Believe" (classy 80s sound). It's a pity the last 3 tracks of the CD are less sensational, as these are a calmer acoustic ballad ("Lost in the wind"), the AC/DC cover "TNT" and the midtempo HR song "Long way from home" (a la KROKUS). If the band would have put 4 or 5 more songs like the first 6 tracks on the CD, then we could have say that this would be one of the best releases in a long time from the USA! Nevertheless, this is still a recommended piece to fans of classy 80s American Melodic Rock.

(Points: 8.0 out of 10)

ANIMAL '9001B.STEAM' (PERRIS RECORDS)

This new band features the likes of former WASP members Chris Holmes, Randy Piper and Tony Richards, so basically ANIMAL is WASP without Blackie Lawless. Although opener "900 Ib. Steam" is a good uptempo melodic heavy rocker that reminds me of WASP, the rest of the CD is less interesting and also has not much in common with WASP musically. ANIMAL is much rawer and modern here and there. The songs are very groovy, such as "Pissed off", "Another victim", "Medicine men" and "Hunting season", also a bit average if you ask me. Nevertheless, the band has a good lead singer (haven't got info on his name) who reminds me of DIO and HURRICANE (Kelly Hansen). Besides the opener, the only other interesting track is the semi ballad "Never". Only recommended to die-hard WASP fans, but don't expect anything close to WASP.

(Points: 6.5 out of 10)

EVERY MOTHER'S NIGHTMARE 'LIVE SONGS FROM SOMEWHERE' (PERRIS RECORDS)

I have never been a big fan of EMN, but they play a good deal of raw groovy melodic hardrock that fits somewhere between SKID ROW and a heavier BLUE OYSTER CULT, with lyrics stuck in the 80s 'Hair Metal' days. There's some good stuff on this record, such as "Deeper", "Sympathy" and "Bring me down" (unreleased track), and like the title says, it's a live record of the band. Every fan of EMN should purchase this CD, as it is a real pleasure to listen to if you're a fan of them. I must say that live they sound better than on their studio records, but that's just my opinion.

(Points: 7.5 out of 10)
JETBOY 'ONE MORE FOR ROCK AND ROLL' (PERRIS RECORDS)

JETBOY was a Finish (?) band I believe, and they had their fifteen minutes of fame back in the late 1980s. This album mainly consists of tracks taken from their two releases for MCA Records. They played typical fun 80s Rock with some HANOI ROCKS references here and there. Songs like "Feel the shake" (the major hitsingle), "Trouble comes", "Missing you" (AORish), "Burning down" and "Call me" showed that this band had potential to make good music. Not all songs were interesting, but if you want to know this band if you didn't catch them first time around then here's your chance with this compilation CD on PERRIS RECORDS.

(Points: 7.0 out of 10)

VAMP 'TALES OF LOVE AND LOVELESSNESS' (PERRIS RECORDS)

This VAMP is not the same band that brought you good typical German Melodic Hardrock about 15 years ago. Nope, this band isn't coming out of Germany, but it's a Glamrockband from the US of A. Their CD has been released through Perris Records and offers a mixture of Glamrock and quirky Poprock. I prefer the Glamrockers, as they sound pretty nice, such as "4th of July", "Misspent youth", "Love song" and "Tales of love and lovelessness". On the other hand the band also offers rare quirky poprockers, such as "Cry", "Angelica's in love", "Julliet's revenge" and "Run Johnny Run", which are not really interesting. However, this CD offers you 16 short tracks and a fan of 80s Glamrockfan might want to check it out.

(Points: 7.0 out of 10)


FERREIRA 'FALLEN HEROES' (SHIRE RECORDS)

In the past I discussed a lot of times stuff Marc Ferreira from Brazil recorded, such as CARTOON, MONKEY BITE and also his solo-material. Last year he moved to the USA, and got signed to a label and now, in the year 2003 Marc has released his official first CD under the moniker FERREIRA. The CD is titled 'Fallen heroes' and besides Marc on vocals, guitars and keys, also his brother Alex (drums) and bassist Andy Guerra are part of the band. The CD contains and is basically filled with superb high class 80s AOR in the style of MITCH MALLOY, first HAREM SCAREM, 80s BON JOVI, SIGNAL and JOHNNY LIMA, put all htese acts in the melting pot and you have FERREIRA! Without any doubts this is a highly recommended CD. Highlights include uptempo AOR rockers like "I'll be there", 'Searching", "Fallen heroes" and "Born again", midtempo AOR pieces such as "You better wake" (lovely, very much like the debut of HAREM SCAREM) and "Give you away" and the lovely semi AOR ballad "Missing you". Only the last 3 songs of this CD are a bit weaker, but in general speaking, this CD is a total must if you're into classy 80s AOR!

(Points: 8.5 out of 10)


ON THE RISE 'ON THE RISE'
(FRONTIERS RECORDS/BERTUS)

They come out of Norway and are the latest sensation in the AOR scene. ON THE RISE is a new duo-act, consisting of vocalist/guitarist Terje Eide and vocalist Bennech Lyngboe. Their debut CD is going to be released on February the 24th and is basically a wet dream for the AOR fans! The music played on the CD is pure AOR/Melodic Rock reminding of times when music was made to be fun and sing along. Imagine a mixture of NELSON, MITCH MALLOY, BRETT WALKER and you're close to ON THE RISE, basically mixing Scandi and US AOR. The lead vocals are very impressive and remind us a lot of the NELSON BROTHERS. From start to finish, the 14 tracks on the CD are a pleasure to listen and are almost all sensational high quality AOR. Favourite tracks include "Beat of your heart" (catchy as hell!), "The world of change" (very impressive chorus), "Memories forever" (lovely semi ballad), "Leaps and bounds" (classic NELSON style), "Stay away" (strong uptempo AOR chorus a la first HAREM SCAREM), "Sadness hits like a stone" (lovely classy uptempo AOR) and "Two young hearts" (another lovely classy AOR tune). But then I didn't even mention fantastic midtempo AOR tracks like "Lift you up" and "Pride" (both a la BRETT WALKER's debut CD) and the melodic hardrocksong "Stranded" that suddenly reminds me of RAINBOW in better days. It's just all there on this disc, and it proves we have to keep our eyes open for all the releases on FRONTIERS RECORDS, by far the best recordlabel in the world!

(Points: 9.0 out of 10)


GIANT 'LIVE AND ACOUSTIC OFFICIAL BOOTLEG' (FRONTIERS RECORDS/BERTUS)

A new release by GIANT, but not a real new one, as this is a live CD with additionally some acoustic versions of classic GIANT tracks. The recordings have been available as Bootleg for quite some time, but now FRONTIERS RECORDS has released it as an official CD Bootleg, making this album a true must for every GIANT fan. Not all classics were played the night they recorded this set, but still we can enjoy perfectly performed versions of such great GIANT songs like "I'm a believer", "I can't get close enough", "I'll see you in my dreams" and acoustically "Stay". Total must for GIANT fans!

(Points: 8.0 out of 10)

CRUSH 40 'CRUSH 40' (FRONTIERS RECORDS/BERTUS)

CRUSH 40 is a new American/Japanese outfit, featuring vocalist Johnny Gioeli (AXEL RUDI PELL, HARDLINE) and guitarist Jun Senoue. The CD they recorded contains good performed straight-ahead 80s type of uptempo melodic hardrock the American way, like you can hear on "Live and learn", "Into the wind" and "All the way". The best songs however are the semi-ballad "Watch me fly" and the superb uptempo fun melodic rocker "It doesn't matter" (a song sung by TONY HARNELL from TNT/WESTWORLD). A nice album, although it isn't as good as the other FRONTIERS RECORDS releases so far this year (ON THE RISE and ARTENSION).

(Points: 8.0 out of 10)


DREAM EVIL 'EVILIZED'
(CENTURY MEDIA/SUBURBAN)

Last year we were surprised by the debut CD of the Swedish band DREAM EVIL. That record was one of the best melodic metal releases of 2002! Just 9 months after the debut CD 'Dragonslayer' DREAM EVIL returns with the release of their 2nd effort. The new CD is titled 'Evilized' and I can comfort you, because also this new CD is a fantastic high quality melodic metal release. Especially the superb melodic lead vocals of singer Niklas Isfeldt and the big guitarsound of both Fredrik Nordstrom and Gus G. are making this new DREAM EVIL CD another true winner for fans of melodic metal. Also the sound and production is of a very high level, so I can easily give this album a big recommendation! Highlights on 'Evilized' are songs like "By my side" (great uptempo melodic metal), "Evilized" (lovely melodic Prog Metal a la THRESHOLD), "Forevermore" (great melodic rockballad), "Children of the night" (fantastic catchy uptempo melodic hardrock/metal), "Live a lie" (fantastic uptempo melodic heavy rock/metal) and the haunting melodic rockballad "The end". Without any doubts, this new DREAM EVIL CD is a total must for fans of quality melodic metal!

(Points: 9.0 out of 10)
SPECIAL EXPERIMENT 'FORTUNE MEMORIES' (INDEPENDENT)

Out of Germany comes SPECIAL EXPERIMENT, a band formed around the talented keyboardplayer Dzidek Marcinkiewicz. Their debut CD 'Fortune memories' is filled with high quality instrumental Progressive Rock/Metal. Basically, everything sounds perfect on this CD, especially the production and the guitar/keyboard duals. If you're looking for a perfect instrumental record then look no further, 'cause SPECIAL EXPERIMENT offers you everything! Highlights among the 8 included tracks are "Kiss of a vampire", "Fortune memories" and "King of twilight". What more can I say then to highly recommend this excellent instrumemental progressive Rock/Metal record. More info at: http://www.special-experiment.de and e-mail them at: dzidek@t-online.de

(Points: 8.5 out of 10)

KTL 'M.2002.E' (INDEPENDENT)

We're back in Italy again with the band KTL. They sent me a 6-track demo CDR. It starts with a very good high quality melodic Prog Metal song called "The screen". A very good start if you ask me, but unfortunately it's followed up by a weak experimental Metal song called "Void". "Gli artigli" then again is much better as this is a nice uptempo melodic Prog Metal tune. The rest of the CD is mostly instrumental, except for the experimental "Heart of darkness". This could have been much better, as the first song indicates, a great Prog Metal song. Anyway, check out this Italian band at: http://www.kappatielle.net and e-mail at: ktl@kappatielle.net

(Points: 7.0 out of 10)

RAY C. 'WALKING INTO WALLS' (INDEPENDENT)

RAY C. is settled in California, USA and he sent me his debut CD 'Walking into walls'. He has done everything on his own on the CD, so we have to deal here with a talented multi-instrumentalist. The music is good 80s influenced melodic poprock like a lot of Californian bands/artists made back in that period. RAY C. does it quite good, but I have some complaints about the drums and Ray's vocals. The drums aren't real, as they are programmed, and for a Rockband this should not be done. In the 1980s you could get away with it, but nowadays either Ray shoudl hire a real drummer or learn the drums, as he is well-gifted and already plays all the other instruments, so why not try also learning to play drums instead of choosing the easy way (programming). Anyway, also Ray's vocals aren't that sensational, but I think this could improve within the next years, as Ray is quite young. Well, then we'll have a look at the offered music, as it is quite nice melodic poprock. Highlights can be found in the shape of "Know about me" (catchy 80s uptempo melodic poprock a la RICK SPRINGFIELD, DANNY WILDE, NELSON, MICHAEL MORALES and some BRYAN ADAMS), "one more night" (nice midtempo AOR/Poprock a la JUDE COLE, JOHN PARR, EDDIE AND THE TIDE etc.), "This time" (good semi ballad), "Catch me" (best song, great catchy uptempo poprocker a la MICHAEL MORALES) and "Hiding" (pure 80s AOR guitarsound!). I think we have to keep our eyes open in the future for this talented young musician. If you're into classy 80s Poprock, then I urgerly ask you to check out this CD. More info at: http://www.raycweb.com and e-mail him at: mail@raycweb.com
(Points: 7.5 out of 10)

TOO OLD TO ROCK 'TOO DUMB TO QUIT (INDEPENDENT)

TOO OLD TO ROCK is the brainchild of guitarists Jim Reindel and Chris Hattingh. Although the cover of the CD looks deceptive, the included music is of a very high level. The music performed on 'Too Dumb To Quit" is very impressive, high quality instrumental melodic rock/hardrock with some progressive rock influences here and there. The best songs are "Shuffleboard Champs", "Bingo Night At Emily's", "Pass The Geritol", "Too Dumb To Quit" and "Goodbye Spandex" (very good!). The guitar duels between Jim and Chris work well, so all I can add here is that every fan of instrumental melodic rock/hardrock/prog should check out this release at: http://www.cdbaby.com/cd/toooldtorock and e-mail them at: fathatz@cfl.rr.com

(Points: 8.0 out of 10)

ANTHENORA 'THE GENERAL'S AWAKENING' (INDEPENDENT)

Out of Italy comes ANTHENORA, a good quality band playing melodic metal, yet they have a raw lead singer. The songs however are quite good, such as the opener "Planet Jail" (straight-ahead uptempo melodic metal) and "The savior" (uptempo Metal). The 4 songs on the CD of ANTHENORA are nice to hear for a True Metal fan, and I think we can expect more in the future from them. In the meantime, check out their website at: http://www.anthenora.com and e-mail them at: anthenora@yahoo.com

(Points: 7.5 out of 10)

GLOYD 'LIVE NIGHTS' (ROCKWERK RECORDS)

This German band exists for over 25 year, but this is the first time I got to know their music. They play typical 80s German teutonic Hardrock (a la ACCEPT, RESTLESS, GRAVESTONE, KROKUS, VOX, TYRANT, TOX, RENEGADE). The band's line-up features former members of TRANS AM and STS 8 MISSION, both known for good melodic rock releases. On this CD the music is also from a high quality, but the main problem with G'LOYD are the very raw lead vocals which sound a lot like UDO DIRKSCHNEIDER from ACCEPT. If you like such vocals, then you love GLOYD, but I think the band
would be better of with a better 'melodic' lead singer, because now they remind me a lot of the typical 80s German bands that never got any attention outside Germany. The fact they have been making music for 25 years now is also making clear that this band and their new live-CD should only attract fans of typical 80s German Heavy Metal and then especially ACCEPT fans. I am quite sure there's still a market in Germany for this type of Metal, but I would rather hear a better singer, but I think that's impossible to change, because the lead singer is the leader of the band, so go figure... Anyway, if you like any of the mentioned bands, don't let my words hold you back checking out this Live CD, as it's a quality record and definitely not some cheap release, and with a playing time of 70 minutes it should please you for a long time. More info at: http://www.g-loyd.de and e-mail them at: info@g-loyd.de

(Points: 6.5 out of 10)

GUARDIAN FORCE 'LAND OF MAGIC' (INDEPENDENT)

Out of Helsinki, Finland comes the very promising young band GUARDIAN FORCE. They play melodic Power Metal in the style of STRATOVARIUS, SONATA ARCTICA... I really enjoyed the 4 tracks on their demo CDR, and although it isn't as good as their countrymen of afforementioned bands, it is clearly a start to something that could turn out to be one of Finland's brightest hopes in the future. Especially the songs "Land of magic" and "Voice of the wind" are very impressive uptempo melodic metal songs that somehow sound like a mix between EDGUY and URIAH HEEP. Also the fast Power Metal song "March of evil" is quite stunning and has a catchy chorus a la STRATOVARIUS. The only thing that needs to be done here is a better production next time, if only these guys could record their songs at the famous Finnvox Studios, then this could lead to something very big. In the meantime, check out GUARDIAN FORCE at: http://gf.rocks.it and e-mail them at: lari.sorvo@kolumbus.fi or latekosk@hotmail.com

(Points: 8.0 out of 10)

GREAT WHITE 'THANK YOU...GOODNIGHT (ULFTONE MUSIC)

This live-CD of veteran rockers GREAT WHITE is a recording of their last performance as GREAT WHITE, so a rather unique affair. I always found them just another rockband, nothing that special. In the 80s they had some great releases, especially the first 3 LPs, but as the 90s came closer and particularly in the 1990s, the band moved onto a bluesier hardrock approach and waved goodbye to their pure melodic rock style which gained them popularity in the first place (sounding like a cross between DOKKEN and LED ZEPPELIN). Anyway, this live-CD sees them doing mostly song of their bluesy hardrock affair, so I guess it's more interesting for the fans of the band. Songs like "Desert moon", "Old rose motel", "House of broken love", "Mistabone" are examples of their later bluesier rock approach, but happily this farewell also includes some of their oldies, such as the great ballad "Save your love" or the melodic rockers "Face the day", "On your knees" and the classic "Rock me". Concluded, GREAT WHITE had a long succesfull career and this farewell live CD is definitely a must to every fan of the band, God bless and goodnight...

(Points: 8.0 out of 10)

OVERLOAD 'OF DREAMS AND NIGHTMARES' (MAD METAL WORKS)

Out of Switzerland comes OVERLOAD, and their debut CD is titled 'Of dreams and nightmares'. Instrumental it's very good quality Prog/Power Metal, but unfortunately vocally it isn't that good. That's a real pity, because everything sounds pretty good. Happily, there are also 3 songs which feature better vocals. These are "Broken glass" (uptempo melodic metal), "Ocean of tears" (very good melodic Prog Metal) and "Time for a change" (great catchy uptempo melodic metal). On the other songs of the CD it's vocally not that strong, although like I said, instrumental everything is in good condition. So my conclusion is that this band is able to make good quality music, but probably needs to hire a new lead singer to improve on a future recording. In the meantime, check out OVERLOAD at: http://www.overload-rock.ch and e-mail them at: overload-rock@bluemail.ch

(Points: 8.0 out of 10)

SEAN MERCER 'ELECTRIC STORM' (INDEPENDENT)

Guitarist SEAN MERCER comes out of the US State Washington and his CD 'Electric storm' is a high-class instrumental AOR/Melodic Rock/Prog album that comes dangerously close to YNGWIE MALMSTEEN. 12 songs are included, and the musicianship is of a very high level. Highlights are "Elation", "The festival", "Electric storm", "Holding back", "Mushrooms of fire" (hello MALMSTEEN!) and "Opus 2". Without any doubts, if you're into quality instrumental rock music, this CD brings you as much pleasure as listening to a MALMSTEEN record. More info at: http://www.seanmercer.com and e-mail him at: info@seanmercer.com

(Points: 8.0 out of 10)

DEVEREAUX 'PRIMAL NEED' (REENO RECORDS)

A few years ago I reviewed a great CD of the German band DEVEREAUX, which contained typical German Melodic Rock. Now a few years later the band has released a new album entitled 'Primal need'. And I am afraid I have to inform you that the band has changed their style, although happily there are still quite a few great melodic rocksongs. Opener "Anything" however is a very modern type of nu-breed melodic poprocker, but just as I thought the whole CD would sound like this, it never gets as modern as track 1. Next track "When I look into your eyes" for example has a very nice melodic chorus. The real highlights however can be found towards the end, especially the last 3 tracks. These are "My prison" (good semi AOR/Melodic Rocker with very good harmonies, basically a very strong song), "Everyday heroe" (great chorus, a bit like ALIAS, ON THE RISE) and closing track "Break me down" (catchy uptempo melodic rocker like LOUD'N'CLEAR). As you see, the band has now a different style than on their debut, and I can fully respect after listening to the whole CD, as it becomes clear they have not only an updated sound now, but they also added a lot of AOR into their music. This can also be heard in (semi) ballads like "Dedicated" and "Touch me". So the conclusion is that this CD is still quite interesting and recommended to the AOR fan that don't might a few modern rock influences here and there. Recommended tracks are the last 3 songs that bring out the best of DEVEREAUX. More info at: http://www.devereaux.de

(Points: 8.0 out of 10)


WUTHERING HEIGHTS
'TO TRAVEL FOR EVERMORE' (SENSORY/INTROMENTAL)

Out of Denmark comes WUTHERING HEIGHTS, and their new CD 'To travel for evermore' is a fantastic high class melodic prog metal release that can easily be called 'sensational'! It's the follow-up to their debut 'Within', which I unfortunately never heard, but will track down soon I hope. Anyway, to tell you more about this band, they have just recently changed their line-up, which now consists of main composer/guitarist Erik Ravn, ex-TAD MOROSE lead vocalist Kristian Andren (fantastic lead singer by the way), TIME MACHINE bassist Lorenzo Deho, ZOOL guitarist Hendrik Flymann and long-time members Morten Sorensen (drums) and Bune S. Brink (keyboards). The production was in the hands of TOMMY HANSEN (PRETTY MAIDS, HELLOWEEN), and is of course of a very high level. All together they have released a wonderful CD that sounds like the perfect mixture between KAMELOT, BLIND GUARDIAN, ROYAL HUNT and MALMSTEEN. In other words, 'To travel for evermore' is a truly fantastic melodic Prog Metal album. All tracks are highlights, but to be a bit more specific, my favourite tracks are "The nevershining stones" (lovely uptempo neo-classical Prog/Power a la KAMELOT), "Dancer in the light" (great Prog/Power), "A sinner's confession" (divided in 4 parts), "See tomorrow's shine" (faster uptempo Power Metal) and "Through within to beyond". The album was released a few months ago, so better get yourself a copy before it will be hard to get in the near future. Especially Prog/Power Metal freaks must have this CD in their collection!

(Points: 9.0 out of 10)


NEMESIS 'EDEN?' (SENSORY/INTROMENTAL)

The American label SENSORY RECORDS recently released 2 awesome CDs that are not that easy to obtain here in Europe, but both a must to fans of Prog/Power Metal. The 2nd album of WUTHERING HEIGHTS is a very impressive melodic Prog Metal like ROYAL HUNT meets KAMELOT. The other CD the New Jersey settled label Sensory/The laser's edge has released is the new CD of NEMESIS. This is a Hungarian band that already released a couple CDs, but 'Eden?' is their very first English language album and also the first album with the new line-up of the band. After listening to the 8 included tracks, I was very impressed. This is a fantastic Prog Metal album that will please all fans of the genre. They sound like a mix between DREAM THEATER, ARTENSION and MARK BOALS. The reference to MARK BOALS is mentioned, because not only lead singer Zoltan Kiss reminds me a lot of Mark, but in general, the whole CD is reminding me a lot of the last MARK BOALS album 'The edge of the world'. This is a truly wonderful melodic Prog Metal release and next to WUTHERING HEIGHTS the second must-have release on SENSORY RECORDS. Highlights on 'Eden?' are "Four mirrors" (very good lead vocals, fantastic melodic chorus, lovely melodic Prog Metal song a la ARTENSION), "Eden?" (great Prog Metal, lovely keys, very much like last solo CD of MARK BOALS), "Eternal circle" (10 minutes Prog/Power a la THRESHOLD, EVERGREY) and "Predestination". So, 'Eden?' by the Hungarian band NEMESIS is a highly recommended album to fans of quality Prog Metal and I can further inform you that in a few months a new CD of the band will be released by Sensory Records, so there's something to look out for. In the meantime, check out this awesome album!

(Points: 9.0 out of 10)

SENGAYA 'METAMORPHOSIS' (INDEPENDENT)

SENGAYA is yet another quality band from Germany. They play very impressive Progressive Metal, and the included 7 songs take over 30 minutes of great pleasure with excellent musicianship and very good lead vocals (by singer Stefan Pohl). Highlights are "Way of ecstasy", "Vengeance" and "World of illusion" (strong chorus), all wonderful melodic Prog Metal pieces. I haven't got much info on the band, but I can guarantee that if you like Progressive Metal you're gonna love this band. More info at: http://www.sengaya-music.de

(Points: 8.0 out of 10)

SECRET OF DAWN 'TRAPPED IN SPACE' (INDEPENDENT)

Lately in France there has been a big explosion of new band that play quality Prog/Power Metal and one of the latest additions is the band SECRET OF DAWN. There are 6 tracks on their CD, and especially titletrack "Trapped in space" and closing track "Revolution maker" made a big impression on me, as both these songs are fantastic fast uptempo melodic Power Metal in the style of ANGRA and LABYRINTH, with some very good melodies, great vocals and excellent guitarwork. In between you can also find some good Progressive Metal ("Within the blackhole", "The dark road" and "Moonlight children"), so in other words, SECRET OF DAWN is another recommended French band. More info can be found at: http://www.chez.com/secretofdawn and e-mail them at: secretofdawn@chez.com

(Points: 8.0 out of 10)

ANATRIZ 'NEVERENDING LABYRINTH' (INDEPENDENT)

Out of Brazil comes ANATRIZ, a band playing quality Prog/Power Metal that sounds a bit German/European. The CD they sent me contains 3 tracks and instrumental it sounds pretty good, but vocally it's not that sensational. I think lead singer Andre Muller is from German origin, but anyway, he is not the strongest element of ANATRIZ. Nevertheless, the 3 songs on their CD 'Neverending labyrinth' are still quite nice, with as best track the uptempo melodic Power Metal song "Labyrinth". Check out ANATRIZ for yourself at: http://www.anatriz.com and e-mail them at: signomortis@yahoo.com.br

(Points: 7.5 out of 10)


DARNA 'DARNA' (LA BRUJA PRODUCTIONS)

The Spanish band DARNA features some former WARCRY members, but is basically a hot new band. Their original lead singer Victor Garcia (also ex-WARCRY) returned to his old band AVALANCH and instead we now welcome a female lead singer called Ruth. She has got a very strong and terrific voice, and is definitely contributing a lot to DARNA's sound. If you have read all our reviews, you know I reviewed both bands a while ago, but now there's DARNA, and this band from Oviedo might become one of the best Spanish Metal bands ever, so better read on! The CD they released contains 10 tracks and all of them (not counting the intro track) are super sensational high quality melodic Prog/Power Metal tunes with passionate vocals by Ruth, excellent guitarwork by Silvia and Dani Sevillano, catchy hooks and haunting memorable choruses to sing-a-long with. Songs like "Muere el silencio", "Loco bardo", "El oraculo", "La larga marcha", "Secuelas" and "Desleal" are all really terrific Prog/Power Metal tracks. This is a very tight band that showcase some excellent musicianship on their debut CD, which also has a very good production. Without any doubts, this band is highly recommended! More info at: http://www.telefonica.net/web/darna and e-mail them at: labrujapromos@hotmail.com

(Points: 9.0 out of 10)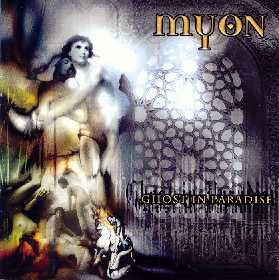 MYON 'GHOST IN PARADISE'
(LOW FREQUENCY RECORDS/ROCK INC./BERTUS)

'Ghost in paradise' is the new CD of the Finish band MYON. I remember their debut 'Heaven's garden' quite well, a good melodic Prog Metal album released on NOISE RECORDS. Now they switched to a new label, the Finish label LOW FREQUENCY RECORDS and their first release on this label is very impressive. 10 songs are included on the CD, and without a doubt, this is a highly recommended Melodic Prog/Power Metal album that combines elements of 80s US Prog/Power Metal with Scandi Melodic Heavy Rock, ending up sounding like a cross between TNT, TAD MOROSE, NATION, 80s QUEENSRYCHE and early CRIMSON GLORY. The band's new lead singer is called Jukka Nummi, and he has a really great high-pitched voice which works perfectly for MYON's melodic Prog Metal. All 10 tracks are sensational and combine the best of Prog Metal, Power Metal and Melodic Heavy Rock. Highlights are "Dead of the dawn" (super high quality uptempo 'catchy' melodic metal, very 80s with lots of keys and hooks), "The quest" (lovely midtempo 80s US Prog/Power Metal with a nice keyboardsolo and a sound close to early QUEENSRYCHE), the semi-ballads "In me" and "Nostradameus" (both like TNT meets CRIMSON GLORY) and the faster uptempo melodic Power Metal tracks "Tournament" and "Follow the sign" (HAMMERFALL meets BALANCE OF POWER). I don't think I need to add more than saying that this CD is a total must for the fans of quality melodic metal!

(Points: 9.0 out of 10)


SILENT VOICES 'CHAPTERS OF TRAGEDY'
(LOW FREQUENCY RECORDS/ROCK INC./BERTUS)

'Chapters of tragedy' is the debut CD of the Finish Progressive Metal band SILENT VOICES. The band is clearly influenced by Prog Masters DREAM THEATER and also SYMPHONY X and early RUSH. The band's CD contains 7 tracks and has a fair production. It's a good quality record that will please the Prog Metal fans, although it is not sensational. Highlights are the uptempo Prog Metal tracks "Beyond shadows", "Cross my path" and "The last sunset". They improved a lot since the release of their single "You got it", which was a very average release. Now they have managed to release a good quality Prog Metal album and I think a future album will see if they can improve even more.

(Points: 8.5 out of 10)

THUNDER REIGNS 'EVIL ONE' (PROMO)

Only one song can be found on the CD of the Californian Metal band THUNDER REIGNS. The music is nice standard 80s Heavy Metal, but vocally it's not that good. They remind me a lot of MANILLA ROAD! The song is called "Evil one" and you can download it at: http://www.ThunderReigns.com and e-mail them at: Mark@ThunderReigns.com

(Points: 6.5 out of 10)

CENTER 'IN YOUR WORLD' (INDEPENDENT)

CENTER is a German band and their CD 'In your world' contains well-produced melodic poprock with a strong modern approach. Actually they sound a bit like FAF, but then far more Modern, yet sometimes with good melodies. There are 7 tracks on the CD, and as best ones we can mention the uptempo melodic poprockers "Water" and "Paradise without you" and the semi progressive melodic rocker "Center (in your world)" (8 minutes playing length). On the other hand songs like "Do what the crowd asks for" and "Nothing left to lose" are very modern heavy rockers. You can check out everything on
CENTER at: http://www.center-band.de and e-mail them at: info@center-band.de
(Points: 7.5 out of 10)

MURDER SHE WROTE 'DIVA' (HOUSEMASTER RECORDS)

This is a band from Kaiserlautern, and their mini-CD contains 4 tracks. The album has a good production and musically we move into Progressive Melodic Rock with a strong 70s vibe here and there. The uptempo rockers "Time is on my side" and "Walther: Frozen" are pretty good and show MURDER SHE WROTE at their best. You can check out more on the band at: http://www.murdershewrote.de and e-mail them at: Thinnes@MurderSheWrote.de

(Points: 7.5 out of 10)


WONDERLAND 'WONDERLAND'
(UNDERGROUND SYMPHONY RECORDS/RISING WORKS)

Out of Italy comes WONDERLAND, a band that also features former LABYRINTH drummer Frank Andiver. Their same titled debut CD is a wonderful piece of melodic Prog/Power Metal that reminds me a lot of LABYRINTH, but nevertheless, it's a highly recommended album! Besides, the album has some stunning artwork and the packaging is very nice, but most important is the music, because the CD contains 10 wonderful tracks. Highlights are "The fallen angel", "Moonchild", "Freedom", "Nothing's left to say" and "Here I am", all 4 wonderful classy faster melodic Power Metal tracks in the typical Italian style (LABYRINTH), so a lot of keys are included as well and besides, I also need to add here that lead singer Alexx Hall has a great melodic voice. Also pretty good is the calmer ballad "Summer waiting" and another notable track is closing track "Hello", a cool cover of the famous 80s Lionel Richie song! There are a lot of Power Metal bands out there, but this WONDERLAND is definitely one of the better ones, because they use a lot of melodies in their Power Metal. More info at: http://www.risingworks.com

(Points: 9.0 out of 10)


SHADOWS OF STEEL 'SECOND FLOOR'
(UNDERGROUND SYMPHONY RECORDS/RISING WORKS)

The Italian band SHADOWS OF STEEL has released quite a few CDs already, and recently they unleashed another new CD entitled 'Second floor'. The album contains 11 tracks and without a doubt, this is yet another high quality release from Italy. SHADOWS OF STEEL are playing melodic Power Metal, and what sets them apart from other bands is the big keyboardsound being used. A resemblance with RHAPSODY is easily made, but SHADOWS OF STEEL is even more Keyboard orientated without losing the heaviness of the typical Power Metal band. The band is at their best during the fast Power Metal tracks "Somewhere high above", "Heroes", "Dame and lord", "Crying" and "Distant voices". Also the slower songs are quite nice, such as the semi-ballads "Talk to the wind" and "December". However, most of the time SHADOWS OF STEEL is doing what every other Power Metal band is also doing, playing fast and melodic songs, but this band is doing it very well. This CD is definitely a must for fans of Italo Power Metal!

(Points: 8.5 out of 10)


HOLY KNIGHTS 'A GATE THROUGH THE PAST'
(UNDERGROUND SYMPHONY RECORDS/RISING WORKS)

I don't have much info on this band, but I do know that HOLY KNIGHTS is coming out of Italy. And also this Italian is playing melodic Power Metal with a mediaeval touch, kinda like RHAPSODY, but yet again I have to admit that the album is of a very high level, so another recommend album to the fans of this genre! Just like most of the other CDs released on UNDERGROUND SYMPHONY RECORDS, also this album was mastered at Finnvox Studios in Helsinki, Finland by Mika Jussila, and like all those other albums mastered at those studios, also this CD by HOLY KNIGHTS has a HUGE sound. This all combined makes 'A gate through the past' a pleasure to listen to from start to finish. 12 tracks are on the CD, and my favourite tracks would be "Sir Percival" (big uptempo Power Metal a la RHAPSODY), "Gate through the past" (lovely super melodic bombastic uptempo Prog/Power a la LABYRINTH, with a lovely chorus), "Love against the power of evil" (nice epic melodic rockballad), "Quest of heroes" (great Prog/Power) and "The promise" (another lovely melodic Prog/Power Metal song). What more do I need to add? This CD is yet another recommended Italo Power Metal album!

(Points: 8.5 out of 10)


LABYRINTH 'NO LIMITS' (RISING WORKS)

Together with RHAPSODY, LABYRINTH was one of the first Italian bands to really make a breakthrough outside of Italy which caused an enormous wave throughout Europe, resulting in hundreds of young new bands playing the Progressive/Power Metal of these bands. Especially out of LABYRINTH's homeland Italy a lot of new (quality) melodic Power Metal bands have been releasing on and on CDs. Before 1995 the Italian metalscene was dead, but after the releases of the debut albums of LABYRINTH and RHAPSODY, the Italian scene became one of the strongest in Europe. If we go back in time, LABYRINTH released their debut CD 'No limits' back in 1995, and now RISINGWORKS has re-released the CD, with additionally 2 new bonustracks. 'No limits' was not as good as their classic follow-ups, but still a very good Prog/Power Metal release. The strongest songs on 'No limits' were (and still are!) "Dreamland" (good Prog Metal a la TIME MACHINE), "Piece of time" (great catchy uptempo melodic heavy rocker), "In the shade" (very good uptempo melodic Power Metal), "No limits" (great melodic Prog Metal), "The right sign" (great Prog/Power) and the 2 bonustracks, "Call me" (uptempo Power Metal) and the semi-ballad "Miles away". If you didn't get the first LABYRINTH CD the first time, this is a good opportunity to purchase it, and as a bonus you'll get 2 new tracks and some nice new packaging.

(Points: 8.5 out of 10)

ESCAPE 'SPIRITUAL GUIDANCE' (INDEPENDENT)

There are many bands out there called ESCAPE, and this is one of them. They hail from Brazil, and their new demo CDR contains 3 tracks. The sound of ESCAPE is quite good, but the weakest link in this band is definitely the lead singer Renato Agostini, because his voice is more suitable for Thrash-Metal instead of the melodic Prog Metal of ESCAPE. Nevertheless, a song like "The last shot" is quite good, but better use a melodic lead singer next time (a la ANGRA) instead of a raw singer (a la SEPULTURA). Nevertheless, if you don't mind Prog Metal with a raw Thrash-orientated lead singer, then visit ESCAPE at: http://www.escape.dk3.com and e-mail them at: bandaescape@bol.com.br

(Points: 6.5 out of 10)


HOUSE OF MIRRORS 'HOUSE OF MIRRORS' (INDEPENDENT)

I have said it before, but Finland is making an enormous jump from being an unimportant country for Hardrock/Metal in the 1980s until a big scene in the year 2003. It all started with bands like STRATOVARIUS, SONATA ARCTICA, NIGHTWISH and URBAN TALE in the 1990s, and now continues with a complete new wave of Finish hardrock and metalbands. And just like the Italian movement, also most of these new Finish bands are bringing music of a very high level. One of the latest new sensations is a band called HOUSE OF MIRRORS, a band from a city called Turku. The band was able to record 3 songs with the famous Mika Jussila at his Finnvox studios, and so the sound is just perfect! But also the 3 songs are from a very high level. HOUSE OF MIRRORS is playing lovely high class 80s AOR in the style of URBAN TALE, JOURNEY, SHY, GRAND ILLUSION, STREET TALK, GLORY etc. etc. All 3 songs are sensational, starting off with the uptempo pure 80s AOR song "Top of the world" with it's catchy hooks and lovely chorus being a dream for the fans of JOURNEY, GRAND ILLUSION and URBAN TALE. Up next is the catchy uptempo AOR rocker "Searching for my soul" (a la GLORY, TREAT, RETURN) and finally there is "Heart is the key" (semi AOR ballad a la STREET TALK, with a beautiful chorus). Conclusion is that with HOUSE OF MIRRORS we have another recommended Finish band and this time it's in the AOR genre, so European AOR labels wake up and sign this band! More info at: http://www.house-of-mirrors.com and e-mail them at: info@house-of-mirrors.com

(Points: 9.0 out of 10)

LEGACY 'LEGACY' (CHAVIS RECORDS)

I reviewed a demo CD of the American band LEGACY a long time ago, but now finally the album has officially been released on the American label CHAVIS RECORDS. The CD contains 11 tracks, and is basically a highly recommended album to fans of classy 80s American Melodic Hard/Heavy Rock in the style of IMPELLITERRI, FIFTH ANGEL, KUNI, ROUGH CUTT, TAKARA, WARRIOR... The lead vocals are very impressive and come across like a mix between JEFF SCOTT SOTO and GLENN HUGHES. Together with heavy guitar riffs and a strong production, this product is quite impressive. Highlights include "Troubleshooter" (classy 80s uptempo melodic heavy rocker), "Autumn rising" (calm start with beautiful lead vocals, later it develops into a stunning high class uptempo melodic rocker, a bit like MALMSTEEN), "Mission of mercy" (uptempo melodic hardrock) and the great semi melodic rockballad "Can't remember love". This is a great release on the rising American label CHAVIS RECORDS, which has an interesting release schedule for 2003, and this LEGACY is just the start...
(Points: 8.5 out of 10)

BANGKOK BABES 'LOCKET'N'CHAIN' (CHAVIS RECORDS)

BANGKOK BABES is a Scandinavian band that reminds me a lot of HANOI ROCKS, BANG GANG, DAD, GRINGOS LOCOS... Their CD 'Locket'n'chain' has been released on Chavis Records, and although it's a quality record for the specific genre, I wouldn't call this a sensational record. However, the mix of Groovy and Sleazy Hardrock of BANGKOK BABES isn't bad at all, and I guess people who like AEROSMITH, GREAT WHITE, LA GUNS, EVERY MOTHER'S NIGHTMARE and even SKID ROW will like this band a lot. Best songs on the album are "Wasted advice", "Take what you want" (uptempo melodic rocker) and semi AOR (!) ballad "Is that you" (best song). This is a recommended album if you like any of the mentioned acts.

(Points: 7.5 out of 10)

SOMETIMES X 'ZERO 2 HERO' (CHAVIS RECORDS)

CHAVIS RECORDS is not only focusing on Melodic/Glam/Sleaze/Hardrockalbums, but they are also bringing some other genres to life, such as Symphonic Rock (soon to be released) and Modern Nu-Breed Rock. This last genre is being released in the shape of SOMETIMES X, a new American band. There are only 7 songs on their first CD, which barely makes the 30 minutes playing length and is mostly covered with typical nu-breed melodic poprock with sometimes nice melodies here and there ("Touched" and "Color me gone"). The best track however is "What I like", with it's very melodic chorus. The rest of the album is actually way too modern, but if you dig the nu-breed stuff you'll like this too.

(Points: 7.0 out of 10)

CYCLOPS 'CYCLOPS FROM HELL' (INDEPENDENT)

We're back in Italy again with CYCLOPS, a very good band which is playing for once not the typical tra-la-la Metal you would expect from any other Italian band. No, CYCLOPS is bringing you real Metal like it was played in the 1980s, raw but still very melodic. A comparison I came up with was HAMMERFALL, yet vocally CYCLOPS is singing with an accent. Nevertheless, 4 tracks on the CD are very impressive. These are "Metal eye beast" (good uptempo melodic metal like HAMMERFALL), "Kill the priest" (good midtempo melodic metal, very strong song!), "Bloody tears" (great epic ballad) and "Metalee withus" (good fatser uptempo melodic Power Metal). The only songs that weren't that interesting were intro "Welcome to me!" (not a real song of course) and closing track "Stop this hell". This last mentioned track is making me unsure what the band means with it, a joke or a serious song, because it's a terrible slow Doom Metal song with Death grunts. Anyway, if you leave that closing track alone, you'll have a decent quality melodic Metal record. More info on CYCLOPS at:
http://www.cyclopsfromhell.com and e-mail them at: metaleye@virgilio.it

(Points: 8.0 out of 10)

SONS OF TOMORROW 'LEAVING THE EARTH' (INDEPENDENT)

Denmark hasn't been bringing as much bands as Sweden did the past 10 years, but with ROYAL HUNT they had a successfull band that could easily compete with PRETTY MAIDS and FATE as most popular bands. The underground scene however didn't really took off, and so I am writing a review of one of the few bands out of the independent scene. They are called SONS OF TOMORROW, and I was told they played melodic metal in the style of their popular countrymen, but I am afraid this band is making a totally different metal style, namely depressing Metal which combines CANDLEMASS and METALLICA, with a lot of Modern/Nu-Metal influences. If you like that kind of Metal you might want to check out SONS OF TOMORROW, as they do it quite well, but for the average melodic Metal fan not much of interest happens on this CD. More info at: http://www.sonsoftomorrow.com and e-mail them at: Sonsoftomorrow@chicks.dk

(Points: 6.0 out of 10)


TIMELOCK 'CIRCLE OF DECEPTION'
(XYMPHONIA RECORDS)

8 years ago the Dutch band TIMELOCK released their 2nd and last album, and that was a pity because they were one of the best Symphonic Rockbands in Holland. Happily, they recently reformed and just a few weeks ago, a new CD was launched. The album is titled 'Circle of deception' and contains 10 tracks, with a total playing length of more than 60 minutes. Musically time stood still for the band, as TIMELOCK picked up where they left in 1994, which is very Melodic Symphonic/Neo-Progressive Rock with truly wonderful lead vocals of singer Ruud Stoker and brilliant keyboardwork by Julian Driessen (FOR ABSENT FRIENDS). I am really glad to see the band returning to the scene with maybe their strongest release so far. Last year I saw them live in action and now hearing their new songs on the new studio album is a pleasure to listen to. From start to finish this CD grabs you and never lets go, as all songs are sensational and more than a must to hear for both fans of Neo-Prog/Sympho and AOR/Pomp/Melodic Rockfans. TIMELOCK attracts fans of all melodic genres! The album contains like I already mentioned 10 songs, of which the highlights are "Louise Brooks revisited" (lovely Neo-Prog, very melodic chorus and a nice keyboardsolo), "Different light" (another superb piece of high class Neo-Prog), "The fortune", the epic "Everything except the world" (with a guest performance by FAF singer Hans van Lint) and the opener "The road to Babylon" (great Neo-Prog). I found their first 2 albums quite good, but this new CD is even more impressive and shows the talents of skilled musicians who had to wait 8 years before releasing such a 'gem'. I would say, if you like melodic or progressive rock, then better buy this CD a.s.a.p.! More info at: http://www.progwereld.org/timelock.htm

(Points: 9.0 out of 10)


FRONTLINE 'ALMOST UNRELEASED' (AOR HEAVEN)

The official release of the new FRONTLINE CD will be on the 24th of February, but I received a promo CD and I can inform you that this will become one of the must-have releases for the AOR fans! Although it's not a real new CD of the German band, the CD contains about 7 complete new and unreleased tracks, while the rest was only released in Japan so far and not for the European market. If there's one band I would call AOR, then it should be FRONTLINE, and maybe they are one of the best European AOR bands ever. This upcoming release only shows how good they are, because with 16 tracks, the album is a deadringer for the pure AOR lovers.
All the tracks are highlights of course, but to give you an idea of my favourites, I must add "Man in motion" (classy uptempo AOR a la SIGNAL), "Must be dreaming" (uptempo AOR a la 80s NIGHT RANGER), "No one like you" (SUPERB HIGH CLASS AOR, just perfect, like SURVIVOR meets PREVIEW), "Everything you do" (lovely midtempo AOR), "Broken hearted" (uptempo AOR), "Without your love" (pure 80s AOR), "I'll be there for you" (midtempo AOR) and the 2 wonderful Japanese bonustracks of their debut 'State of rock', "Falling" and "Alone", which both are released for the first time in Europe. This CD is definitely a total must for all AOR fans, and although it is not a real new album of the band, it can still be seen as an album with a lot of unheard songs, especially for the European audience...

(Points: 9.5 out of 10)


COASTLAND RIDE 'COASTLAND RIDE'
(AOR HEAVEN)

Besides the FRONTLINE release, AOR HEAVEN is also releasing the debut CD of the Swedish band COASTLAND RIDE. This threesome is making a mix of Westcoast, AOR and 80s Hi-Tech Pop, ending up sounding like a mix between TOTO, MR. MISTER, LE ROUX and HALL&OATES. A long time ago I reviewed one of their demos, but they now are going to release an official CD next month and it's only a pity they put some Popsongs on their CD, because now I can hardly call it a pure AOR CD. Besides, also the running time is barely 35 minutes, and then with only 4 real AOR songs time becomes an issue when deciding to purchase the record or not. I must say that the 4 AOR songs on the album are very good. These are "Let me let you go" (classy 80s AOR a la LE ROUX, TOTO), "On the path of greed" (another lovely AOR song, like T'BELL), "Hearts to the flame" (AOR with a lovely catchy chorus a la 1st URBAN TALE) and the SUPERB uptempo AOR 'Wet-dream' song "Eyes" which is close to SIGNAL or DRIVE SHE SAID. Unfortunately, the band also offers a lot of Westcoast/Pop which can be heard on the remaining 5 tracks, such as "Believe in me", "Sleepless" and the pure Popsongs "Never the same" and "Second hand America" (like HALL AND OATES meets CLIMIE FISHER!!!). Anyway, I hope a future CD will see the band making more AOR songs like "Eyes" and "Let me let you go", with some more guitar included, because now the album is 50% AOR and 50% Westcoast/Pop. Now it's up to you to decide if this album is worth purchasing, because it ain't much, but it's definitely quality music you need to check out!

(Points: 7.5 out of 10)


INSANIA 'FANTASY (A NEW DIMENSION)'
(NO FASHION RECORDS/SUBURBAN)

The band INSANIA was founded in 1992, and 'Fantasy' is their third album. The band hails from Stockholm, Sweden and they play melodic Power Metal in the style of SONATA ARCTICA, HELLOWEEN, STRATOVARIUS… The new CD 'Fantasy' was recorded at the famous Finnvox studios in Helsinki, Finland, and without a doubt this is an awesome release in the Power Metal scene. From start to finish you'll get fast melodic Power Metal of a very high level. Most of the songs are fast, catchy and it's hard to pick out my favourites, as they are all pretty much sensational. However, songs I definitely must mention here are "Carry on", "Fantasy", "Vengeance" and "Reflections of mine". This CD is a complete must if you're into typical melodic Power Metal in the style of mentioned bands!

(Points: 9.0 out of 10)

JACK L. 'PASSPORT' (PROMO CD)

The German band JACK L. sent me a promo CDR titled 'Passport', which contains 7 tracks. The complete CD, with full artwork is available at: www.jack-l.com for 10 Euro. They profil themselves as a Prog Rockband, but I would like to discuss that topic a bit further, because among the 7 tracks included we can also find a pure catchy uptempo melodic rocker "Mr. L", which has absolutely nothing to do with Prog Rock. Nevertheless, it's the best track of the CD, and reminding me of classic WHITE LION and WILD FRONTIER. The other songs are indeed more Prog Rock orientated, with as highlights "Turn back" (good melodies), "Storm warning" (Neo-Prog a la JADIS) and closing track "Traveller" (great Neo-Prog rocker a la EVERON). On some of the songs, such as opener "Your false friend", the band's lead singer sounds forced and really doesn't come clean as a Prog singer, but on closing track "Traveller" he sounds better. However, I still find the singer not really suitable for Prog Rock, he is in better shape during uptempo melodic rockers such as "Mr. L". Anyway, check out this band at: http://www.jack-l.com

(Points: 7.0 out of 10)

MOHODISCO 'KALOOMITH' (INDEPENDENT)

MOHODISCO is an American band and on their CD 'Kaloomith' they are mixing Progressive Rock with elements of Dance/Hi-tech music! The album contains 8 instrumental tracks and although it is nice to see a band experimenting with different musicstyles, I hope in the future they will focus more on the Progressive Rock, because on songs like "Praxis" and "Our paths are sonic waves" they definitely show they can make good quality instrumental Prog Rock. However, some of the other tracks are too much in the Disco-field to impress Prog Rockfans. More info at: http://www.mohodisco.com

(Points: -)

AFTER ALL 'MERCURY RISING' (MAUSOLEUM RECORDS)

From Belgium hails the Metalband AFTER ALL, and 'Mercury rising' is their 2nd effort. They have built up quite a reputation during the years, as support act for bands like SAXON, PARADISE LOST, TIAMAT and THE GATHERING. The new CD of the band is very diverse, as it contains a mixture of 80s Heavy/Speed-Metal, Bay-Area Thrash, NWOBHM and even Doom-Metal! Vocally I am not that enthusiastic about AFTER ALL, but technically and songwise the band offers nicely performed Metal. Highlights include "Beneath the flesh", "Rectify", "The shadow wall" (very melodic), "Twist of fate" (Doom a la CANDLEMASS) and closing track "Black God white devil". It's not a bad record, but also not sensational if you compare it with the amount of other Metal releases done at the moment. The CD also contains 2 cool videos by the way, but I would only recommend the CD to people who like all kinds of Metal.

(Points: 7.5 out of 10)

ACIDENTE 'TECHNOLOGY' (MUSEA RECORDS)

The South-American band ACIDENTE exists since 1978 and their latest album is called 'Technology'. The CD is filled with quality instrumental prog rock with a short jump to melodic rock at "Gotta play!". The best songs are "Enough", "Factotum" and "Where whiskey comes from". If you want to check out a good deal of instrumental progressive rock, then do check out this CD.

(Points: 8.0 out of 10)

RECORDANDO O VALE DAS MACAS '1977-1982' (MUSEA RECORDS)

This CD takes us back to the late 70s/early 80s, and is basically a nice soft Prog album in the style of CAMEL, 70s GENESIS. It is nicely done and back then maybe innovative, but today the day it sounds a bit dated. Nevertheless, this Brazilian band is a must if you're still hooked on 70s Prog. The album will find it's way to the fans of the genre.

(Points: 7.0 out of 10)

RUNAWAY TOTEM 'LEP ZEPI' (MUSEA RECORDS)

I haven't got any info on this band, but they hail from Italy and are playing Prog Rock in the typical 70s Italo style, yet with something totally different than any other band in this genre, mainly the use of Tenor vocals a la Andrea Bocelli and Pavarotti! This is something completely new, and will probably be loved by the people who are looking for a new approach to the prog Rockscene. If you still would like to hear good old Prog Rock, then the band has also a lot of instrumental prog rock on their CD of a very high level, such as "Pardes", "Montsalvat" and part of closing track "I 4 Signori". However, the interesting thing is still the use of that Tenor singer, which is actually guitarist Cahal de Betel. Nicely done after a couple of spins and therefore a good rating!

(Points: 8.0 out of 10)
(All reviews by Gabor Kleinbloesem, except where noted)