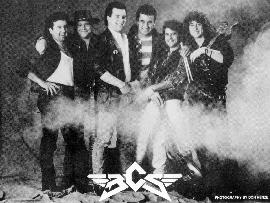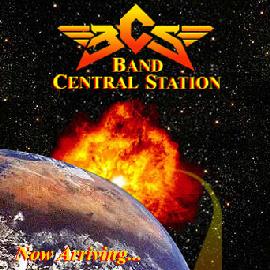 BAND CENTRAL STATION is maybe one of the best Independent AOR bands around these days. These guys are as good as NORWAY, the band I featured years ago as the hottest indie AOR band around and that New Jersey outfit are signed to Frontiers/Now&Then now, so who knows what will happen for this BAND CENTRAL STATION. The band released a demotape called 'Now arriving' back in 1992. That tape featured 4 brilliant AOR songs that sounded like a cross between BOSTON, JOURNEY and SURVIVOR which means pure AOR with big harmonies and keyboards. I had to interview these guys from New York and this is what they had to say...
Can you please introduce your band ?
* Band Central Station (BCS) is Rick Haller on lead vocals, guitars, Joseph Borgese on keyboards & background vocals, Larry Borgese on guitars & background vocals, Rob Egan on bass, Frank Saliba on guitars & Chris Lopez on Drums.

Tell us about the time before BAND CENTRAL STATION...
* Well that depends on how far back you want to go - We were all in various groups and musical situations prior to this bands formation. The core of the band was actually established many years prior to this line-up. Rick, Larry, Rob & myself have been good friends for years. We were all musically inclined (Joe played drums at that time). We formed a band and were playing covers together for a few years locally under the name "Fourcast". That's where we really developed our strong harmonies. We had a good following and enjoyed the cover scene but we really wanted to write, play & record originals. We changed our name to "Meridian" and began to concentrate on originals. We decided to invest in our own recording equipment to record our material and make a tape. This is when "You Never Said Goodbye" was written.
The 4 song tape was pretty good for our first attempt, however the songs were all ballad oriented. We realized that we were in a ballad rut and while ballads are good, we needed and wanted to get a more ballsy sound, a more defined edge. We put an ad in the local music paper for another guitar player and the response wasn't that great. Enter Frank. We knew Frank from playing softball together on the weekends. We started talking music and we learned he was in a Guns N' Roses / Poison sounding original band called Slik-Jinx. I gave him our tape to listen to for his feedback. He thought it was good but nothing came of it. Cut to a few months later. Our ad was still running and we get a call from this guy named Frank. Ironically, Rob took the call and didn't realize that we knew him (we had a laugh over that). Rob gave him a list of covers to learn and set up a tryout. We played coy but we pretty much knew he was the guy. He could play, he wanted to do originals and he had that harder edge we were missing. Plus we already knew him and the personalities meshed.
The next few months were spent writing new material. Eventually we came to the realization that we needed a serious dedicated drummer that could enhance the edgier sound we were developing. So I agreed to switch to keyboards, which would enable me to concentrate more on the vocals as well as add to our overall sound. Now we needed a drummer. Enter Chris. We knew Chris for awhile. He had seen us live during our cover band era and had constantly expressed his desire to play in the band. He was and is a very schooled drummer and in our situation at the time, we gave him his chance. He simply blew us away. He was perfect. Band Central Station was officially born in 1990. We continued writing/rehearsing and about 6 months later we were gigging as an all original band. We had a loyal following which grew quickly and we always played to a full house, and let me tell you, in the New York area that isn't easy.
In 1992 you released a fantastic DEMO TAPE titled 'Now arriving', please tell us everything about it?
* Between our fans screaming for a tape and the fact that we wanted a record deal it was a necessity. We decided right off the bat that we wanted a tape that reflected some measure of tempo diversity. We were never an eclectic sounding band that strayed to far from its roots and we had an obvious focal point to our sound. While we all had many band influences (as listed on our web page), a common thread among us all was Boston & Journey. We love their music and their overall sound. Listening to our tape, I'm sure you will agree their influence is obvious. BCS is a big band and we wanted a big sound to reflect that. First off, we made sure that every song we wrote was copyrighted. Then we took a vote on which and how many songs we should put on the tape. We have a very democratic band and everybody's vote counts. In fact all writing credits are split evenly among all the members in the band. Anyway, we chose the songs we wanted and recorded between live shows.
Again, we had our own recording equipment in the basement of our house which gave us the flexibility to record anytime we wanted. Larry and Joe are the tech heads in the band so we handled most of the technical aspects of the recording. We proceeded to record on a 16 track and a MAC. We miked, recorded, mixed, engineered and produced everything ourselves (with everybody's input of course). We saved a lot of money doing it ourselves and we were very proud of the end result but in hind-site, things could have sounded better. We didn't have all the microphones needed for the task at hand, and one thing we regret is that we recorded the drums on a Simmons electronic drum kit. It did the job at the time but it was an injustice to Chris. After we finished recording the 4 the songs, we dropped them from reel to a rented DAT machine so we could produce copies.
After that we worked on the packaging. The cover was Frank's first attempt at computer art (which he has since revised and is what is seen on the web currently). Don Henze who photographed such artists as Phil Collins, Genesis & Rush, did our photos. Overall, it took us about 4 months from start to finish to get the tape out. If we did it in a studio professionally, it would have taken about 3 weeks to record with a lot of out of pocket cash.
How were the reactions on the tape back then?
* We kept our fingers crossed and our fans ate 'em up! They loved it! Thank God, because we put a lot of energy and work into it. Everybody wanted to know why we only put out 4 songs. We printed an original run of 1000 copies and sold them at our shows. We, subsequently, needed to print another run.
Did you get any airplay?
* Yes. We were featured on a pretty big New York radio station - WBAB. They play one song from an unsigned artist each night during the week on a show called "Homegrown". They liked our stuff so much that they featured us for an entire week! It was the first time that ever happened. A local news channel on Long Island also did a piece on us. A lot of people heard and saw these. We got a lot of positive feedback.

I would like to know the background stories on the 4 songs of the tape... Please tell us about the songs (the story, when you wrote it, who influenced you musically on the particular song etc.)
* As you can tell from the songs on the tape, we're not a "doom and gloom" band. All the songs we write are positive, upbeat and will usually reflect a positive personal experience. We also love three part vocal harmonies. The band Boston had a big influence on us in that regard, and we'll almost always have harmonies in every song we write.
* The first song "Here Comes Love Again", came together very quick. I think we wrote the song in a week. Frank came up with the opening riff on the acoustic, and we knew we had a great song in the making. The words came together quickly and seemed to flow right out of Rick's mouth. The song is about when a certain guy, meets a certain girl, and well......you get the idea! It's one of those "they both lived happily ever after" songs. I remember, this song took a long time to record because of all the harmonies. I'm thinking about 20-30 takes before we got it right (Larry remembers those agonizing hours).
* The next song "Whatever it Takes" is the statement song of BCS. "Whatever it Takes" is a motivational song, which says that there is really nothing you can't do in life, and if you work hard, you just might be able to achieve your goals, but, you have to try, and try hard. Nothing worth achieving is ever easy. As I said, it's been the theme song of BCS. We started fooling around with the chorus riff, and actually, I think we first had the chorus as the verse, and the verse as the chorus, but that didn't work. So, we simply switched them. It seemed to flow better. Frank added a killer guitar solo in the middle (still one of Rick's favorites), to really make the song groove. The idea for the NA NA's in the middle of the song, came from trying to come up with other lyrics. We were humming na na's and we thought it would be great to leave them in. We figured if Journey can do it in "Lovin', Touchin', Squeezin', so could we. We felt it was a perfect fit for this song.
* The third song "You Never Said Goodbye", was the first song we ever recorded as a group. The first mix was done on a 4 track and was very plain compared to what you hear now. This song really blossomed from the first recording. It seemed as though every time we recorded the song, we would make an adjustment, like Rob laying down a cool bass line or Chris throwing in an extra drum hit or cymbal crash. Joe added the keyboard intro, which was not in the original version, to enhance the beginning. I think this song has changed more times than I can remember.
What really blew us away, was Larry's guitar lead in the middle. We heard him play that lead, and it brought us to our knees. I remember he wrote that lead after working all day and night. In fact, he came right from work to the studio, played the lead, and went right back to work. That lead has never changed. To this day, I think this is the song we all enjoy playing the most. "You Never Said Goodbye" is basically about a person in your life, girlfriend, friend or family member, who is no longer in your life, but has left some fond memories of good times. I think we all have memories of a person who had a certain mannerism or characteristic, and this song makes you think about them. It also reminds us that life can change very quickly. What's here today, may be gone tomorrow.
* The final song "Drivin' Me Mad" was another one of those songs that we played around with for years. We had about 3 or 4 versions of that song, but we were never happy with any of them until now. This is another one of those, found a girl and fell in love type of song. Rick and Rob were hanging out in a bar one night with some other guys, and this girl came up next to them at the bar. One of the other guys, said that she had cast a spell on him. Rick thought " great line for a song". So this guy tries all night to pick up this girl, and eventually .....who knows, you get to use your imagination on this one.

I heard some of you worked with LA GUNS... Tell us all about it please
* Larry and Joe were in a cover band on Long Island called Satellite. They had the same booking agent as a band known as Tara, which is who Gary Taylor (Saraya) and Kelly Nickels (LA Guns) were with at the time. Tara's keyboard player left so they asked Larry to fill in. Larry doubled on keyboards and guitar while Joe played drums while with Satellite.

The gig with Tara worked out pretty well as the bands were double billed on a regular basis. Larry would start the night with Satellite and close it with Tara. After several months, Tara asked Larry to stay on permanently, but he decided to stick with Satellite as they were beginning to break into the original music scene.

and SEDUCTION...
* It was a year or two prior to BCS. He had a few song ideas that were not in the heavier vein of his previous band. He met Gary ..., the keyboard player that toured with Seduction at a trade show in LA. They started talking & they agreed to get together. Frank showed him his song idea, which was this funky, jazzy, Pink Panther kind of vibe thing. He loved the idea and wanted to record it. In fact, prior to recording the tune, Gary contacted Martha Wash (she did the original vocals on C&C Music Factory), to see if she would be interested in doing vocals on this small project. She agreed but unfortunately while laying the track down, she received a new record deal subsequent to her C&C Music Factory situation and had to back out to dedicate time to her own thing. Gary was hired for another touring situation and the song was never finished but Frank still has the basic track on tape without vocals. That's the way the business works.

What happened to your band after the release of the demo tape?
* Well our egos got a boost from fan reaction and tape sales at our shows, plus with the radio & TV exposure we experienced we felt we were well on our way to the big time. We felt the time was right to start thinking record deal, so we put our press kit together and we were poised to forward it to the labels. Prior to shopping the tape to the record labels, we wanted to be educated, so we attended a few music industry seminars on "How to get a record deal". The funny part is that the seminars gave timelines for band progress and how to make a presentation to the record companies. Prior to attending these seminars, we had already accomplished (almost to the letter), everything that was advised and we were 6 months ahead of schedule from where we should have been (according to the "seminar" logistics).
We were feeling pretty confident about ourselves as well as our chances for a deal. We sent our press kit out to all the labels. Most of the labels didn't reply at all. The ones that did replay was because we had some kind of obscure inside road to. Atlantic Records came down to a few shows and said..."we really like your material and you have a great sound but you don't have a marketable enough look because everybody in the band doesn't have long hair". Now, at that time the big bands were Poison, Whitesnake, Van Halen, Motley Crue (very hair oriented). Let's face it, hair was important. Plus another strike against us was that 'our" type of classical rock-AOR sound was starting to fade into obscurity for the new wave of grunge music coming out like Nirvana & Pearl Jam. Bands like Boston and Journey were quickly becoming a thing of the past.


Have you written any new songs? If so, tell us about them and is it still the same AOR sound as 'Now arriving'?
* Yes, we have some new songs and ideas. Our new songs still have the AOR sound, because that's where we came from, and that's what influenced us. We will feature upbeat rockers like "I Can't Wait", and "You Want It, You Got It" which happen to be BCS favorites. We also wrote an R&B song called "Judgement Day", which was a slight change of pace for us. We will also feature another AOR power ballad called "When". Understand, we don't consciously write to achieve a particular sound, we write what sounds good to us. It's impossible to please everybody, so we just try to please ourselves. But, we also like some of the musical "stretching" that's been happening and I'm sure we'll experiment a bit. We will however, always feature the solid vocals and harmonies that we're getting recognized for. We're not an eclectic sounding band that strays to far from its roots.

Your kind of music is pure 80s AOR, which bands influenced you and what do you think of today's music genre?
* Well the obvious influences are...Boston & Journey. Individual members of the band have their own influences, which we listed on our MP3 page bio. Today's music...it's all great. Overall, there are so many talented musicians and bands out there that stretch the boundaries of the rock genre, that the term "rock" covers so many spectrums now. From Metallica to Kid Rock to the Back Street Boys, it's all good solid music, really it is...but there seems to be a lot of angry sounding music out there. It seems to be a common thread among the heavier (guitar oriented) bands now. Compare the lyrics from today's hard rock to that of the 70's & 80's, the messages have definitely changed. Society will do that. Music has always been a reflection of society and right now there is some definite anger in society. There are exceptions to the rule, there always is.

If you get some attention of European AOR labels, what would you do then? By the way, did you know AOR has a huge underground following in Europe these days and in Japan the music has become very popular? What do you think of this?
* We have been contacted by three European labels , after hearing our songs on MP3 and reading reviews on the band. While its very exciting, we want to weigh our options carefully and not jump into the middle of traffic without looking both ways first. It's inspirational to find out that there is interest from fans in AOR out there! It amazing the amount of requests we have received for our CD, interviews and our press kits from magazines/e-zines from all over the world. USA, Holland, New Zealand, Spain, Sweden, Italy, Belgium, especially Japan. We're even getting responses from England. It's just remarkable. The response to our music has been great and it's picking up a head of steam. We're very excited about the opportunity provided to us. Thank you everybody for your interest - spread the word!

Are there any plans for a new (CD or Demo Tape?) release?
* Demand is very strong to purchase our CD right now and we don't want to short-change anybody with 4 songs. So we are currently in the studio recording another song "Dangerous" to complete a 5 song CD, which we plan to have out for sale imminently through MP3. We will release it very early 2000. It will give the listeners their moneys worth and give us an opportunity over the next 3-6 months to continue recording another 5 songs. We'll then release the full 10 song album and start working on new material.


Finally, do you have anything to add to our readers?
* We would like to mention that none of this would be happening right now were it not for the independent efforts of our good friend Sal Gaudio. While the band was coming to grips with the attitude that "our time had come and gone & we gave it our best shot", Sal always believed we had something special. He took it upon himself to get our music on the web. It has totally revived us. We have realized through his efforts that our time has not gone and good music will never die. Thank you Sal. !!! Most importantly, we would like to thank everyone who took the time to listen, download our music and write to us with all their positive comments. Anyone out there who hasn't heard us, take a listen and give us your feedback, we'll always respond. God bless.
REVIEW DEMOTAPE BAND CENTRAL STATION
---