Astrid
I also know these people long before I ever used internet.
Elisabeth[Liesje]
I matchmade her to the love of her life ..,
Piere a.k.a. Sunny
I know this wonderman trough my husband
They are both musicians.
Now my foreigner friends...
My Adopted Australian Sister,Mary Muller
with her beloved friend,husband Jean-Luc
and their sweet children Alan and Clair
Rob my Australian chatmate
we chat for ages now
and have many laughs..,and tears..,
Lady Hawk a.k.a. Anki from Sweden.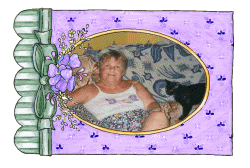 MUM/KOOLANGEL/LADY FAREYKISS
Luv from Canada
Yoli a.k.a. Yolanda from Puorto Rico.
"Miss"Beth from FortFairField,Maine,U.S.A.
And meet
Mrs.Linda.L.Gibson.
This is Linda Gibson,livin nearby Dallas ,
she wrote to my husband as penpals when she was a teenager.
She was searching after a long time for her penpal
and via an Amsterdam radio D.J.,
she located him.
And since than we became e-mail friends.
Also she became my English corrector a
nd advisor with these pages.
Thanks so munch,Linda.