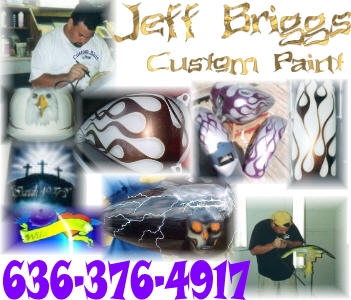 CLICK HERE to view Picture Gallery #1
MAGAZINE FEATURES
Lauren's Leopard Bike
Pictures of my Greatest Work!
Brian Crytzers Award Winning Fatboy
PETE'S STARS & STRIPES
Bob's Revo/Evo
CLICK HERE for the LINKS page
.
Click HERE to find out how to get your bike painted!
Lucy Nicole
Repair

My Dad on his bike in 197?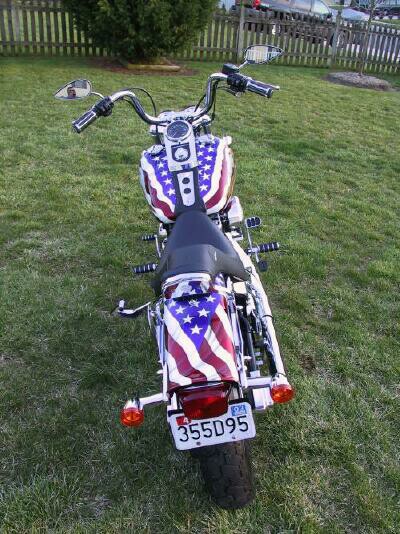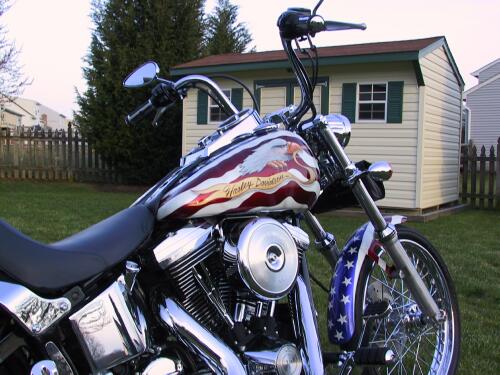 SOLD
Pre-2000 Fatboy set with 5 Gallon tanks for sale. Brilliant Red with Awesome Orange and yellow flames airbrushed in a firey mixture. Pinstriped, drop shadows....... A definate head turner! I'll get some good pictures on here right away - Here's a glimpse, although a horrible picture - email me for more info. paintedhog@hotmail.com
Pop back in now and then - I've got a ton of cool paint jobs to add to the picture page, along with a new magazine feature and some other magazine graphics I'm working on.
............. ............. .............
St. Louis Rams! That's Kurt Warner's autograph buried under the clear! This piece was auctioned off for charity
Bryan Crytzer's Award Winning Fatboy took this award. Look for a photo feature of this bike coming soon. ............... ...............

Click HERE to see who has signed the Guestbook
Click HERE to sign the Custom Guestbook your own bad self

© Jeff Briggs Custom Paint 2002
E-mail me at jeff@paintedhog.com
. All Rights Reserved.