Eureka Pictures
We are looking from the Garden in front of the Crescent Hotel and by looking over the tile roof of the Catholic Church I can see the village of Eureka Springs Arkansas. I see the bell tower of the church and the road that winds down the mountan beside the bellfery. The Bellfery is the entrance to this hillside Church.
The Rosalie tour home, has been voted one of the most beautiful victorian homes in Eureka Springs. You are welcome to tour this home and view the amazing collection of antiques. Many people have been married in this home.
The Penn Castle is a beautiful cut-stone home overlooking the city
Eureka has springs everywhere, Spring street has many public parks such as this for the visitor to enjoy.
This view of Eureka Springs Courthouse is from the hillside, you can see the stairway behind the courthouse leading up to a street. The entire village is built upon hills. The exercise you can have just walking will keep you healthy here.
The Crescent Hotel, is a magnificently restored Victorian Hotel, the view is wonderful, and the hotel is within walking distance to the downtown. This is a hotel with an interesting history.
The Crescent garden is a always a showcase, regardless of the season.
The next two pictures are of the 'original' first dwelling in Eureka Springs. This cliff shelter was first a Civil War Hospital, the first home, the first bar, and the first church.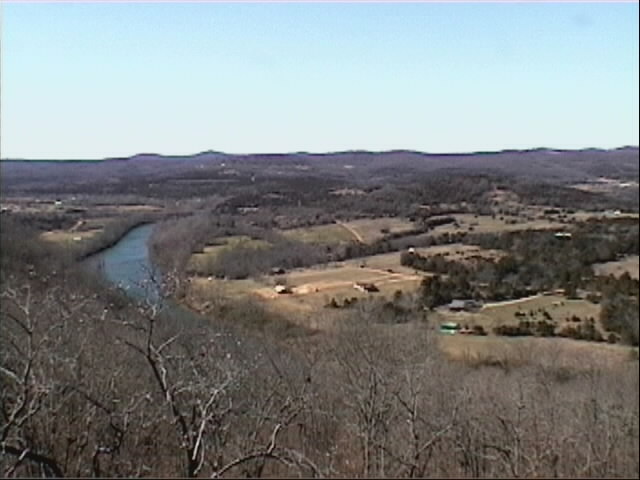 The picture above shows the river and the wide shot of the 'Trail of Tears' -The trail forded the river at about the bottom right hand of the photo. - the picture below is the actual dirt track of the 'Trail of Tears' as it still exists today.