(Simon Posford--The Twisted Genius)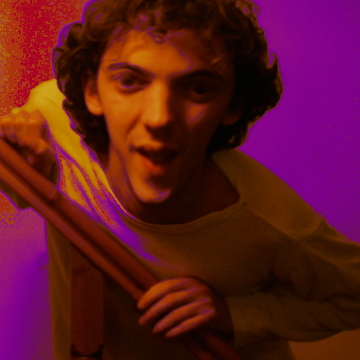 This page will give you general information and links concerning Simon Posford and the music he makes
The seeds of Hallucinogen aka Simon Posford were sown many moons ago at Youths Butterfly Studios in Brixton, where Simon created the trance classic "LSD". This was followed by a string of well loved 12"s and "TWISTED". With the release of he highly successful album "The Lone Deranger", he embraces the future of psychedelic trance.
source: Earth Trance
Posfords debut albumn was titled "Twisted" which came out on the Dragonfly label in 1995. Go to the discography of Hallucinogen to see more about the singles.
The track listing for "Twisted" is as follows:
1. LSD (6:41)
2. ORPHIC TRENCH (7:17)
3. ALPHA CENTAURI (10:17)
4. DARK MAGUS (7:30)
5. SHAMANIX (9:59)
6. SNARLING BLACK MABEL (6:54)
7. FLUORO NEURO SPONGE (6:54)
8. SOLSTICE (8:06)
Go to the album reviews for "Twisted" at The Third Eye!
After "Twisted" came the sequel "The Lone Deranger". This was Posfords first release on Twisted Records. This albumn came out with limited edition copies of CD and vinyl. The CD was limited edition "Gold" and the record was limited edition "Evil Vinyl".
The track listing for "The Lone Deranger" is as follows:
1. DEMENTION (7:17)
2. SNAKEY SHAKER (6:22)
3. TRANCESPOTTER (8:36)
4. HORRORGRAM (7:32)
5. SNARLING (REMIX) (6:47)
6. GAMMA GOBLINS PART II (8:47)
7. DERANGER (7:33)
8. JIGGLE OF THE SPHINX (6:40)
Hallucinogen can be called without doubt one of the best Goa & Psychedelic Trance artists of the genre. After this album, "Twisted" (his debut album), he started his own record label named "Twisted Records". For the moment (we're February 1998 now) his new album "The Lone Deranger" is heading for the all time Goa Trance classics top again.
"Twisted" is a true classic. Simon Posford makes us discover Goa Trance in the full meaning of the word, with the well known track "LSD". Tracks like "Orphic Trench", "Alpha Centauri", "Dark Magus" and "Snarling Black Mabel" are all perfect compositions. No boring tweaking tricks, sample loops or other predictable sound scapes, but plain 4/4 Goa with patterns that make the screws loosen underneath your skull. Real eastern influenced riffs and no nonsense spacy sounds, as how all Goa should be. Each track is a trip on its own but all together they form the ultimate Goa Dream. 70 plain minutes of wicked neurotic fun!
Tip: play VERY loud through excellent speakers, or listen through headphones and enjoy the ride. We recommend the last one :)
source: The Sonic Barrier
Nov 27, 1997
Hallucinogen in Israel-party review
Israel
It was a long journey to to the club, but we found it fast. We arrived about 2:30 am and streamed stright inside. The decoration was mostly poor, except few backdrops, one of 'em was very good! The rest was bad imitaion of backdrops, some black lights and flashing lasers and light. All together looked pretty impressive, especially those robot-lights coming from the seiling and moving back all the time. There were also video effects. I wouldn't say it was bad, but I wasn't stuck on em, like when I've seen Organix video mixing. Sometimes there were stunning pictures!
Miko was playing his usual set, build from winners uplifting morining tunes, not very psychedelic (that's what i dislike about his sets). The place was full and dancing was going on full on. Around 4:00 am Simon Posford came on. After first sounds I've got this impression how different music is gonna be now. He started with full psychedelic power. The crowed suddenly changed to more happier colorful crowd. Music was fantastic. There were all times favorites from past years, like MWNN "Silicon Trip" and The Delta "As a child..." mixed together with new trax (Koxbox and Green Nuns of the Revolution) , and best stuff from "The Guvnor" himself. I found more space down stairs, which made it much more comfortable to stay there. Simon finnished his set around 8:00 am, though there was missunderstanding and he could play till 9:00, but it was late and owner of the club used with moment to stop the party (I guess he was too tired to wait another hour).
This party gets 9 out of 10. One point for all those little things, which make club party differ from open air :).
Bom Shankar, Michael.
source: The Chaishop
WAX Magazine Interview!
WAX Magazine Is Shpongled!
Simon live in New York! Pictures!
Chaishop Review from this Party!
Twisted In MOSCOW!
11/22/97
All backgrounds © Hallucinetik Productions
(Best viewed with 800x600 resolution)