Because of all the pictures, this page may take some time
to load, please be patient, it will be worth the wait!
~ Christopher, My Little Valentine ~
My Valentine
If there were no words no way to speak,
I would still hear you
If there were no tears no way to feel inside,
I would still feel for you
And even if the sun refused to shine
Even if romance ran out of rhyme
You would still have my heart until the end of time
You're all I need, my love, my valentine
All of my life I have been waiting
for all you do to me
You've opened my eyes and shown me
how to love unselfishly
I've dreamed of this a thousand times before
In my dreams I could not love you more
I would give my heart until the end of time
You're all I need, my love, my Valentine
Written by Jim Brickman & Jack Kugel
Sung by Martina McBride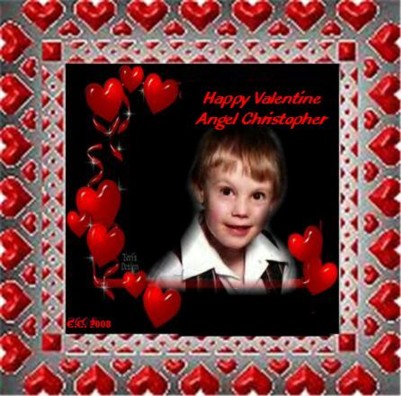 Above are two beautiful and loving gifts for my Angel Christopher from my dear friend, Carol, mom to Angel Michael.
For this wonderful gift above, thank you Patricia and ANGEL Victor!
Heaven's Valentine

I wanted to send you a valentine that spoke of all my love
Then I tried to find a way to send it to you above.
Should I send it air mail, for an angel to you to bring
Or whisper it in a love song, to the sky I could sing?
Plant it in the earth, for a flower to grow
There must be some way so I can let you know.
That I love you and miss you, and that will never change
Oh there must be a way, surely God could arrange.
I send it in my tears, from which my eyes do cry
I send it in my laughter, and at the memories I do sigh.
I send it in dreams, where again I touch your face
Where time knows no boundaries, no distance or space.
I send it in a candles glow
I send it in many ways just so you will know.
That you are my valentine, even though you aren't here
You remain in my heart, oh so close and so near.
I found there are many ways to deliver my love for you
All I have to do is think of you and my valentine gets through.

To my special valentine Steven
Love Mom
Sheila Simmons
Used with permission, please do not take.
Many thank-you's go to my dear friend Rosemary for doing this animation above and making the gift below for me.
You don't know how much I appreciate your help!
THESE GIFTS ABOVE ARE FOR YOUR ANGEL'S VALENTINE'S PAGE
LOVE FROM YOUR FRIEND SUE-ANNE
With Love On Valentine's Day
Thank you to Linda for these above two wonderful valentine gifts for Christopher!
Valentines Day is celebrated with hearts of every kind,
There's paper hearts and chocolate hearts and hearts that speak our minds
It is a day to express our love, from deep inside our soul,
To acknowledge loved ones in our life and let our feelings show.

Now this day, will be special, in yet another way,
It's been proclaimed, in many states, CHD Awareness Day.
On this day we honor those born with their heart broken,
The world will know of their plight, silent throughts now spoken.
We will remember loved ones, lost to CHD.
In our souls and in our hearts, forever they will be.
To those who continue the fight each day we are filled with admiration,
Your courage, faith and love for life deserve this celebration.

We also want to recognize, honor and give praise,
To those who keep our hopes alive with their kind and caring ways.
The nurses, doctors, and researchers are part of this day too,
For many hearts that still beat on, we give our thanks to you.
A day of hearts it truly is, hearts of red and gold,
Now add to it a brand new symbol, another heart to hold.
Please remember on this day, those with hearts not perfect,
And everyone who loves someone, with a congenital heart defect.
by Dolly Lee
The poem and graphic above were borrowed from My CHD Awareness Page
Many thanks to Logan's mommy, Desiree, for allowing us to use these on Christopher's page!
Happy Valentine's Day Christopher!
From your friend Linda, mom to Angel Joey
Stairway To Heaven
If tears could build a stairway
and heartaches make a lane
We would climb the stairs to heaven
And bring you home again
But there is a bridge of memories
From here to heaven above
That keeps your memory close to us
Its called the bridge of love.
Remembering you is easy
We do it every day,
But missing you is heartache
That will never go away.
Author Unknown
Go and run free with the angels,
Dance around the golden clouds,
For the Lord has chosen you to be with Him,
And we should feel nothing but proud.
Even though he has taken you from us,
and our pain a lifetime will last.
Your memory will never escape us,
but make us glad for the time we did have.
Your smiles will be forever hidden deep inside our hearts,
and each moment you gave us never will depart.
So go and run free with the angels,
As they smile so tenderly,
and please be sure to tell them to take good care of you...
for me.
Author unknown
I Will Love You
As long as I can dream,
As long as I can think,
As long as I have a memory...
I will love you.

As long as I have eyes to see,
and the ears to hear,
and lips to speak...
I will love you.

As long as I have a heart to feel,
a soul stirring within me,
an imagination to hold you...
I will love you.

As long as there is time,
As long as there is love,
As long as I have a breath
to speak your name...

Because I love you more than anything...
In all the world.
By Daniel Haughian, TCF Couer d'Alene Chapter
WE DO NOT NEED A SPECIAL DAY
We do not need a special day
To bring you to our minds.
The days we do not think of you
Are very hard to find.

Each morning when we awake,
We know that you are gone.
And no one knows the heart ache
As we try to carry on.

Our hearts still ache with sadness
And secret tears still flow.
What it meant to lose you
No one will ever know.

Our thoughts are always with you,
Your place no one can fill.
In life we loved you dearly;
In death we love you still.

There will always be a heartache,
And often a silent tear.
But always a precious memory
Of the days when you were here.

If tears could make a staircase,
And heartaches make a lane,
We'd walk the path to heaven
And bring you home again.

We hold you close within our hearts;
And there you will remain,
To walk with us throughout our lives
Until we meet again.

Our family chain is broken now,
And nothing seems the same,
But as God calls us one by one,
The chain will link again.
~ Written by Connie Dyer, BP/USA, Springfield, IL
Jason's Valentine Page
Even though you are so far
I can dream of where you are.
When I look up to the sky
I can see into your eyes,
I will stare off into space,
And then I'll see your face!

It's never goodbye,
I'm not good at those.
I'll see you soon, Angel,
In the world unknown
~ Anonymous
This is a beautiful gift from Christine, mom to Angel Deborah.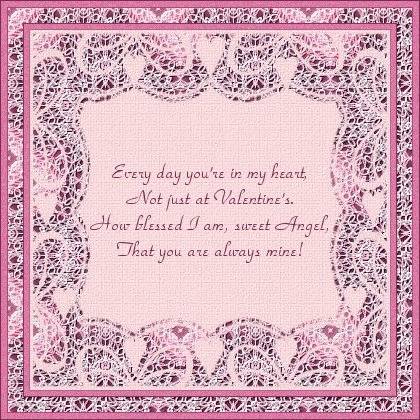 Robbie Smith Memorial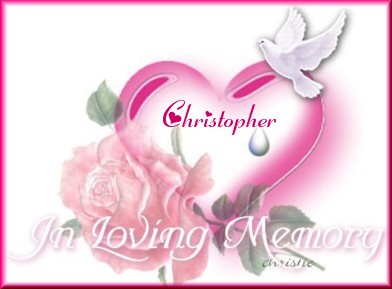 "I VISITED YOUR SITE. AND I FEEL YOU HAVE WELL EARNED THIS.
AND WELL DESERVE IT."
RAVEN AND GYPSY ROSE
This is another gift from my dear friend, Saralyn.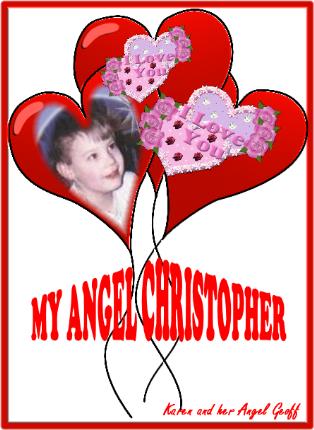 A small gift for you and your Angel Christopher for Valentine's Day.
May God bless and comfort you.
The two beautiful images above are gifts from my dear friend, Karen, mom to Geoffrey P. Edwards.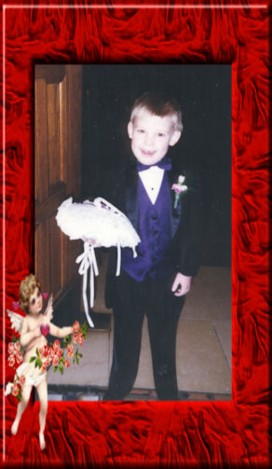 Here is a valentine gift for Christopher.
Love you,
Ann, Jason's Mom Forever
Jason, Our Gift From God
And this is a gift from my dear friend, Monika.
Dear Maria,
My Heart Aches For You and Your Family
the holidays, that should mean so much to us all
Hurt so very much, now without our precious children
No Words, No Time, Heal Our Broken Hearts
As We Remember there should be one more valentine
one more card, and yet we know they will never arrive
Know That This Broken Mommy's Heart Reaches Out to you and your family!
Day after day and Year after Year
Knowing that there are just too many Families That Know the heart searing pain
of Missing All Our Precious Valentines!
Benjiman's Site Map
For our Little Angel Christopher
Sending Hugs From Heaven
With Love
Ann, Laurasmom
Christopher
Mommy's Sweet Valentine
February 14, 2008
Do You See Your Mommy, Do You See Her Tears
Little Baby Angel, Come Take Away Her Fears
Send Her Your Sweet Kisses, And Let Her Know You're There
Little Baby Angel, Your Heart With Mommy Share

With My Love Sweet Christopher
Sing and Dance With The Angels
Ann, Laurasmom
Tina's Memorial Site
Thinking of you on this Valentines Day...
and all the other days that our child is not here to send us a beautiful flower...
so I have made one for you... from your child.
Have a wonderful day...and God Bless us all....we have survived a lot.
Jason's Page
Our Ken's Page
Dear Maria
Please accept my gift for your little darling ANGEL Christopher for Valentines Day.
LOVE YOU
Sue-Anne/LEE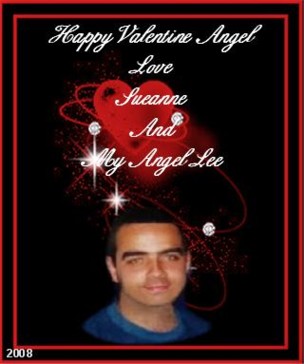 My Angel Lee ~ Always My Valentine
This is a gift from Danielle, Mommy to Angel Romelo.
Geoffrey Philip James Edwards
Jason's Web Page
My Angel Laurie
Dear Maria
Your page for Christopher is so sweet...
I have made a Valentine gift for you both..
Lovecindyjo
Angel Michelle's website
I want to let you know what a beautiful page you have created for your angel Christopher. Very touching, sweetie.
I am attaching a little Valentine gift for you. God bless you and be with you always.
Love and hugs,
Judi, Andrew's Mom
My Andrew My Son

Thank you to Terri for this great Valentine's card that you made for Christopher. And also thank you to Ann and Terri for the wonderful pocket watches for Christopher. And thank you to Patricia for the beautiful fans as well, and thank you to Pammi for the Valentine Day awards and the Valentine letters for Christopher. Thank you also to Gennie for the Christopher lion and doves image, the valentine beaver, and also the wonderful globe you made for Christopher, and this one below for Christopher and my dad too.
This webpage is created
In Loving Memory of Christopher Faller
on February 4, 2001
Last updated: February 7, 2009
© 2000 - 2009

Visit Maria's other pages for Christopher at
Maria's Tribute to Christopher
Angel Christopher
My Tribute to a Very Special Boy
Sign My Guestbook
View My Guestbook