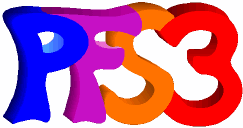 Support Page
If you have a problem with PFS3, please check these pages before contacting support.
Checking Mark Harden's FAQ will answer a lot of questions.

Are you already using the latest PFS3 version?
We recommend all PFS3 users to upgrade. The latest version of PFS3 is PFS3.3 (internal V18.5).
It fixes several bugs, especially in PFS Doctor, which now also is able to unformat and recover 'no dos' partitions.
For a complete list read the 'readme' file in the archive.
Download now: PFS3_5153.lha (187KB) readme for upgrade patches for PFS3 to PFS3.3
There are currently no known bugs in PFS3.3.
When contacting support, don't forget to mention :
PFS3 serial number, version and used type (normal/DS)
used configuration, controller, harddisk and partition sizes
used mask, maxtransfer and buffer values
a clear discription of the problem and the circumstances under which it happened
We try to answer as quickly as possible.
The PFS discussion forum has been closed due to lack of interest.