---
---
Ellyn's Young and the Restless Fan Page
---
---
---
---
Official 2004 Cast Photo
The Young and the Restless
---
---
---
---
---
---
Official 2002 Cast Photo
The Young and the Restless
---
---
---
---
---
---
Official 2001 Cast Photo
The Young and the Restless
---
---
---
---
---
---
Official 2000 Cast Photo
The Young and the Restless
---
---
---
---
---
---
1999 Official Cast Photo
The Young and the Restless
---
---
Welcome to the original SoapCity
Ellyn's Y&R Fan Page
---
---
---
---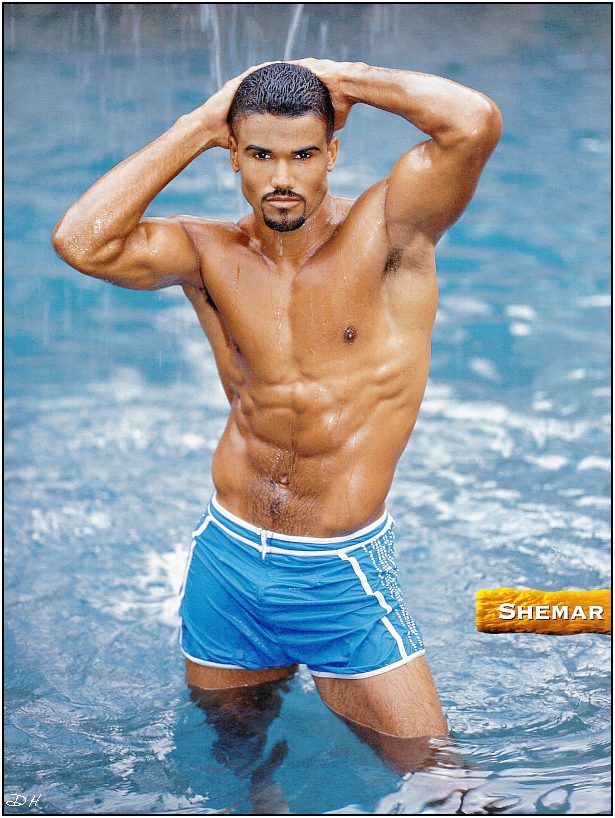 ---
---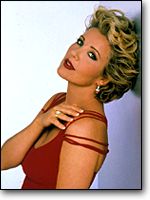 ---
---
Here are my thoughts on The Young & the Restless; the number one soap opera in America!

For over forty-six years, The Young and the Restless has been a vital, integral and exciting part of my life.
Genoa City, Wisconsin seems like home and its' inhabitants are my extended family! These people seem real to me!
I was a young woman when I first tuned in and watched history being made. When I viewed that first 30 minute episode many, many years ago on March 26th, 1973, I never imagined I would still be watching 46 years later. I never imagined it would last so long. This long-continuing saga had me hooked from day one.
I am lured on a daily basis into this surreal TV world we call The Young and the Restless.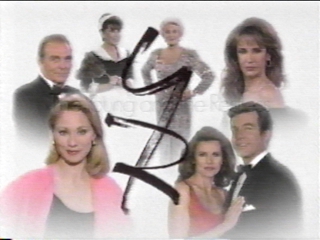 It goes back (way back) to the days of Snapper, and Sally McGuire, Brad Eliot, Stuart Brooks, Leslie, Barbara Anderson, Pierre, Laurie, and Lance. Through the years I have watched the Brooks' girls blossom into women, Victor become "Ruthless", Katherine sleep with stable boys, Nikki strip at The Bayou, Rose steal Nina's baby, people break into song in the most unlikely places, and everything in between.
Many characters have married, murdered, given birth, died, slept around, divorced, been kidnapped, lied to, stolen from, cheated on, slept around some more, and even been murdered throughout the years.
Just like real life!!!
Characters change personalities mid-storyline, some die and come back to life, babies turn into teens overnight, some clone into twins, some never age, and some are forgotten altogether!
Some are just as elegant today as in years past
Jill Abbott, a Jabot Corporate Executive, started out as a manicurist when she was much younger. Then she became Katherine's 'personal assistant' and stole her husband!
Now she has a grown son and dated a man twenty years younger than her.
Some find each other again after all these years and many marriages in between.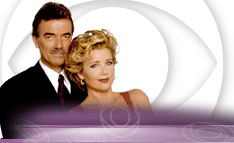 Some grow into womanhood on the show when they join the cast while still young.
Some characters change jobs or disappear overnight.
Esther's daughter Kate had been "upstairs studying" for years and now she's grown up and has a new name (Chloe).
Paul seemed to forget he had a grown daughter and although Heather was back in his life for years he didn't talk about his young son, Ricky who instead of being a kid, was a grown man. Killed by his father no less. Victor hadn't mentioned Victor Junior in ages until he also reappeared with a new name (Adam). Jack doesn't even mention Keemo anymore but recently was visited by Diane and their son Kyle. Diane is now also in Y&R Heaven.
Dr. Joshua Landers died and never did have that funeral yet
Brad Carlton, a former Newman Corporate Executive, was once John Abbott's Pool Boy! Formerly his son-in-law, poor Brad is also no longer with us!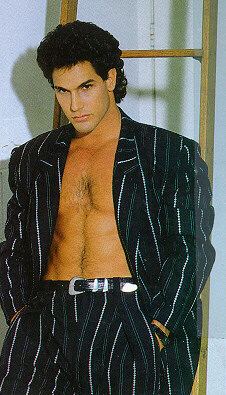 I am reality based; however, in no time these characters came alive for me, the world they inhabited became mine.
This was for me, a warm respite in an unstable world.
The residents of Genoa City became like family to me!~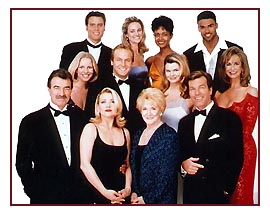 I care about what happens to them!
I've let them become real.
They provide me with an enjoyable form of entertainment that allows me to explore as well as express my feelings.
I can experience a micro-vacation from my hurried life by merely turning on the television.
Watching Young and the Restless offers me a place to laugh, to cry, to gaze at the screen in complete bewilderment, to gasp out loud, to grieve, to yell at the characters, and a chance to fantasize and daydream.
And a place to ogle the resident hunks of Genoa City!!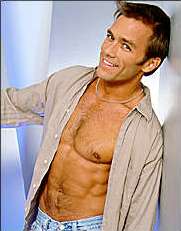 At times Y&R simply provides some background noise to amuse myself while busy with other worldly tasks.
But the Young and the Restless is always present in my life; and I've somehow managed to catch every episode I can, even when traveling.
Bless you, whoever invented the VCR!!!
In this age of Tivo and DVR, I still tape Young and the Restless every single day ~ 24/7 on VHS and watch every single episode!!!
I hope you find some of these Y&R Links to be interesting.......
---
---
All Experts Site for Young and the Restless Soap Opera
A place to get your questions answered by real experts on duty!
YouTube Dot Com
Simply type in "Young and the Restless" in the search window. Archived, ancient episodes and more!
CBS YR WebSite
Official Young and the Restless Soap Site at CBS.
Coffeerooms YR Message Board
Share your feelings about YR at this Young and the Restless Message Board.
Soapnet
Shows ~ Stars ~ Style
Genoa City News
Genoa City Front Page News, and Scoops!
Mr. Brooks Genoa City News Site
Linking the world to the latest spoilers, rumors, and speculation from the Young & the Restless.
Media Domain's Young and the Restless Board
Michael Gill sponsors this Lively Message Board for the discussion of our favorite Soap Opera.
Media Domain's Young and the Restless List of Links
Michael Gill hosts this List of Young and the Restless Links.
Parodies of The Young and the Restless
Another Way Out! This site shows in parody form, an alternative view of the soap we all love.
Shemar Moore's Myspace Page
Official myspace page of megahottie Moore
Shemar Moore Addicted....Fan Site and Photo Gallery
Need I say Moore????
Soap City's 2001 YR Cast Photo and Shoot
Soap City's 2001 Cast Photo and the details of the Photo Shoot are presented here.
Soap City Dot Com
SoapCity is the premiere online destination for fans of YR
In depth coverage, daily updates, behind the scenes features, live event coverage, star chats and an interactive fan environment.
TV Mega Site's YR Site
YR Soap Links! TV Megasite! Updates, Archives and More!
Soap Net
The only TV and online network devoted exclusively to soaps and YOU!
Soap Opera Digest OnLine Magazine
Daily Updates by the Soap Opera Digest Magazine, Live Chat, and Message Boards.
Toni's YR Spoiler Site
This Site contains SPOILERS, Fun Stuff and Greeting Cards.
Young and the Restless Chat Blog
Chat Blog from Y&R Fans
Young and the Restless Fans Board
Meet here at this Young and the Restless *Fringe* Site.
Fans of the soap meet here to discuss other topics outside of the soap, as well as post graphics, wavs, and midis.
Y&R Cast and Characters: Bios
Cast Bios of you favorite cast members. Click on their name and read all about them.
Y&R Online ~ The Scoop
Scoops, spoilers, recaps, casting news, appearances, and other interesting information.
Thank you for stopping by!
Please visit my other pages and links.

Be sure to sign my Y&R SoapLinks Guestbook!



It will make my day!


You are visitor number

free counter by Andale
copyrightę 1999 ~ ellyn hloben ~
updated august 8th, 2019