My Favorite Web Sites
Too Shy to make the first move? Let someone else do it for you!
Angelfire Home Pages
Backgammon ROCKS!!!
Beauty, Career, Fashion advice, plus heaps of fun competitions!!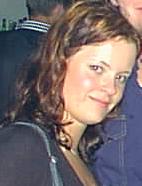 P's Favourite Beauty Products for April:
1 Fudge Dynamite- Makes you wanna sniff your hair all day long!!!
2 Body Shop Nut Body Butter - Smells good enough to eat IN the pot, imagine what it smells like on your skin!
3 Avon Sheer Lipsticks - so pretty
4 L'Oreal Nail Polish- the hottest colours around!
5 Hugo Boss Deep Red for Women - You get complete strangers coming in closer for a better smell
View My Guestbook
Sign My Guestbook
***A final thought from Me: New Years wish for everyone: People be happy. Don't sweat the small stuff. 2001 had enough misery to last for years, don't be a part of creating more Thank you for visiting my page at Angelfire. Please come back and visit again!***
CHECK OUT ANDY'S BUTT BELOW!!!