GOT A TROPHY TO DISPLAY?
SEND A PICTURE AND HAVE IT DISPLAYED HERE.
---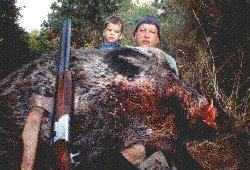 This pig was hunted in Marmaris City, Turkey. Hunter's name is Hayati, he has hunted over 500 pigs. This pig is 200 kg, teeth 21 cm.
---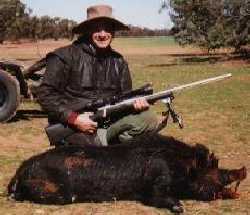 I got this boar last month in NSW, Australia with a 22.250 Remmington. I got him on the run as he was bolting for cover . It took two rounds to knock him down - the first in the back leg and the second was a chest shot. I was a little surprised at the stopping power of the 22.250 and 52 gn hollow points. It's not a real well liked round for pigs, but as you can see it is no problem.
---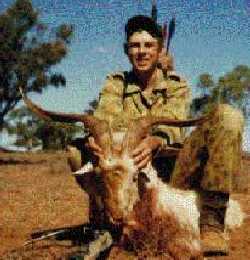 I am in Bendigo Victoria. I hunt pigs, feral goat and anything else with a bow and arrow. Recently I just shot a goat (left) with a spread of 30 inches it measured out to be 97 3/8 Douglas points. I have shot pigs and I still think that they are the best thing to hunt. In Bendigo I shoot Hares, Rabbits, Foxes, Cats and the occasional Carp which are found in the creek.
---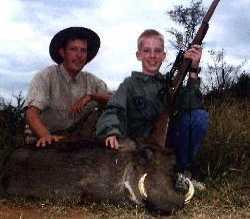 This photo was taken in Bophuthatswana in South Africa around April '96. It was taken when I was working for a company called Jensen Safaris in the African bush. On the left you see Henrik Holmskov and on the right the hunter, Jesper who was 12 years old and hunting for the first time - both of them were from Denmark. One late afternoon, they were sitting besides a field of sunflowers, looking at many pigs who carefully crossed a little track. Suddenly this old female came out, and Jesper gave it a perfect shot. So we had the pleasure to introduce him to the many pleasures of hunting.
---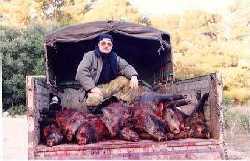 This is a half day hunting result of Turkey. There were 5 hunters who shot 18 boars in the same day.
---