I remember it was in early August, as the NY City schools had not opened yet. We had a multi bus charter, about 20 buses from Ozone Park in Queens, NYC to The NY State Capitol in Albany.

Our passengers were a few hundred angry parents protesting the transfering and busing of their small children to schools out of their districts to intergrate the schools.

I was next to the last buses in line, and when we arrived in Albany, we got a police escort to the Capitol.

Everything was going along fine with the parents picketing the Capitol carrying banners and chanting their slogans, "No Busing" etc. I'm not sure why, but they could not see the Governor as he was not in his Albany office. The protestors were not Happy Campers, and began shouting, causing quite a disturbance.

Finally, a few of the groups representatives got to see the Liutenant Govrnor or some other Big Wig. Not what they rode 200 miles for but it was the "Flunkys" or no one!

After the meeting, they got the governor to agree to meet with them back in NYC in a few days. There was still a lot of yelling as we were getting ready to leave.

Once on the buses, the parents settled down for the long ride home. It is evening rush hour, and hundreds of office workers are coming out of the capitol and other office buildings and walking past all these buses full of some still yelling protestors.

I put my bus in gear, and as the bus ahead of me moves, I start to slowly follow him, when POW!! It sounded like a gunshot, but I soon realized I had blown a right rear (curbside) air bellows. Alarmed pedestrians were ducking for cover, even the police officers were shaken and getting ready to draw their weapons.

I pulled up the brake and quickly opened the door to tell the cops it was only the air bellows. They managed to calm everyone down. One of my colleagues right behind me pulled out and left me flat. Nice guy, now what do I do.

I bounce down the hill to the Greyhound Terminal, and ask the Dispatcher if I can call my garage in Floral Park to send me another bus. I knew the GH Dispatcher having made several trips out of this terminal as a GH rental driver.

Talk about cooperation and coordination, while I am on the phone, my friend takes my 49 passengers, and puts them (at no charge), on two 4106's just getting ready to leave for NYC. He tells my dispatcher to send a bus to the PA Bus terminal to meet the two hounds. He then calls John Tobin at Yankee Trails and asks him if he can install a new Air Bellows for this stranded Schenck driver. 

John said to "send him over." John and two of his mechanics worked on my bus till close to midnight, while they gave me all the comforts of home. The Greyhound Dispatcher (can't remember his name), John Tobin and his crew were a great bunch of guys, and a real credit to their professions.

The Bus industry at its best, the way it should always be.  

Daniel "Silversides" Marra


[37] Pistol Packing Mama
Submitted By:Daniel "Silversides" Marra

Here is a story from back in the 1950's, about a local driver named Tiny out here on Long Island on a local run from the outskirts of NYC to the rural LI towns.
The story goes, He picked up this elderly lady at the Subway station. She gets on the bus carrying a fairly large flat thin box. Tiny hears this peeping noise coming from the box, and asks the lady what she has in there.
She tells Tiny she is "going to visit her Grandchildren for Easter, and she is bringing them baby chicks." Tiny replies "that's nice" and closes the doors and pulls away from the curb.
Well, Granny was not in her seat yet, and as the bus lurched forward, she stumbled and drops the box. It fell on the seat, and the dozen baby chicks fell to the floor and proceeded to peep, peep, and run all over the bus, under the seats and causing some excitement.
Needless to say Grandma is quite upset, "Oh my baby chicks, they are getting away, Help me!"
Tiny stops the bus and tells the lady to pick up the chicks as they are disturbing the passengers. Tiny keeps his 350 lbs in the seat, as there is no way he is going to be able to catch chicks.
The frantic granny is trying desperatly to gather up her baby chicks, and with all her upsetment, she is bending over to pick up the last few chicks, and unavoidably passes a fairly audible (loud) blast of gas.
Tiny quickly remarks "That's right lady if you can't catch em, shoot em!"
His amusing anecdote cost Tiny a two weeks suspension.
[38] STAY SEATED !!
Submitted By:Jon Hobijn

When I used to come into Washington, whether working for Capitol or Safeway, when I came off the B-W Parkway, I always made a coach announcement that we'd be in heavy traffic for the next 15 minutes and to stay seated for your own safety.
That was the cue, of course, for several passengers to immediately stand up and start fooling with their baggage. One trip a white guy immediately went into the lav. As I got down aways the route required a half right turn to go across to the DC station.
As I made the turn, I let the steering wheel snap back to straighten the bus out which had the effect of a whip behind the rear wheels. The guy in the can lost his balance, I guess concentrating on the job at hand, and fell against the lav door, which on an Eagle opens out. He falls against the door which opens and goes right into a big black lady's lap with his business still hanging out of the front of his pants.
She starts screaming "pervert" and beat the crap out of him with her hand bag while he's struggling to get up. He looked like he got the worst end of the deal when he got off and said I'd caused it. I told him I thought the women was heading into the terminal to find a DC cop to prefer charges against him for attacking her and exposing himself. At this point I think he decided a retreat looked better than a possible arrest and I never heard anything more about him making a complaint.
I told them about it in the dispatch office and Larry Quesenberry, who was dispatching for Virginia, laughed so hard he almost swallowed his chew of Red Man.
Jon
[39] Only my wife has heard this story
Submitted By: Michael E. Williams Sr.

Wow, these stories bring back memories.! In the mid seventies, I was assigned a cushion to NYC on a regular run to the Port. Auth. Terminal. Back in those days, I-84 (formally I-86) from Union,Cn. to nearly Hartford, was a two lane road for the most part. And very highly traveled. Somewhere in the (Tolland) hills around Vernon, Cn., I had to use the head. I remember that the bus that day, was an 01, had seen better miles, and I noticed that the head window had a crack in it. As I was standing there relieving myself,suddenly the wheels of the bus hit a huge pot hole, which was not unusual for that stretch of road, the rap around window simply flew out and there I was staring out the window at the traffic behind, struggling to zip up my pants.
Only my wife has heard this story in all these years. But it is good for a laugh.!
Mike W.
[40] THE DEPOT CLOCK
Submitted By: Daniel Marra, Sr.


Christmas Season is time to remember good family, good friends and good times.
This is a story of an old late 1940's vintage wall clock that I saw for the first time 48 years and 4 months ago.
After serving three years in the US Army I was discharged July 1956. My first objective as a civilian, was to get a job. Having done lots of traveling before and during my service to Uncle Sam, I wanted a job in Transportation.
In August 1956, my first stop to apply for employment, was the Jamaica offices of the Long Island Rail Road.
I filled out an application, and was asked a few questions, "Do you have any experience?" and "What is your height?"
I was 22 years old, and rode lots of trains, "not a qualification," and at 5 ft, 7&1/2 inches was too short. Though not mentioned, my name "Marra" did not match any on their employee roster, so becoming a Railroader, was out.
I had driven a few Army buses, and my next stop was Schenck Transportation Co., in Floral Park, NY where I was told they were not hiring, but to fill out an application.
While filling out the paper work, I saw this big GE wall clock hanging behind the Dispatcher's window. I reset my watch to the correct time, handed in my application and looking at the clock, said to myself I hope to see you again.
My first job was with Star Bus Lines in Bellmore, NY as a Bus Operator, until March 1957 when I was called and hired by Schenck.
I looked at that old clock every working day before going out on my run, and at the end of my shift when turning in my run card.
On the few occasions when I just made it to work in time to not get "knocked off" I pleaded with that old clock to slow down and give me another minute or two.
If that old clock could talk it could tell us about all my fellow employees and supervisors, and Mr. Ernie Schenck himself who looked at that clock every day. That old timepiece witnessed the passage of good times and sad times, and the family of friends who passed before it. Then one day in 1969 or 1970, It happened.
I was working the A.M., Spare (Extra) Board, and was standing at the dispatchers window waiting for the next driver due out to show up. Our Dispatcher, Jim Farrington, a fine gentleman was reaching for some schedules high on a shelf and accidentally brushed against the old clock.
Down it came, crashing to the floor and breaking its glass cover.
Jim called upstairs and got the okay to buy a new clock at a nearby GE Appliance Store.
I was assigned to go purchase a shiny new clock of the same type. Jim said "Take the old clock with you and try to get one the same size."
I returned shortly with a brand new clock, and hung it up on the wall where the old clock hung for many years.
Before retiring the old clock, I plugged it in, and the second hand damaged in the fall, was scraping along. I removed the second hand and the old clock, less its cover and second hand came back to life.
That old clock found a new home, and has been with me for the last 34 years, and still works.
In the late 1980's, the buses were gone after Schenck went out of business. The building stood until a few years ago, and now it is also gone, replaced by a Bank and a CVS Pharmacy.
The Old Depot Clock still lives on, witnessing the passage of time along with my Schenck Emblem, And Lots of Memories. Possibly the only remnant's of a once proud company and its family of Drivers, Mechanics and other personnel. (See the attached pictures)
Hope you enjoyed this bit of Nostalgia. Daniel Marra, Sr.
P.S. The clock hangs on the basement Trainroom wall.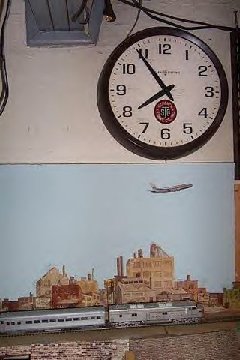 [41] Pappy and Jameson's Police Escort
Submitted By: Joe Hagan (Pappy)


In 1959, George Jameson and I were given the opportunity to work a charter while we were on our days-off between our regular assignments out of NYC with ABL. We were to go to the Marine Air Terminal at La Guardia Airport to pick up the U.S.A.F. Academy football team - they were to arrive at approximately 3:00 P.M. aboard an Air Force C-118 (DC-6) from Colorado Springs, CO. After their arrival, we were to transport them to the Westchester Country Club in Rye, NY. When we arrived at LaGuardia (LGA), we were to meet-up with two N.Y.P.D. motorcycle officers who were assigned to escort our two bus loads of football players. General Nathan Twining - then Chairman of the Joint Chiefs - was on the flight with the team, however, he would ride to the WCC in a staff car.
The flight we awaited arrived close to an hour late which would put us right into the middle of the New York City rush hour - as an added bonus, it was a Friday. George and I were assigned two 4104's - 6146 (CAL) and 7166 (CPL). These two cars were amongst the fastest in the entire Continental system. As we waited for the delayed flight to arrive, we struck-up a rather animated conversation with the motor officers. One of the two was a black officer, actually a sergeant, whose name was Luthan Dixon (can't recall the other officer's name) and he was as animated as George. Well, George is asking Luthan how fast these Indian motorcycles will go. Whatever the answer was, Jameson tells this sergeant that our '04's can outrun these motors. You had to be present to appreciate the look of disbelief on this man's face - more a look of astonishment. So, while everyone is laughing hysterically, our passengers (victims?) arrive. Our planned route was to enter Grand Central Parkway just west of the last stone-arch overhead bridge and proceed over the Triborough Bridge, thence Bruckner Blvd (Bronx) to the newly opened New England Thruway in the East Bronx where a NY State Police Trooper would pick-up the escort to our destination. At this time, Bruckner Blvd was a traffic nightmare due to numerous detours to accomodate the construction of the Bruckner Expressway - remember, Friday evening rush hour.
We started off just fine. George had, with him, our regional sales representative, Bruce Velsor who worked out of Ed Smith's office at PABT. Here we are roaring westward on G.C.P. (buses/trucks were not permitted on this roadway) with impunity behind our police escorts - red lights flashing, sirens screaming - and Jameson right on their tail. I didn't stay on George's tail very long - hit a section of "washboard" pavement and picked-up a terrible shimmy. Mind you, these cars did not have power steering, so I had to wrestle 7166 down to about 15 MPH before that shimmy quit, so in the meantime, I lose sight of - and "protection" of the escort. Now, I am alone with the automobiles on a road that buses are not normally seen. So I get on the air horn, high beams and even start swinging the spotlight to clear traffic. When I got up on the Triborough Bridge, I got into the far left lane of three and finally caught-up to George and the escorts at the toll gate where they had slowed.
The fun began when we hit the construction mess. There were barricades, detours around new-erected concrete support pillars for the elevated expressway, Friday traffic, red lights at major intersections (they were all major intersections), and mass confusion on the part of the motorists hearing sirens and air horns, flashing red lights, highbeams and spotlights. Both George and I kept getting the low air buzzer from using the air horns continuously. An airman sitting behind me uttered "I wish I was back on that airplane!" Throughout this venture on Bruckner Blvd, George and I were right on the tails of both of our escort motors - at one point, George actually got past Luthan - he couldn't believe what he was seeing - a 4014 escorting his police escort. I thought back to George's earlier statement to Sergeant Dixon - about being able to outrun that bike - and I'm sure Luthan had the same thought - after he got the blaring of a couple of air horns out of his system. When we arrived at the city-line, both the motor officers saluted us as they broke-off the escort and turned it over to the waiting NYSP Trooper in his 1958 Plymouth.
As we fell in behind the trooper, he started us off at a leisurely 40 MPH - the speed limit was 50 MPH. Sure enough, after a 1/4 mile of this, Jameson goes around the trooper and starts running 55-60 MPH. After the initial shock wore offf, the trooper assumed his position in front of 6146 and backed his speed off once again. Here goes George again and this time I'm right with him - we both pass the trooper and run right at the posted 50 MPH. Finally, our "escort" passed us again and actually kicked it up to 60-65 MPH for the remaining part of our trip on the Thruway. I can't recall the conversation that took place between the trooper and George those 45 years ago - yes, it was animated - however, when we were leaving to head back to 645 W. 46th Street (ABL garage), George and the still somewhat confused NYSP Trooper were laughing, back-slapping and shaking hands.
We never did meet up with Luthan Dixon again - wish we had. George and I still talk about this little adventure with fondness and a few giggles.
As an after thought, General Twining was wise to ride in the staff car - guess that why he had four stars.
Pappy
[42] Great Move, Driver !! !!
Submitted By: Dave Dearstyne

One day as I was loading passengers in Willamantic Ct. I was not to happy. I hated that town. Seems every trip, I had some sort of trouble with somebody, and it was always someone from Willamanic. This day was no exception. As I was boarding a few passengers I wasn't looking at them, but just taking their tickets. As this gentleman hit the first step I got a good wiff of him. Oh my god! this dude was drunk and smelled like a Budwiser brewery on a hot day. Now I'm mad at myself for not paying attention to the folks getting on the bus. He also had a six pack in a brown bag. How stupid of me not to catch him. Man,did I screw up...
Well, It didn't take to long for this jack ass to start in, he sat in the rear and was shouting "Yeh I'm Bill from Willamanic" Have a beer, I start hearing cans being opened, and within ten miles he had a loud one man party going on in the rear of the coach. I started to think to myself, how in the hell am I going to get rid of him. In about ten miles, had enough of this crap. I pulled into this commuter parking lot off the expressway, that had a bus shelter and about six or seven telephone booths in the middle of nowhere. I jumped off the bus, and took a phone off the receiver. I got back on the bus, went right up to him and said, hey pal are you Bill from Willamanic? He jumps up and says yeah. Then I told him he had a phone call as I pointed out the window. He then looks out the right side window,he was sitting on left side and saw this receiver swinging off the telephone. Out of his mouth comes a bunch of four letter words as he says " Oh S--- it must be my F----- brother I must of F----- forgot something at home". I'll be right back. Yeah right... As he staggered off the coach, I picked up was was left of the six pack, shut the door and drove off leaving him in the parking lot. The passengers were cheering out loud... Great move driver. After that trip, we never saw poor Bill again.
Dave
[43] We were Lucky
Submitted By: Roy Logan

Go Trailways

Joe Grissom went to work for Trailways Southern in Memphis, Tn. in Jan.1966 Roy Logan went to work in May the same year.
We started driving the Ole Miss Athletic Dept. in Sept that year. We went to Jax. Ms. with the Football team on a Friday and Joe was having trouble with his sinuses and it stopped up his ears and he could not hear real good. Ole Miss played the game on Saturday and won, after we dropped the team off in Oxford, Ms. we were on the way back to Memphis, Tn. feeling pretty cocky and were driving pretty fast just as we crossed the state line going into Tn. Blue light's came on and lit up the sky we stopped and the State Trooper got us in his car(he was very upset) and he said, "Do you guy's know how fast you were driving"? Joe Said "Sir i can't hear you because my ear's are stopped up" The Trooper said "I understsnd why your ear's are stopped up it is because of the Speed and Altitude you were Traveling".
(We were lucky we did not get a ticket)
By: Roy Logan
Trailways-1966 thru 1988
Greyhound- 1988 thru 2004
Go Big Red Go Trailways
[44] Hello, "I'm Johnny Cash"
Submitted By: Gilbert Helm

The story about the driver who had the guy get out at the railroad crossing to see if anything was coming reminded me of the time in Johnson City TN when a man who had been drinking boarded the bus. The only reason I let him on was that I remembered him from high school. I didn't know his name, but I thought I would give him a try. This would be a mistake.
When he got on, he went about three rows back on the right side, sat down and he proclaimed " I'm Johnny Cash, and I am going to sing." Well I told him no, he would not perform today, and thought that I had him settled down. Well, just as we are getting out of town, on the way to Asheville, he started up again and was bothering the other passengers. I knew at this time I had to get rid of him somehow. Just as I was looking for a place to pull over, he yelled up to me and said "Driver let's stop this bus and get us a beer". At this time I came up with a better idea. I remembered a convenience store just over the next hill, so I just pulled over at the store, opened the door and he walked off. Then I drove off. The people on the bus said they had never seen a driver get rid of a drunk so easily before.
I saw him in Asheville about a year later. He came over to me and told me it cost him $50 dollars to get home that day. I said the next time I bet you will be quiet on a bus. He then asked where I was going that day and I told him Charleston, SC He said isn't Columbia down that way. I said yes, so he went over and bought a ticket to Columbia,SC. He got on the bus and was very quiet all the way to Columbia, then he asked when I would be back. I told him tomorrow at 1 pm but I never him saw again.
Gilbert Helm
[45] Two Short Ones
Submitted By: Walt Cooper

When I was in my early teens, Mo-Ark (before they became a Trailways co.) had a shop in my little hometown of Cabool, Missouri. They had two mechanics that I knew quite well. Sunshine (thats all I even heard him called) Stockwell and Lester Nevill. They rented a building that had been a furniture/appliance store and had big glass front windows.
There was always an old Yellow Coach (the back of which reminded one of the last coach on a passenger train. There was an observation platform for the spare tire and baggage racks on the top) and a little Flex (we called them pushers. Had an inline Buick straight 8) sitting around the shop.
When one of the mechanics would adjust brakes, they would back the bus to the back of the buildings and wind it up in first gear towards the front and slam on the brakes.
I was walking home from a friends house one afternoon and about two blocks from the building, I heard one heck of a noise. When I got to the alley that ran beside the building, I saw the front of the little Flex protruding out of one of those big glass windows and two mechanics staring in disbelief. The brakes had failed. If it hadn't been for the concrete wall below the window, the little flex would have been out in the street. My Dad, trucker at the time, laughed himself silly when he heard about it.

Another little story that I thought was funny, I was driving a five star schedule between Medford, Oregon and Sacrament, Calfornia.
We had a breakfast stop at Redding, Calif. After I had unloaded the passengers and the hostess had gone in to turn in the breakfast's orders, I stepped back up in the bus to get my log book. In the right front seat, a lady passenger was trying to clean up her little Boy. He must have been four or five years old. She kept asking what he had done with his candy. He had got it all over his hands, face and even in his hair.When he discovered it, sticking to the wall of the bus, just under the window, he said "there you have it mom. It takes a licking and keeps on sticking". He must have heard a Timex commerical. I had to laugh at that one.
I also got a big laugh when an L.A. driver told a little boy that cotton plants (near Bakersfield, Calif.) were "marshmellow plants". Boy did he get an ear full from the kids mom.
I have more but don't want to overdo it.......Walt Cooper
[46] "Oh Is That My Wheel?"
Submitted By: Timothy Schmits

My funniest bus experience was on a Shortline bus in New York State in the 1990s. A wheel fell off the bus and raced down the highway shoulder along the guard rail. It went quite some distance and the driver said, "Oh, is that my wheel!" Luckily, no one was injured. We had to wait for another bus to come get us.
--Timothy Schmits
[47] Over the Side
Submitted By: Daniel Marra

A Gear Jamming Adventure
By Daniel Marra
It was a warm spring Friday in the early 1970's. I was a 16 year veteran at Schenck Tours, Floral Park, NY on Long Island. My co-driver for the day was my friend Freddie Thompson, a black gentleman. We both had a one-way drop off charter to Hunter, NY adjacent to famous Hunter Mountain Ski Bowl in the northern reaches of the Catskill Mountains, about 150 miles from NYC.
With the winter skiing season over, Hunter Mountain was a haven for tourists enjoying the scenery and other area attractions. Our passengers were mostly seniors staying at a hotel on Rte 23A, in the Village of Hunter, NY.
Our job was to drop the group off, turnaround and get the buses back for the busy weekend assignments.
Upon reaching the hotel, unloading our passengers and their baggage, Fred and I are ready to head back home. We are parked facing north in front of the hotel on a two lane road, not wide enough to turn around.
The hotel manager directs us to a wide shoulder north of town, near Rte 296, where we can make a U turn. The right shoulder widens out to about 30, 35 feet, plus the 20 ft width of the two lane, and a 7 ft shoulder, give or take.
We have two 40 ft Fishbowl Suburban buses trying to negotiate a turn the size of a postage stamp. "Tight, but, a piece of cake" I tell Fred.
Fred parks on the shoulder to direct traffic, while I swing wide and across the road. With no traffic in sight, I press the Reverse button in, move the Shift lever back and slowly let the clutch out.
Why am I going forward? I try it once more and move forward again, ever closer to the edge of the road where there is "No Guardrail!" Beyond the edge of the road is a 20 foot drop off to a fast moving Creek carrying mountain runoff of winter snow. NOT a place I want to go!!
By now, Fred is in a state of panic, and yelling for me to get out of there. With the front bumper over the edge of the drop, I manage to get off the bus and open the engine compartment door. I point out the reverse solenoid to Fred, and tell him to let me know if it moves when I hit the button.
Back in the seat, I hear Fred yell "No Danny, it didn't move." Meantime The bus step is now over the edge, out in "Oh Sh*t space. With Fred hanging onto me, I jump off again and show him how to move the shift rod manually to get the bus in reverse.
"Man, you're outta your bleepin mind Danny, You're gonna be in that river. We got to call for help." I assure Fred, that "this can be done, If he does exactly what I told him. One last try, before I give it up."
I pull the handbrake up, tight as I can to keep from rolling forward. With the clutch down, I yell to Fred "NOW" and he moves the shift linkage into reverse. BINGO, Fred was my Hero both Life saver and Bus saver.
I ease the clutch out, and feel the tranny tugging this wanna be boat backwards to dry land. I release the handbrake, and breathe a sigh of relief to my "edgy-ness!"
I park my bus out of the way, and ride with Fred two miles further north to the junction of NY23A & 296 where we back into 296 to turn around, and head back home.
"Just another fine day in the country."
Yes, I reported the defective reverse solenoid to our Repair dept.
Danny
[48] Oh, Those IC-41's !!!
Submitted By: Pappy

Right after the big strike in 1958-59, we would sometimes draw an IC-41 out of NYC on our trip west to PBG. Between NYC and PBG were nine tunnels; Lincoln Tunnel, the seven tunnels on the PA 'Pike and Squirrel Hill Tunnel approaching PBG. Many opportunities to create mischief.
On one such occasion, as I started to upgrade climb prior to exiting the Lincoln Tunnel. Right on my slow-moving tail is a Carey 4104 heading to Newark Airport. The driver, sitting high in his seat , is becoming a little impatient with the slower moving IC-41. So he gives me a tap of his air horn sitting five feet behind me (his first mistake). Since the air horn failed to make my ACF move any faster, he hit the air horn button once again - very loud in that tunnel. So this guy likes noise. He got some - when I keyed that old Hall-Scott, he must have thought the front of his bus fell off. I went thru the toll booth, climbed the long ramp and never did see that Carey '04 again. I figured he'd pass me somewhere between the tunnel and Exit 14 on the NJTP. Never happened.
We had a PBG based driver who once spent a good part, or perhaps all of his weekly paycheck replacing eight mercury-vapor lights inside the 6200' + Tuscarora Tunnel on the PA "Pike. At about 1 A.M. he set off a beauty. He didn't see any other vehicles in the tunnel - not even the trooper that was approaching from the other direction, ouch!
At night, those IC-41's with the muffler end-plate blown out looked like a Wright Turbo-compound engine on a Super Constellation - a big blue flame two feet long. They had character.
Pappy
[49] Another IC-41 Story
Submitted By: Jon Hobijn

When I started shortly before we struck in 1958, I rode along when an IC-41 was being deadheaded to Des Moines. As we came off Highway 6 and started towards the garage downtown, we had to go down a terrific hill called Keo Way. As we were mid-grade, Joe looked at me and said "...watch this." We coasted the next block or so with the key shut off. When he lit the Hall-Scott off again, the muzzle flash from the tail pipe could probably be seen in Ames, a ball of blue fire shooting out of the tail pipe and the sound was akin to the Battleship Iowa letting loose with a salvo of her big guns.
Needless to say, he destroyed the muffler. The Des Moines shop manager, Curtis Keller, lived about two blocks off Keo Way and I guess he raised about a foot off his couch with the blast. The shop foreman was waiting for Joe out front when he pulled in the shop lot.
Jon
[50] What Hit Us??
Submitted By: Walt Cooper

This is not really a bus story. It happened while I was on a charter from Sacramento, CA. to a place called "Camp Sacramento". If it is not appropriate you can delete it I was on a charter from Sacramento to Camp Sacramento sometime in the late sixties. Camp Sacramento is not a ski area but is a place where a lot of people go to let their kids play in the snow.
I had an old 4106 and after unloading my group, I found a spot where I could back into a wide spot, at right angles to the road. From the drivers seat I could watch the hiway and beyond to the hill where everyone was playing in the snow. It was one of those days that the sun is shinning brightly and a pretty chilly wind was blowing but was very nice in the bus. The hiway was clear except for icy patches here and there and gravel from the sanding trucks.
After about fifteen or twenty inutes, an elderly couple in a new Dodge car stopped in a clear spot across the road from me. The old gentelman got out of the car and helped his (quite a large lady) out of their car and arm in arm they were taking very little steps between their vehicle and the vehicle parked about twent five feet behind them.
I, sitting in the drivers seat, had just finished bringing my log book up to date and was watching the old couple and the people on the hill and saw something coming down the hill at a very high rate of speed, It disappeared behind the snow bank that the snowplow hat built up and then it reappeared at the top of the bank, down the bank, hit the old couple ( I honestly believe they swapped ends in mid-air) across the clear pavement and over the bank on the other side of the road and disappeared again.
I was very concerned about the old couple. I got out of the bus and went over to see if they were ok. The old man had gotten up and was trying to get his wife up. I helped him get her back on her feet and brush some of the gravel and dirt off her and asked him (for about the fourth time) are you folks ok. Finally he answered "Oh I'm sure we are ok......but what hit us". I couldn't give him an honest answer, I really didn't know.
They got back in their car and I walked back over to my bus and was thinking about taking a nap. Then I thought about the kids that had hit them and got back out of the bus and looked down on the other side of the road (behind the bus) and there were two kids. Two little girls.
My guess would be about seven and nine or so. One was sitting in the snow crying,The other about twenty or so feet beyond her trying to get a big innertube untnagled from some small saplings.
Slipping and sliding down the (Snow up above my knees) hill, I got to the smaller of the two. Her nose was running down over her chin and she was whimpering. When I asked her if she was alright, she didn't answer me. Instead all she said was"I told you we were going to fast". The older girl's reply " I couldn't help it I couldn't stop".
After about tweny minutes of gettin the two of them back up to the road ( I was puffing like a locomotive) I asked them what bus they were on. They said they were not on a bus but was with their parents. When I asked if they knew where their car was, They said yes and pointed up the road.
The last I saw of them, they were pulling that old innertube up the road towards their car. The last words I heard was "I told you we were going too fast
Walt Cooper
[51] TO THE RESCUE
Submitted By: Daniel Marra

Hi All;
I thought I would share this story to start off the new year on a happy note.
This memorable incident happened in the summer of 1969 or 1970. Please note, the exact years are not'so memorable. Among our Charter customers at Schenck Tours, were the American Sea Rangers, an organization similar to Boy Scouts, but geared to Naval training and knowledge. We took these young fellows and ladies to Navy Yards, Bases, Merchant Marine bases and other military installations. It was a bright sunny Friday morning, and I was one of six drivers assigned to a Sea Rangers Drop Off charter from Queens, NYC to Valley Forge, PA. After touring Valley Forge, the group was to camp out a few nights, and be picked up a few days later. We left all but one bus at the campground, and deadheaded back to our depot in Floral Park, NY.
Our buses were our newest 440 series GMC Fishbowl transit buses. (see pictures) One of our junior drivers was driving east heading back home, on the Penn Turnpike, at the max governed speed of 65 mph. It was dark, when a PA State Trooper put on his flashing lights, and pulled us over. We were not speeding and wondered why he stopped us? The trooper noticed our NY plates, and asked if we could help with a lost child, who was left behind by a chartered New Haven Bus Service bus headed to New Haven, Ct. She was stranded at the service area a few miles east of where we were pulled over. Wanting to help any way we could to reunite the stranded girl with her family, we told the trooper we would be glad to help. We followed him to the service area, the last one before the east end of the Tpke.
The plan was for Penn Tpke Police to contact NJ Tpke police, which had already been done, and try to stop the New Haven Bus Service coach before it reached the end of the tpke at exit 18. Over one hour was lost by the time the little girl was found and Service Area personnel tried to calm her down. NJ Tpke PD could not find the bus, which by now had possibly left New Jersey.
I called our Dispatcher and explained the situation, and to contact NH Bus Service, and have them send a car to meet us at the GW Bridge bus terminal. Neither the bus company nor the school or the girls parents could be contacted as the school was closed and the parents were on their way to meet the bus. I'll bet the chaperones on that bus had a lot of explaining to do leaving a young child behind.
As second senior driver, and a "frequent GH rental driver" I called the Greyhound dispatcher I knew in Philly, and explained the little ladies predicament. I do not remember his name, but this gentleman jumped into action and asked to speak with our State Trooper. The dispatcher diverted the second section of a Wash DC, NYC, Boston through coach to the Penn Tpke Service Area and told the driver to have the New England relief driver in NYC make a special stop in New Haven.
New Haven City PD were then called and asked to meet the bus at the school and inform the parents the child was safe and on her way home a little late, and to meet the Greyhound bus at the terminal when it arrives. She had a big smile and thank you for us as we left and headed home. Everyone was relieved and happy. Just another great day in the country.
Danny
P.S. If GH could not accommodate us, my next call was to the Trailways dispatcher. Our own Schenck dispatcher balked at carrying the child due to insurance and did not want the responsibility.
[52] Another Restroom Story
Submitted By:Charles Wiggins

Well, I do have have a rest room story.
This happened years ago when they had water in the restrooms on the the Eagles.
This guy came up to me while I was driving and asked, Is there anyway I could get his False Teeth out of the toilet??
He said, that he was washing his teeth in the sink, and they slipped out of is hands and fell in the toilet. I told him that they would dump the restroom in New Orleans, and that maybe he could get them back then.
He went back to the restroom to guard his teeth. About 15 minutes later, he came back with his teeth in his mouth, and said that he fished them out of the toilet, washed them off, and put them back in his mouth.
I almost Threw Up, thinking about it.
Charles
[53] THE BEST SUPERBOWL EVER
Submitted By: Steve Zapata

>I would like to take this opportunity to introduce myself to everyone.My name is Steve Zapata and I have been driving buses since 1988 when I was twenty years old and had to stay within the state of New York.
The company I started with(Campus Coach Lines/ugly green and gray buses)hired me one month before I turned twenty-one.
I then worked for Suburban Trails,S.E.P.T.A.(Philadelphia transit),Mears Transportation(Orland,Fl.),Peter Pan Trailways,DART(Delaware Transit and Lynx,the transit system in Orlando,Florida.
As you can see,Peter Pan was my Trailways claim to fame.It was also the most enjoyable of all of the positions I have held(except during the holidays and when it snowed).I have enough stories to fill a couple of pages up for days(as surely everyone else does) but one of my favorites was on superbowl sundy in 2000 when the Rams played the Titans.
I left the Port Authority in route to Baltimore early in the day knowing the forecast was for snow. Around about exit 11 on the turnpike it started snowing. As we all know,snow is pretty negotiable but as soon as I crossed the Delaware Memorial Bridge it changed over to sleet and ice.This was a harrowing experience as I crawled down the highway passing cars in ditches and cars sliding all over the road. Thank the Lord most of the truck drivers were off of the road or it would have been worse.When I finally arrived at the Baltimore Travel Plaza,the whole front of the bus was caked over in ice.I still finished my run and took my remaining passengers downtown.The best part was that service had been suspended,I did not have to come back to N.Y. and I returned to the Travel Plaza to a beautiful suite paid for by Peter Pan and I got to watch one of the best superbowls ever.
Steve Zapata
[54] Who is sitting behind you?
Submitted By: Steve Zapata

I have never been one to hold my tongue which is probably why I have a whole bunch of stories to write.
I could'nt just sit behind the wheel and pretend the people behind me did not exist.In fact they made the trip more enjoyable.And the stories more memorable.The best part about driving was just going down the highway during the evening in the summer around about seven or eight.The sun would be setting and most of the rush hour traffic had subsided.It was also my last run out of New York and nothing was better than the last ride home.Well this particular evening I was enjoying the scenery on the pike when I noticed that one passenger behind me did not care for my driving.She let me know this by constantly sucking her teeth.All the way down route 9 she kept doing this.Was my driving that bad that she had to express her feelings in that manner?Well,by the time I was nearing the turn off for Freehold center I had just about had it with her.I knew she was going to get even more upset because we normally would'nt go into the center because nobody ever got off there.Usually as the passengers boarded the bus in New York they would let you know that they needed to go to the center.I was going there for two reasons.First,since she was annoying me I was going to annoy and inconvenience her a little.Second,I was going to stop and let her know I did not appreciate her review of my driving and that she should feel free to take any other bus but mine from that point on.I downshifted the bus from fourth gear to third to make the ramp off of route 9.I brought the bus to a stop at the bootom of the ramp and prepared to make my left toward the center.As I started shifting I heard that noise again.This time I paid close attention as I shifted.I went up to Fifth gear and then back down to second.Everytime I shifted I heard that noise.It was a clicking comming from the gearshift!I had paid so much attention to everyting I was seeing that I never noticed it.I was only occasionally distracted by it and thought it was the lady behind me.Well I asked the lady to move over to the front doorside seat so I could see her and I explained to her what I had been thinking and why I kept trying to turn around and give her a nasty look.We laughed about it and had a great conversation the rest of the way.She actually complimented me on my driving and let me know that she purposely took my bus every night.No,there was no love connection involved for she was married as well as myself but,she did take my bus while I was on that run almost everyday and she even took it when I changed runs.From that day on,she sat on the doorside aisle seat(affectionately known as the "rap seat") and we talked and laughed all the way down route 9 until she left the bus.I have met many people,famous and otherwise while driving a bus.I learned from this incident that you never should assume or let anger get the best of you.I found a good friend that day,the kind that had the guts to tell you when you were wrong.Had I acted rashly I would have been justly embarrased and would have turned a bad trip into a miserable one.You just never know who is sitting behind you.
Steve