A Bocephus Tribute to the Intimidator

"This is the biggest loss to our culture and, in fact,
our entire fabric of life since the untimely death of my father on January 1, 1953.
The name Dale Earnhardt will now join that short list that commands respect the instant it is spoken."
-Hank Williams Jr.
"Nascar will never be the same for me, you are missed".
-Sherry

EXTRA! EXTRA!

Read all about it

HAIL, Washington Redskins!!!
" Welcome to Maryland "
Jack Kent Cooke Stadium, 1997-1999
Redskins Stadium, 1999-1999
FedEx Field, 1999-

RFK's Sweet 16 Moments and History
On August 17, 1938, Hail to the Redskins made its debut as the official fight song
of the Washington Redskins. Since its debut 54 years ago, the song, written by renowned
band leader Barnee Breeskin, has had a few minor changes from the original
lyrics penned by Corinne Griffith (wife of owner George Preston Marshall).

Griffiths original lyrics had Fight for old Dixie instead of todays Fight for old D.C.2
Also, Griffith originally had Scalp 'em, Swamp 'em. We will take 'em big score.
Read 'em, weep 'em Touchdown, we want heap more instead of todays version
Hail to the Redskins! Hail victory!
Braves on the war path, fight for old D.C.!
Run or pass or score- we want a lot more!
Beat ċem Swamp ċem Touchdown- let the points soar!
Fight on, fight on, til you have won,
Sons of Wash-ing-ton!!

RAH!,RAH!,RAH!!!!
Listen to Hail To The Redskins
Sammy Shreiber and the Redskins Pro Orchestra
with the Redskins Singers in MP3 Format

Hail to the Redskins in RealAudio Format

Local places for Redskin News and More...
Redskins Report/Capital Punishment
More of the Best Damn Redskins Fan Sites right here

Who is B-Gal aka Sherry ?
My Fantasy Baseball Team

Guess I'll have to go back for another autograph...'99 training camp.
Meet Bo Sherman, my grandfather
Read a Newspaper Article on Bo Sherman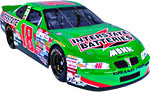 Click the car for my NASCAR page
Joe Gibbs....
Where were you in '93 when he retired?
I was on a road trip home, knowing that the Richmond's Nascar races would be letting out just about the
time I got through VA... just to hear that Gibbs had retired. Never forget the announcer...
"you must have had your head in the sand to have not known about this.....
WELL DAH ".... ok, where were the rest of you?


Please visit my friend's sites -

Sign My Guestbook
There are no strangers here....Just friends you haven't met yet!
(but there's alway that one butthead that rears it's ugly head, LIFE...AIN'T IT GRAND)
View My Guestbook

My Email


Please Visit this Great Site
Bocephus Gal's Homepage is best viewed at 1024 x 768