The Very Unofficial Chris Simon Page
(Please be patient while the graphics finish loading. TIP: When the moose starts running, the page is finished loading.)
---
Article #1
Article #2
Hello and welcome! As you can tell from the title, I am a huge Chris Simon fan! This makes the third hockey season that I have been a fan. Chris Simon is a left-winger for the Washington Capitals, a NHL team. I first noticed Chris during the '96-'97 season. He had just been traded to the Caps (my home-team, almost) and I kept wondering, Who is the "guy with the long hair"? (According to some e-mails I've gotten since I started this page, I am not the only one who first noticed Chris by that hair flowing when he skates!) Incidentally, this was also the time when I first started watching ice hockey. Coincidence? Maybe...but just in case anyone gets the wrong impression, I really do enjoy the sport of hockey, as well as the players. A few months ago I was looking for a web page about him and when I couldn't find any, decided to create one of my own. So, pull up a chair! Hope you enjoy and please feel free to e-mail me any info, views or pictures you have on Mr. Simon; it will be greatly appreciated. "Miigwech"...thanks!
---













A great article, recently pointed out to me by my very good friend Ace...what can I say? "You are my ambassador of 'kwan'." :)
CHRIS SIMON: GOING TO THE NEXT LEVEL
By Russell Levine of NHL.com
NEW YORK (March 30, 2000) - There are many sides to the Washington Capitals' Chris Simon.
On the one hand, he's an imposing physical presence -- 6-foot-4 and a rock-solid 230 pounds -- big enough to intimidate many an opponent. It's impossible to see Simon on skates and not notice just how large he is on the ice. You'll notice too the long, straight hair, worn well below the shoulders in the way of his Ojibway ancestors.
When a defenseman looks over his shoulder to see who's chasing him into the corner, he notices the hair, and he knows who's coming. It's not usually a pleasant realization.
Then there's Simon's reputation. At one time, his fists made him one of the game's most feared fighters. Even though he almost never fights anymore, the reputation lives on. Watch one of Simon's games and you'll probably notice that players who go into the corner with him surrender the puck more often than not.
But there's another side to Chris Simon, the hockey player, that has emerged this season. The onetime premier enforcer has made the transformation to premier power forward. He leads the Capitals in goals, with 28, and has been skating on the first line with passer-extraordinaire Adam Oates most of the season. It's not the place you usually find the team's "designated hitter."
Talk to Simon off the ice, and you'll notice yet another side to him. This giant of a man, with a face scarred by countless battles in countless arenas, comes across as gentle as any person you're likely to meet in any walk of life.
Simon speaks quietly and thoughtfully, carefully considering your questions and then his responses before answering. He is quick with a smile and a laugh. He has fought many battles, both on and off the ice, to arrive where he is today, and he is clearly enjoying the moment.
He may at one time have been the League's best fighter, but it's pretty obvious it was never a role he cherished.
"It's great to go out there and be counted on to score goals or to make the big play," he said before a recent game against the Rangers. "Fighting's leaving the game. There's hardly any. I think that now you've got to be a physical forward. Guys don't like to get hit, so if you can go out there and establish a good, physical presence, create some turnovers where guys are trying to get rid of the puck before they get hit -- play physical and still try to hit a lot."
Earlier in his career, Simon was sometimes sent onto the ice for one purpose -- one purpose that had nothing to do with scoring goals. The man who skated around looking for confrontations has had to learn to skate away, lest he cost his team one of its biggest offensive threats while he sits in the penalty box.
But skating away is easy for Simon.
"It's not hard at all because I've spoken with (Caps' GM) George McPhee and the coaches, and they want me on the ice," he said. The smile leaves his face and he lowers his voice. "If they didn't say that, and they still wanted me to fight, I guess that's what I'd have to do."
Simon's smile returns as he continues, "but they spoke with me and told me that I'm more valuable on the ice now. Sure, there's going to be the time when I have to do something, I have to get in a fight, but they want me to be on the ice mostly. It's great coming from them. It's a lot easier when it's coming from the team that they don't want you fighting."
Though he doesn't miss having to drop the gloves every night, Simon makes no apologies for his former style of play.
"A lot of guys, that's how they get into the League," he said. "You know, you've got to do whatever it takes to get here. That's the way I see it. But once you get here, hopefully you have good coaching where they see that you can play hockey also. That's been one of the things here, is the coaching staff -- they wanted me to be more of a player, and we work on that a lot. Every day I work with (assistant coach) Tim Hunter after practice, I'm shooting and stuff like that. It's great when the coaches look at you as more of a complete player."
Simon has become such a complete player that he set career highs in goals assists and points. And though he seldom fights, he still leads the team in penalty minutes, proving that none of the aggression has left his game.
Both Simon and the Capitals have enjoyed a remarkable transformation this season. Simon missed much of last season with injuries, and the Capitals, coming off an appearance in the Stanley Cup Finals, failed to make the playoffs.
The team stumbled out of the gate again this year. But around Christmas, something magical happened. The Caps started winning and haven't stopped since, compiling a 29-7-5 record since Jan. 1. Around that same time, Simon started putting the puck in the net. He hasn't stopped either.
The big winger gives much of the credit to his linemate, Oates.
"The goals have come this year, and a lot of that has to do with the fact that I play with the best passer in the game right now," he said. "I get a lot of great passes in the slot. When I get the chance to score, I try to make sure that I bury it."
Playing with Oates has been a big plus for Simon this season, but none of his success would be possible if he wasn't able to stay in the lineup. After three injury-plagued seasons in Washington, he realized he had to change some things in the offseason if he wanted to stay healthy.
"I have a trainer in California, T.R. Goodman. He really helped me a lot," Simon said. "It turned my game around with my conditioning. I never really knew how to train properly before for hockey. Getting to work with him and guys like Chris Chelios and Rick Tocchet, he knows how to train hockey players. It has made a big difference -- that, and just being more committed to training. I spent three months there last summer and I train every day with our strength coach. We do something every day to maintain my strength and make sure nothing gets weak."
Weak is not a word that comes immediately to mind with Simon. This is a man that has beaten a career-threatening drinking problem. A man that has taken on the toughest players in the game and more often than not, come out on top. And a man that has won the battle to prove that he was more than just a thug on skates.
Chris Simon, weak? About as weak as the Caps' playoff chances. They will enter the postseason as the hottest team in the League over the final three months of the regular season, perhaps even as the top seed in the Eastern Conference.
"I think things look good for us," Simon said of the playoffs. "You know, we've had the experience of going to the Finals. The guys are two or three years older than they were back then. Experience helps you in the playoffs. You know what it takes, you know how to take care of yourself at the rink and away from the rink. At that time of year, you do everything imaginable for the team, being disciplined and stuff like that. All of those things are going to help us be successful."
Simon, who will be a restricted free agent when this remarkable season comes to an end, doesn't want to look too far into the future.
"The most important thing is to win tonight's game and take it from there," he said " I'm not worried about my contract. I don't think of the summer, I think of right now. That's the way I live my life. Things will take care of themselves."
Copyrighted by NHL.com.


CALLING ALL FANS!
Here is a new contest: can you think of a good caption for the picture below? If you have one, e-mail it to me, I will post in on this page and let the fans pick the winner! Good luck!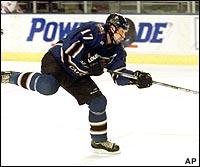 Don't forget to sign my guestbook!

Visit my message board: Message Board
NEW!

Help me win an award! Vote for my page!

Click on the graphic to vote for this
page as a Starting Point Hot Site.

4,021 Visitors since this page was created September '98 and counting!

Remember October is RSD awareness month!
One last parting message...please contact your nearest wildlife center and help our beautiful wolves! If you are interested, visit my Hot Dogs! page. Also, thanks again for visiting my page! I hope you will come again!



DISCLAIMER: Neither I nor this page has any affiliation or connection with Chris Simon or the Washington Capitals. It is a page made by a fan for other fans. All pictures and articles used with permission.
CREDITS: I would like to thank the following people for helping me gather information, pictures, allowing me to add links to their pages and/or their general support of this page: Amber, Suz, Kerrigan, Andrea, Linda, Leah.


Copyrighted 1998, 1999, 2000 by Stacy.
Last updated: March 3, 2001.
---

You can now reach me by Yahoo! Messenger or ICQ. My ICQ # is 44648884 and my Yahoo! ID is wolfeyez88.

---
---
---

If you like blues and rock, check out the Indigenous, a family band that hails from the Lakota Sioux nation, official web page by clicking on their album cover above. Or you can read about them on the Native American Music Awards site by clicking on their logo. I love their music and can't wait to go to another concert!


Let your voice be heard! Click here to find out how YOU can help stop sports teams from using Native American mascots!


If you liked this page, why not send it to a friend?




[Stats]





[News & Polls]





[Personal]





[Articles]





[Pictures & Videos]





[Fun Stuff]





[Cool Links]





[My Personal Page]





[Awards]





[Web Rings]





[FAQs]





[What's New?]





[Other Famous Ojibwes]





[Stories from fans]