Entertaining Moments of Spring
Now Playing: Lights....Music....Action!
PRESS RELEASE: This just in....New Musician's Website Launched! Get into "The New Eclectic Sound Experience" at:
http://www.mariejmiczak.blogspot.com
Entertaining Moments of Spring
Spring is a wonderful time to celebrate with family and friends. You can begin making plans for entertaining by taking an "al fresco" approach to your next soiree. Set the mood with live music and lights to transform your affair to the sunny sidewalks of a French bistro. Serving your guests "café" style means using smaller round or square tables with fewer guests seated at each. This allows for a more intimate dining atmosphere.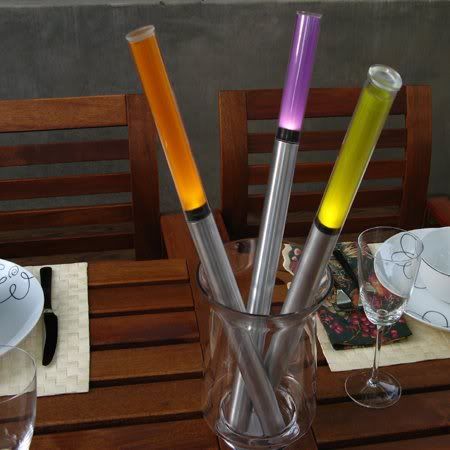 Photo This Havaleena Light Bouquet graces your table indoors or out!
LIGHTS
One of the hottest design ideas for home entertaining comes from the makers of the Havaleena Light. These fireless torches cast a soft, elegant glow on your table setting as shown in the above photo. You can even add messages to the light filters or change to colors of the lenses to compliment your décor for the evening. Set on top of a piano, they provide more than enough light for the keyboard. Best yet, unlike candles, they are smokeless, odorless, dripless and safe to touch in addition to being exquisitely beautiful. They will not interfere with the delicious scents of your cuisine and the torches last up to 20 hours on only three AA batteries. The Havaleena Light goes everywhere too. Use them for an impromptu picnic on the beach or at the park. Need a gift idea? They make wonderful hostess gifts, housewarming and Mother's Day presents!
Havaleena Lights are exceptionally well made and will be a welcome addition to any décor. Since there is little or no heat involved, these lights can be arranged with fresh or dried flowers for a stunning, artistic centerpiece.
Havaleena is offering our readers a special discount purchase of these gorgeous lights by clicking on the following link. We highly recommend them for your next party or as a welcome gift! Click here for your special discount price on these decorator lights which offer so many uses:
Special Havaleena Light Offer for our Readers!
http://www.lampcraft.com/index.asp?PageAction=VIEWPRODGROUP&ID=8
(NOTE: Clicking the above link will not allow you to return to this page!)
Photo CF Martin D-16GT Solid Body Guitar
MUSIC
One of the things you are trying to create is an atmosphere quite removed from the actual local setting. For example, you could set out a guitar on a stand or even hire a musician to play as a wandering minstrel at your next event. If you are so gifted, you could sit and play a few songs for your guests acoustically. Perhaps the best guitar for both looks and playability is a C.F. Martin guitar. These are highly prized and collected by music lovers the world over. In fact, they invented the Dreadnought design that is perhaps the most recognizable style of guitar. Place a D-16GT in the entertaining area in sight of your guests and watch the conversations (and hands), fly. It will add a romantic touch to the event and may even bring out the artistic side of your guests as well as yourself. Many people use guitars to decorate their homes without knowing how to play a single note! However the Martin D-16 backs up its good looks with an amazing sound that will impress anyone who appreciates the guitar. Still, there are some beautiful instruments besides the guitar that are very easy to play and can be quickly learned to entertain yourself and your guests.
They are the Autoharp and the Strumstick…
PHOTO Oscar Schmidt Acoustic Autoharp
The Autoharp was the most popular parlor instrument during Victorian times, however once the phonograph and pre-recorded music became a fixture in most homes, it fell out of favor. It saw another resurgence in the 1950's as a music education instrument in the public schools. The Autoharp is very easy to play either lap or Applachain style held in the arms. The Centurion model is perhaps the best acoustic Autoharp Oscar Schmidt makes which means you needn't use amplification to be heard. I've played mine outdoors at garden parties, bluegrass jams and folk festivals as it is very portable. Add a strap and you're ready for anything.
You could try playing some lovely spring offerings like Irish Folk music which include lively reels and slow, romantic, airs. Celtic music and Scottish Airs are beautiful on the Autoharp and capture the light, festive theme of outdoor celebrations. We recommend:
* Celtic Autoharp 35 Celtic tunes arranged for all standard Autoharps such as Scotland the Brave, Farewell to Whiskey, Star of the County Down and Eleanor Plunkett by Karen Mueller. Includes CD with examples of playing of these tunes. Mel-Bay www.melbay.com
* Scottish Airs and Ballads for Autoharp has 25 Scottish tunes arranged for Autoharp using standard notation and tablature with accompaniment chords. Flow Gently Sweet Afton, Cradle Song, Bonnie Dundee and Auld Lang Syne by Alex Usher. Comes with audio CD. Mel-Bay www.melbay.com
Photo Strumstick by Bob McNally
This is another easy to play, conversation starter! The Strumstick is an invention of Bob McNally who is an excellent guitarist who can also boast the design rights to the Martin Backpacker, a very portable, quality guitar. The Strumstick only has 3 strings and ours, the Grand, is tuned to the key of D. The first low string is D the middle is A and the last is a high D. It is in fact arranged in a similar fashion to a mountain dulicmer except for the reversal of the D string's position, thus pitches.
The beauty of the Strumstick is that you really can't hit a bad note. Pick a string for the melody and strum all of the strings and you will sound great. What this does is give you a drone note which is the foundation of most Celtic music, (think of the steady note heard played on the Bagpipes). The Strumstick comes with both an instruction and song book. A song/instruction CD is also available. I was able to pick up playing songs from the book almost immediately and it really helped propel my progress on the guitar because the technique is essentially the same.
There are 70 tried and true songs included with the Strumstick. This will add a new dimension to entertaining your guests as there are scientific proofs of the benefits of playing and listening to live music. Even more than that, its just plain fun! If this is not enough, along with the songs included with the Strumstick, we recommend you also try:
* Celtic Songs and Slow Airs for the Mountain Dulcimer by Neal Hellman http://www.amazon.com/
* Favorite Old Time American Songs for Appalachian Dulcimer Mel Bay http://www.melbay.com/
Action!


Dr. Marie Miczak and her C.F. Martin D-16GT Guitar with an under the saddle Fishman Ellipse Matrix Blend Pickup http://www.martinguitar.com
(Guitar Accessories, Martin Logo Leather Strap, Thumbpick, Strum 'n Comfort Kodiak Pick)
Look for her upcoming CD featuring this Martin D-16 and Electric Autoharp! Get the full scoop by visiting the NEW Eclectic Sound Experience right here:
http://www.mariejmiczak.blogspot.com