INTERNET RADIO RECORDER AND PROGRAM SOFTWEAR...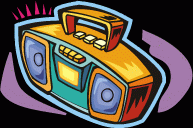 Replay Radio is an incredibly easy way to record radio broadcasts. It's like a "TiVo™ DVR" for the radio. Just pick your favorite radio show, or select a station and a time range, and Replay Radio records it for you. Hundreds of shows and stations are pre-programmed, making recording as easy as point and click.

Record Internet radio broadcasts in any format, including Real, Windows Media and others.

Become your own radio program director by setting up a daily list of programs you wish to hear and have them switch automatically to each radio stream without retuning each time. Set up permanently to daily, weekday, Saturday and Sunday programs. Listen live! Without changing stations....AND if you wish, go back to recording files to repeat or dub to tape, DVD, CD or Mp3 files etc. To order click on banner above.
ADD wireless speakers to your PC for room to room listening throughout your home or office.