Makin' Mischief
'Ello, yank! I'm Jetta. Welcome to my world, a world where the Misfits rule! Ya won't find Jem here! Below are pages devoted to me and my partners in crime!
NEW! Online Jem Role-Playing Game Now Forming. All characters open! Email link at the base of page for anyone interested! Contact Synergy now to get in the game!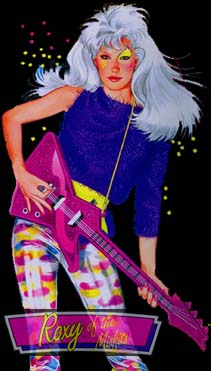 >
Gimme, Gimme, Gimme! I Want It! I Need It!
Listen up! There are some items out there I am willing to buy or trade for!
Video's Camera
the hair bow, nylons and sandals for "Let the Music Play"
the blue socks and yellow sandals for "Encore"
Pizzazz's underwear, sock, belt and guitar
Danse's boombox, tank, sash, hairbow
Things I will trade
Email Jetta with a proposition, yank!
Email: jetta53@hotmail.com
These pages are always under construction, yank!