jangeo Pinkerton
The Templar Knight, Book One: A Witch Spell
by jangeo Pinkerton
Bret de Colville, knight for Robert de Brus, dreams of becoming a Templar Knight. With his mind focused on his duties, Zarelda, a beauty he meets in France, bedazzles him. Once he discovers she is a witch, he leaves her. He falls in love with Lady Briana – but the jealous witch causes horror over the village celebration of Samsain. Kidnapping Briana and taking her on a journey through the universe, the two women end up in Hell. Sir Bret is devastated and engulfs himself in learning the secrets of the universe. He is initiated into the Templar Knighthood and learns the secrets of unknown knowledge, only given to the Templars. Several years pass, and Zarelda returns to help Bret. But will she really help him or harm him? Bret must leave all behind to go in search of his true love. Will he risk everything? Read an Excerpt here!
Order The Templar Knight Book One at:
PublishAmerica.com
Amazon.com
BarnesAndNobel.com
BooksAMillion.com
You can order from you local bookstore by having them order it for you!

The Templar Knight, Book 2: Journey To The Kingdom Of Hell
Has been accepted by Publisher. Will be out in 2006!
It goes something like this:
The Lady Briana de Lindsay, awakes to find herself locked inside a dungeon cell in Hell. A spellbinding prince enters her life, but is he good or evil? The lady longs for her knight, Sir Bret de Colville, to rescue her, but instead finds herself preparing for an unexpected marriage.
Back on earth in the land of Scotland, Sir Bret enters a special branch of the Templar Knighthood, and is given the title of a mystery knight that only one before him has held. While the Templars are being arrested and tortured, a murder occurs in the village of Colville.
Sir Bret, grieving for his slain brothers, grows wiser and stronger, determined to find and rescue the Lady Briana de Lindsay. Through the help of his wizard, and the love of his God, Bret learns the secrets of King Solomon, his ancestor. Bret, prepared to make his journey into the heavens to find Hell, learns of dark evils he must face. And if he fails, Briana is lost forever, and so is his life.
When the day of the journey arrives, Sir Bret is stunned to find that an extra person will travel with them. Once they battle their way to torment, he discovers who Zarelda Sedah, really is. In Hell, Bret is in for the surprise of his life when he discovers the great secret. His visit in the underworld encounters not only surprises but much grief as well.
And what of the child? Would Zarelda try to sneak back to the earth and kidnap Bret's son, as she had Briana?
Come travel with Bret de Colville, as he wanders through the universe, and goes on an incredible journey, to find the secret of life. Read an Excerpt here!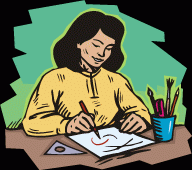 About the Author
Read Articles Here!
Blog
Our News!
Today in History!
Click on the button below to sign GuestBook!


Where authors and readers come together!
Thank you for visiting my page at Angelfire. Please come back and visit again!