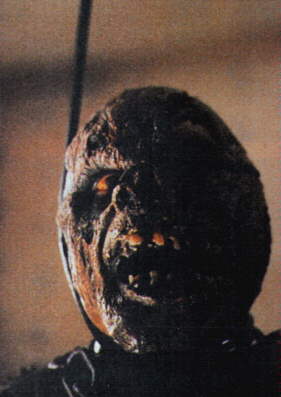 Prologue: When I Was Born..I Was Born The Man!..And When You Step on That Apron Your Ass Becomes Part of The Game That I'm The Man In!
Static.
Fade up the Sin Wrestling logo.


In any profession, whether it be athletic or educational, police work or criminal, there will always be one person that stands out above all else. That one man will set the standard that all others will be held to and more often than not, that standard will never be met.

"I AM..... THE MAN!!"

To be compared to the likes of Hulk Hogan or Ric Flair can be one man's greatest achievement. Meant as a compliment, to the best of the best, it is an insult. In the mind of the best, there is no comparison. There is no one on their level and there never will be. It becomes the career of the best to remain the best, to hold off the top of the mountain and fight away all those who seek to claim it as their own. To fight back the threat of elevation for all they are worth.

The theory of elevation is a myth creamed over by internet fan boys. No matter who is on top, the complaints about lack of elevation are evident. For years, they will scream that a man deserves a world championship push and when he receives it, he immediately becomes public enemy number one and another up and comer takes his place as the internet golden boy. Because of the lack of elevation, the fans coined the term "glass ceiling," meaning that the mid-carders could look up through the glass ceiling and see the main event but could never quite reach it. Constantly bumping their heads into the ceiling with no sign of it giving in.

Sid was never the internet golden boy.

Sid made his presence known in Noah Japan for the first time.Immediately upon Entering NOAH, began an intense feud with Kenta Kobashi...Whom he Defeated In an incredible Semifinal match for the NOAH Championship.He eventually went to the finals of the NOAH championship,but lost to Ikuto Hidaka

Although Sitting around and relaxing after his loss, had its perks,this did not suit the self-proclaimed "Man." It was time to return to Wrestling and claim the one belt that should've been his from the beginning. Sid made his appearence in FMW, made his intentions known, and crushed Hisakatsu Oya in his first match .

Sid made the challenge to Hayabusa,and made the promise that the FMW's Show at the Tokyo Egg Dome would be the site where a new Champion would be crowned. Sid and Hayabusa wrestled an epic match, lasting upwards of forty minutes, before Sid hit the Death Trap and put the legendary performer's other foot in the grave, staking claim to his first world championship. "The Man" had finally reached the pinnacle of his career, 5 years of struggling in Pro Wrestling paying off once and for all. Sid's career was riding high .

And then it all came crashing down.

Atushi Onita took over FMW from Hayabusa and his first act of business was to strip all champions of their titles with the intention of crowning new ones later in the night. Sid didn't agree with this method and refused to take part. He threw down the FMW Heavyweight championship and walked away for what he thought would be forever.

Onita failed. FMW was broken. Hayabusa returned to pick up the pieces and announced that forty-five men would do battle in the main event of a PPV entitled Brawl for all . Forty-five men would do battle and one man would walk out with the Frontier Martials arts Wrestling World Heavyweight Championship. After his first reign had ended so suddenly, Sid had to show them that they made a mistake by robbing him of his championship. He entered himself in the match. Everyone immediately wrote him off as hype. A man FMW had washed out before he could become washed up. Many heralded Komazawa Olympic Park Gym as the place where a new contender would step up and take the crown. Veteran, hungry superstars the Likes of Vicious Vic Grimes,Stan"the Lariat"Hansen And Big Van Vader came from all over to try their hand in the main event.

In one match, Sid climbed the ladder to the very top of Frontier Martial arts Wrestling. Eliminating wrestler after wrestler after wrestler until he was the last man standing.His mask broken,blood staining his features, Sid eliminated The Sadistic ECw Legend Sabu to win the FMW championship for the second time.

Forty-four other men came from all over the world to win the title and "The Man" turned every single one of them away as if they were children playing a man's game. Sid showed every single one of them exactly why he was the man to beat. Sid established once and for all that he has broken through that glass ceiling

And now With Sid firmly back in place, panicked. The wrestlers were threatening to quit if something wasn't done about the living, breathing, ass kicking machine known to many as Sid"The Man"Frankenstein. People were getting concussions left and right thanks to Sid and his arsenal of Ring side Weapons, until one night, Hayabusa pulled the trigger that would almost kill Sid's once and for all.

The match was for the FMW World Championship. Sid versus Mr. Gannosuke versus Mammoth Sasaki. Sid dealt out punishment left and right, taking advantage of them like they were first match rookies until Willy "Hido" Takayama and Tetsuhiro Kuroda arrived at ringside on the orders of Hayabusa, distracting Sid long enough for Gannosuke to sneak a pin on Sasaki to steal the world championship.

Sid cornered Ganosuke,Takayama and Kuroda and his ensuing revenge was so fierce, so brutal, so very, very awe inspiring, that Hayabusa had no choice but to Fire Sid before lives were lost.

For nearly three years, the wrestling world had continued on without Sid and the wrestlers have let out a sigh of relief. Elevation has occurred in his absence and new stars have been born. It wasn't until Sin Wrestling opened its doors that Sid decided it was time to make another impact. In a promotion ruled by Corey Page,Sid felt it was his duty to show them what real talent was like.

After sitting back and watching the business evolve without him, he decided that it was time to return, to show the up and comers that they are not the Man.
---
One moment, can change everything. It did change everything. As anticipation grew, as adrenaline pumped to new and unbelievable heights, the god choose two men's fate. Before them, two warriors,two friends are about to enter battlefield for the right to a name, and the possession of a title. Such insignificant things in the whole circle of life, but to these two men, vital. And as the gods watched, they put their heart, soul and sanity on the line. However only one could reap the rewards on offer. Only one could leave the ring a happy man. The other, has fallen upon the time that he will be tested, tested mentally. He's proven his physical prowess but once again suffering will great him as it comes back to haunt him. He thought he had escaped, but he had never escaped. It was just waiting for the time to strike and that time has come. One must find meaning in the suffering to advance in life. However life is never perfect and life will always throw you that curveball that you didn't see coming.

You put your everything into a match, every ounce of your being into the space of about 20 minutes, perhaps more and perhaps less. You enter a construction of the like that you've never seen in person before. You put a whole week of your life towards one moment, and the way that moment plays out, decides what your next week will be like. Why put yourself through such mental and physical tests. Too feed an ego that needs to be satisfied? Is one really willing to risk everything he has for one moment of glory. And what if you don't succeed. Then you've wasted part of your life in the pursuit of something that just wasn't going to be. Wasted time that could have been spent with loved ones.

They choose to do this, cause that is now who they are? Could they survive without this, I doubt it. Nothing would feed their being like that moment. But that moment, can bring consequences that some just cannot deal with. Some survive, or do they? Do they survive or do they just avoid or prolong what is destined to come. You'd think that perhaps they would soon learn, the signs but they don't. And once again, they fall into the same cycle. Every man has his weakness, even these warriors. They may look impenetrable, but they are far from it.

Sharon, Arlene.

All meaningless names to most. Just names that we associate with the female of the species. However to some, those names mean a lot more than that. To one they meant make or break, do or die. He survived two times, two times when it could have all been over. That's two opportunities to learn a lesson, and two opportunities wasted. For years of pure dominance he was safe. But he risked it all again, just like he had before. And all in the name of love!

To feel needed, wanted and desired. To feel lust, love and gratification. To know that when wakes up there will be someone there, smiling at you, or just in your presence. To feel like you'll never be alone again. In time of need, that shoulder to cry on. In time of pleasure, someone to share that with. Someone who you look at, and immediately smile. Someone to add that excitement to your life, outside of that moment. Everyone looks for that someone, and on the way you'll find many who almost give you every single emotion you wish to experience. However some things just don't go together well.

In the pursuit, and possession of that feeling, one can cause that moment that used to be there's, go into the hands of someone else. Losing position in your world, losing that success can be a damaging blow that some never return from. We see it all the time, a man on a mission, unstoppable and everything is going there way. Then along comes that promise of love and happiness outside of the battlefield. And there goes the edge that they had, as outside advancements, lose them what they once had. You see it so many times, and it has now happened two times to one man. A man that should be on the top of the world.

And history is about to repeat itself. Another interruption to his life has come, and no matter how much he tries, he cannot stop it from doing what the last two did. He still hasn't learnt how to fully balance the two, outside interests always seem to effect his ability to go that extra distance in the battle. Some have caused him however to go that little bit further but also drive him towards the edge of insanity. Whatever lies ahead for him, his enemies will have been watching and waiting for the perfect time to strike.

It sent four problems, not only out of his life but some out of his life forever. Only three were willing to see out the times of hardship. What will be in store for him and his seventh, will she stick out the troublesome times? Will she bring along her own troubles? And will the enemies smell blood, just like they had done before? Who knows, perhaps this will change all that. But perhaps it's just the return of the inevitable. Either way, testing times have arrived, and what will happen depends on so many factors, nobody can make a sensible prediction.

Love Can Heal All
---
Been Doubted And Challenged Before

It didn't stop me then either!
---
SCREEEEEEEEECH!!!

The wheels begin skidding, sliding along the super slick asphalt thanks to the unrelenting storm that refuses to ease up. Both headlights hilight dangerously, the short trip through Life as it flashes across the driver's frozen eyes. In almost slow motion, the car begins hydro-plaining across the painted white Stop line, underneath the dangling traffic light, which all the while screams Red at the top of it's lungs. The brakes, which lock up, cannot stop the dark green Rental Ford Mustang that begins veering off the road to the right, still hovering somewhere around 55 mph. As each tire sprays up the layer of water from the road in all directions, the front wheels tilt to the right even more, pushing the car off the highway with extreme velocity, up onto the sidewalk and soaked grass. The front wheel drive finally catches tration, sending the vehicle even faster into...

CRAAAAAAAAAAAASH!!!

The front end of the Mustang collides with a near explosion, as the bumper and the framework wrap itself painfully around the thick trunk of an aging Oak tree. The left headlight smashes upon impact, however the right survives to leave even a little light into the situation. The Front windshield resmebles spiderwebs, as it is smashed completely across, still holding together like the design entailed. The driver side, delivering the most fearful aspect, has a head-sized indent pushing out from the plain. More then a tiny spot of red outlines it, as it begins rolling slowly, dripping down the inside of the winshield.

The drumming of the rain spattering across the crumpled hood nearly covers the sound of the driver's side door opening a crack, and the thump of a nerly unconscious body falling against the door. It tries to open, yet with the front end compacted, it leaves the door almost completely non-fuctioning. Under the splatter, a soft, faint chorus can be heard, as the radio continues to sing melodically, unknown of the horror that it currently serenades.

'I can't let it end like this...'

The thought races through his mind, as he tries moving, freeing himself to no avail. The steering wheel and dashboard have been forced back nearly half a foot, squeezing the man tight against his seat. Off in the distance sirens ring, although the only sound which vibrates within his ears leaves him slightly uncomfortable with it's history...

Enter the arena and hit the lights Step up now you're in for a ride this is war, ain't no fun and games we get it up, you go down in flames

Party time, going down you better not mess us around the stakes are rich, take a hit or stay the price is high, someone's gonna pay

Heads I win, tails you lose out of my way I'm coming through roll the dice don't think twice and we crush, crush 'em

Looking for trouble, now you've found it you're a drum and we're gonna pound it

Last one standing wins the fight hear us scream and shout all night down on the floor and eat the grit this is gonna hurt a little bit

Heads I win, tails you lose out of my way I'm coming through roll the dice don't think twice and we crush, crush 'em

Now we lay you down to rest you'll never be more than second best step inside you're in for a ride and we crush, crush 'em

The hard sound of Megadeth continues to play in the vehicle, the bloody, broken man still very able to catch the irony which doesn't amuse him. His mind begins racing, from his beginning and debut, to what seems like a very early conclusion. His now blood shot eyes slowly blink open and closed as he struggles to keep himself awake, knowing full-well that the moment he allows himself to fade, it may be for the final time.

'Keep your eyes awake, please... Just keep your eyes awake.'

In an attempt to stay awake, he begins trying to mouth the words to the music which plays, however vocalizing seemingly is impossible. He pushes harder, trying to find anything within him, only to taste his own blood as it rains off his face and gashed forhead, off his obviously broken nose dripping down upon his tongue. Around him the rain continues to pelt the car, almost getting stronger with the Misery.

The radio, finally coming to the tail end of the song begins silencing itself as it fades, and for the first time the man is able to hear the loudening sirens as they draw near. A sigh of relief escapes from the man, as his eyelids begin growing heavier and heavier, almost shaking as he uses every ounce of strength to stay awake...

To Stay Alive...

As his mind races, recounting almost every memorable occurance in his life, happy or not, he comes to rest on the ongoings from only a few hours earlier; a Friendship, the type that viewers would never get a chance to see, or probably ever hear about. A friendship, a hand shake, a Verbal Agreement and a past, all about to Collide. Taking a step back on a career and a Brother, for some self benefit. He shakes his head slowly, bringing more pain to his body, as he tries to clear the thought from his mind. Tears begin welling up in his eyes, as a soft sobbing begins to emit itself from his person.

'Please... Please...'

His vision begins slipping away, objects bleeding into each other as everything becomes nothing more then a blur. As the colours meld together, finally forming a black wall, his body crumples, unconscious, the left side of his head smacking with a loud thud, hard against the driver side window. The radio, which before sang beautifully is now the voice of a DJ, delivering the top of the hour headlines...

"If you are trying to travel South, steer clear of Highway 16, where a one-car accident has closed down the road. Police and Paramedics are on the scene now, and we'll update you on the situation as soon as we have it. Also..."

The words hang alone in the frightening atmopshere, just as the Driver's side door is pried open. Standing in complete shock, two Fireman stare silently at the bloody mass being held upright by the slightly torn seatbelt. After a moments hesitation, the two spring into action, speaking in language that only Emergency Services would understand. As they work, sawing the steering wheel off and questioning the reason the airbag did not infate, more vehicles begin arriving. One Paramedic leans against the vehicle, holding an Oxygen mask above the nose and mouth, praying like every other man on the scene that the story is not over...

The saw finally, cuts through the column, the wheel falls, rolling off the lap of the unconscious man, and laying without movement in the soaping wet grass. Bringing shears to the Seatbelt, they begin slowly removing the man, hoping and praying that this is not all for naught. With one man holding his neck, and another guiding him underneath the dashboard, both almost sweating more then the man is bleeding, they work with exact precision. Freeing the victim from the vehicle, a voice hovers over the conversation...

" Any word on how this happened?"

One of the firemen looks up, seeing a Detective clad in a brown raincoat and a covered hat, his face showing very little concern. It was the voice of the other Fireman answering however, that startles everyone.

" I've got an idea."

As everybody's eyes train upwards on him, his float sadly down upon the bloody right hand of the victim, which still to this second holds the Empty 40-Ounce bottle of Whiskey. Everyone's eyes freeze on it, sadly having to acknowledge another case of drunken driving. As it almost halts the progress of the Emergency Crew, something snaps everyone's attention back to the moment...

"He's not breathing, and his Pulse is Dropping Fast. We have to get him to Emergency now... And everything Slowly fades out...
---
WHAAAAAOOOUUUU.... WHAAAAAOOOUUUU...

" Take the bridge! If you try the tunnel and it's packed, this guy won't make it."

The wail of the siren, as loud as it is, is not enough to drown out the urgent cry from the rear of the ambulance. The attendant's index and middle finger clutch firmly the right inner wrist of the man, checking it against the digital watch wrapped around his own left. He stares down on the increasing numbers, counting along in his head each beat from his pulse, the look on his face far from a positive one, as he tries to ignore the bumping and swerving of the desperate driver. As the watch ticks off 30 seconds, he shakes his head once...

"We gotta hurry. His BP is 60 over 35, we're losing him..."

"60 over 35? You're shitting me."

"Just Drive."

As the words escape his lips, you can hear the engine roar a little louder as the pedal is pressed harder against the floor. The attendant, with nothing else he can do to really help him, holds an Oxygen mask over the area where the nose should be. Checking the IV's connecting to his left wrist, he makes sure to do his best not to look the man in what used to be his face; not much of it is left from before. What is, is submerged in a few layers of blood, some still seeping from the wound.

"Give him Mouth to mouth! he's got to get Oxygen in his system."

The shouting from the driver snaps the man from his daze, who turns his head towards the front of the vehicle and the area where the voice emenated from...

"I don't even know if he's still Got one!"

He hates using the words as soon as they escape his lips, however he can't take them back. Instead, he reaches down once again grasping the limp right wrist of the man between his thumb and index and middle figers. Tilting his own left wrist toward him, he begins taking his blood pressure again. The look on his face is one that he seems used to wearing, living a life filled with such horror must bring it often.

Outside, luckily the traffic is minimal, and the rain which still pelts down upon the roof of the ambulance carries a solumn tune to it. As the vehicle tears through red lights and deep puddles, it reaches and surpasses 70Mph. Blue signs displaying a bold H on them begin appearing as they quickly cut the gap between them and the hospital by the second. Appraoching a green light transitioning to yellow, the Ambulance's breaks are heard locking as it begins slowing down, squealing a tad as they push through the water soaked road. It hangs a quick right, gently grazing the sidewalk and emerging without even a bump.

Sweat has begun to form on both men's foreheads, beads actually dripping down the forehead of the driver. Taking his eyes off the road for the first time, he glances down at the dashboard clock, and then up at the rearview mirror trying to see the atmosphere only a few feet behind him. The pool of blood that is already staining the bottom of the ambulance is more then enough to fill him in.

"How much Longer?"

The words hit the drivers eardrums, and it takes him a few seconds to catch his thoughts, before the estimations begin turning in his head. He stares out the front windshield watching both wipers pass back and forth, before he decides the proper response.

"About 2 minutes. Keep him with us."

"I'm doing everything I can. Radio ahead; they're going to need to get ready for this."

His voice trails off, making the ending nearly impossible to understand, yet somehow the man gets the messege. Gripping the dispatch radio, he begins speaking terms the normal man would not understand, his voice rushed and definately showing a little fear. As he finishes, a few words sticks out from the others, even more frantic then the rest: 'He's on the Doorstep'.

Slowing down again, taking the corner as fast as he possibly can while still keeping the vehicle on 4 wheels, the Driver keeps his eyes focused on whats ahead of him, knowing that with a second's delay may be a second too late. The repetitive blue and red flashing lights that reflect dangerously off the hood of the ambulace, giving a slight glare the driver needs to fight through, yet it's a task he's done numerous times before, and one he is only a few seconds away from completing now.

For the first time in the evening, a smile appears, as it slowly crosses the driver's face. It disappears almost as quickly as it came, not wanting to jinx anything in the slightest. As he turns his head, opening his mouth to speak to his partner, he is interrupted by his frightened, serious voice.

"it's Dropping, and it's dropping Fast!"

The driver has no reply, as he turns the vehicle into the first Hospital driveway upon the right, pulling forward under the cover of the building, parking just infront of Emergency's sliding doors. The Doctors, completely prepared open the doors the very second the wheels squeal to a stop, looking in to the face of the attendant who's eyes tell the seriousness of the situation. He begins wheeling him from the back, speaking in near shouts over the rain and sirens.

"Caucasian male, arson victim. His BP was 60 over 35, and his heartbeat is getting weaker and weaker. You gotta move fast."

"That's our job. Get him into ER."

The Doctors and nurses rush wheel the stretcher into the building at a frantic pace, a young intern struggling to hold the IV bags high enough to keep the drip flowing into the man's body. As they navigate there way through the cluttered hallway and struggling patients, they all do everything they can to make there progress a little faster, none of them giving the poor man's face a second look, let alone a concerned one.

As they turn the stretcher right, passing through the doors into the Operating room, another Doctor rushes onto the scene, quickly grabbing the IV's from the untrained intern, and barking a few orders of his own. The door slowly close behind them, the intern stopping and leaning up against the wall for a moment before the feeling is too much; he takes a step across the hall towards the garbage, vomitting everything he has at the thought of the man's bloody face.

And everything slowly begins fading to black.
---
BEEP... BEEP... BEEP... BEEP...

The speed at which everything moves is near hyper, while all at the same time everything unfolds in an almost slow motion type atmosphere. A half dozen Doctors and nurses surround the bloody, barely breathing body, each focusing on a single task; Precision and Posthaste all at the same time. Three spotlights are positioned just above the patient, illuminating every part of his body, the golden tint on his body taking away some of the hideousness of the victim. Pale green and white decorate the room, including the masks and scrubs worn by the slightly blood covered Surgeons.

"We're going to have to open him up. I can't be sure his broken ribs haven't punctured anything. Scalpel..."

The lead Surgeon extends his hand behind him, palm up, and the nurse behind him gently drops it in his hand. Bringing it back towards the body, he automatically begins operating, the frame of the male nurse attaching Vital Readings along him blocks the view of the Doctors movements in front of him. As he rotates around the body, making sure an electronic marker is attached in all the appropriate areas, the camera seems to slowly follow around behind him, his every movement blocking out the gory aspects three-quarters of the World could not accept.

Passing the scalpel back over his left shoulder, he begins slowly and carefully opening him up, checking and investigating every vital Organ inside to ensure they're all intact. Moving slowly, he completes, withdrawing his hands and immediately moves his focus up to his destroyed face, which even a Veteran Surgeon has trouble seeing.

BEEP... BEEP... BEEP... BEEP...

Looking at the Clock, and then back down at the victim, he speaks again, his voice holding an almost poetic echo to it while still coming off like an order. Tone of voice is not even thought upon twice in this world.

"God, what a mess. We're going to need to get a Plastic Surgeon here now. There's nothing I can do with that. Stitch him up and then we'l-"

BEEEEEEEEEEEEEEEEEEEEEEEEEEEEP!

The long extended tone signals urgency, as everyone in the room automatically snaps into Emergency mode. One nurse's eyes dart to the vitals, while another automatically reaches for his wrist, manually checking his pulse. One doctor who had already begun the stitching begins speeding through it, aware that if he is not able to close it soon, they will have no opportunity with the defibrilator. Just as he he finishes the last loop, he snips the thread and steps back while the Doctor places both hands on the machine. Raising them, he rubs them together charging them for what awaits...

"CLEAR!"

Placing it against his chest, they surge electricity through his body. As it hits his system, his body lurches and jumps on the table for a second before dropping back and settling without movement again on the metal table. Almost every eye in the room automatically darts towards the machine which still displays the long flat line, hoping for the smallest of blips to bounce onto the screen.

BEEEEEEEEEEEEEEEEEEEEEEEEEEEEP!

As they turn back, the Doctor is already rubbing the metal bottoms of defibrilator together, charging it up for another attempt. While rubbing it, he turns his head over his shoulder ordering the nurse to increase the outtage, which she does, as he leans back down over the stained blood and loosely sewn up chest. Just behind him, a female Doctor repeats something over and over, still keeping her focus completely on the task at hand.

"CLEAR!"

Placing them around his heart once again, the Doctor pushes it against his cold, hardening skin and admits the shock into his body and heart, praying deep down inside of him that the life in his hands now, will not slip from his grip. As the body leaps from the table again before settling back down, once again six heads snap towards the monitors, all watching the flourescant green line running perfectly horizontal across the screen. As six hearts drops simultaneously, one bounces to it's feet.

It is the sight which announces it first, as a small break vertically relieves everyone in the room. A few sighs are released, followed by some brow wiping with the sleeves of there scrubs. One after another blips begin appearing on the screen, his blood pressure and heart rate stabilizing more and more with each second that passes. The lead Resident looks back towards the body, a smile appearing on his face as the life he almost lost has been found again. He raies his gloved hand, and places it gently on the man's chest, which heaves up and down with every breath he takes.

As the mood begins to settle and quiet begins to overtake everyone again, the Doctor slowly turns towards his colleagues, heaving a sigh of relief, he pinches the mask in front of his face pulling it down around his neck, gripping both latex gloves around his hand and removing them, tossing them a few feet into the recipticle against the wall. Stepping away from the man, leaving the nurses to finish up, his voice is heard again, breaking the uncomfortable silence.

"Good Work team. Somebody re-stitch the man's chest, and keep an eye on his Vitals. Let's give him a little bit before bringing in the Plastic Surgeon. We don't want him going into Shock and possibly relapsing. If it drops.... let's say 20%, Page me."

Stepping inbetween the circle of Residents, he brushes past them walking towards the door and the cleansing area. As he passes through the doors that swing shut behind him, the sound of scissors cutting grab the attention of the room, as an Attendant finishes off the stitching up the man's chest. As two nurses begin to take out the orders of the Doctor, the few remaining surgeons simply stand, staring back at the car crash victim's chest, as it bounces up and down, over and over again...

As two of them break off from the circle, following after the First doctor, a gorgeous long, wavy haired brunette, her brow glowing slightly from the excitement earlier, pulls her mask from her face for the first time. Taking a step towards the momentarily deceased, she lifts her hand up, slowly rubbing it along the medium length crusty brown hair, she whispers something down to him, the same words which she repeated to him throughout the process, her soft brown eyes speaking the words before her eyes ever could...

"It's not Your time... It's not Your time."

And the scene slowly fades out to the same rhythmic annoyance:

BEEP... BEEP... BEEP... BEEP...
---
Well is he ok?"

The panic in his voice is real, as is the saddened, frightened look upon his face. The Doctor in front of him is the same who earlier was instrumental is reviving Sid, yet the calm which is surrounding him is slightly eerie. His pale green scrubs are now hidden under a long white coat, his left breast pocket holding his Credentials for the world to verify. In his right hand, he holds the chart for the man currently asks about.

"He'll be Fine. He's in stable condition now."

"Now?"

Trying to truly get a grip on the situation of his friend, he continues on, still not even aware of the physical well-being of Sid. His voice is raised a little bit, and the urgency in his question leaves it coming off a bit angered. Having dealt with this before, the Doctor remains completely calm, trying to reassure as well as explain all at the same time.

"His chest and ribcage are severely broken, along with definite trauma to the face. When he got here, his Pulse and blood pressure were off the charts low. His heart stopped after we brought him into ER, but he's fine now. His Vitals are increasing with every minute, and his breathing is getting stronger as well."

The good news seems to relieve a heavy burden from the shoulders of The man, as if it were he himself who he had just heard good news about. Lifting his right hand up and running it through his sweat covered, messy hair, he exhales a breath that seemingly he had been holding in since news broke of the accident. For the first time, a smile forms on his face, not happy with the situation but ecstatic with the words he has just heard.

His eyes drift away from the Doctor, as they pass slowly down to the left, away from him as his entire body half-turns towards the white circular clock on the far wall. 2:47 am

Turning back towards the marble face of the Resident, the smile has disappeared, and the next more important question hangs heavily on his tongue.

"Can I see him?"

"FLAME!"

The question is left to hang in the air as Trinity's frantic voice rings out from the Still opening Elevator where he currently steps from. Taking three steps in a near job, he stops beside Atwater, sharing a stare with his friend that lets him know how scared he is as well. Flame raises his hand up, placing it on the shoulder of his friend as he turns his gaze back to the Doctor, awaiting an answer to the question he just asked.

"If he's not awake already he will be soon enough. I have to warn you though..."

The look on his face changes, which startles both of the men. From the cool and collected demeanor, he lowers his eyes to the floor, breaking eye contact for the first time in the conversation. He takes a deep breath, exhaling through his mouth heavily, before looking back at Flame, and then Trinity in suit.

"...He's not going to look much like you remember him. You have to be strong and show him that everything is going to be alright. He's going to be getting his strength from you, so that means no matter how hard it may be to look him in the eyes: Do it."

Silence hangs in the air between the three, as Flame and Trinity are hit full in the face with the Realization that everything in there lives that had happened up until that point, was beginning to not only be tipped upside-down, but shaken vigorously as well. In the pit of both of there stomachs echoes the same painful thought: They're the only 'Family' Left. Trinity shakes himself free of the daze first, looking up from his gaze at the floor below, to the brown, tired eyes of a Doctor closing out a 16 hour shift.

"What room?"

"117. Remember what I told you. The both of you."

As the Doctor turns on his heel, he is stopped with the flat and frail voice of Flame.

"Thank you for everything Doc, really."

He nods his head not saying a word, and begins rushing down the hallway with large steps, each clicking the heel of his winged tips rhythmically on the dingy off white hospital floor. They watch him walk away, both of there stomachs swimming and minds racing to the most aweful of conclusions. From the worst possible situation to even more terrifying thoughts, both friends hope and pray silenty to themselves that The Bond shared between the three is not prematurely dimmed.

Staring after the Doctor as he walks away, a sharp right turn hides him in another hallway, which seems to shake both Trinity and Flame from there stupors. They turn towards one another, matching terrified looks upon there faces, and begin walking without even a word down the hallway to there left, there steps even mirror images of the other.

With each door they pass, both sets of eyes glance toward the middle of it, registering the room number in there mind as they count towards what no doubt will be Hell on Earth. Sickness and death hangs heavily in the air, an almost turpentiney smell everywhere you turn; no matter what you try, nothing will clean away the memories. Walking past patients on gurneys lined along the wall, they both slow simultaneously as they see the same thing in the middle of the half-opened door...

Rm. 117

"Well welcome back sleeping beauty. You gave us quite a scare."

The female voice coming from the inside of the room startles Flame and Trinity,who automatically look at one another before stepping through the open door towards the soft, angellic voice. As both men clear the doorway, there eyes look first to the thin glasses and wavy brown hair of the Doctor, who turns her back back towards them as well. She had been checking Sid's heartbeat with the Stethiscope barely even touching his fragile chest. Finishing, she slings it backwards over her shoulder letting it hang behind her, something which catches the eye of Flame and leaves him Curious.

It is as she rights herself though, that both of them look over at Sid for the first time, while repeating the words the Doctor had told them earlier inside there minds: "no matter how hard it may be to look him in the eyes: Do it". Their eyes both catch the excessive white tape wrapped heavily around his head, little dabs and splotches of blood dot it's entirity. Only three slight openings have been left, One for each eye and a smaller one for speech and breath. His eyes are awake, but he trains them heavily on the Doctor, pain killers and other drugs flowing through his body, his perception of the world now, is a little groggy.

Both friends stand still, holding there breath in the sight before them. There is nothing more difficult then seeing a friend hurt, yet when the extensiveness has reached this magnitude, everything within you suddenly begins evaporating. Neither man hold a thought, as the stare seems to be taking up everything within them now.

"Can I Help you?"

Her voice shakes them a little bit, but it is what it does to Sid that is important. Seeing her look towards the door, Sid tilts his head in the other direction, looking towards the doorway and two solemn faces; Trinity's eyes are watering slightly, while it is the face of Flame which grabs the attention; There is another emotion wrapped up in his sadness. Staring across the nearly 6 feet of open air, The Bloodened eyes of Sid see what he had been expecting and needs. Friendship.

"...They're... with Me..."

His voice is raspy and weak, without any substance or strength, yet even after all this it is unmistakeably Sid. He Looks over at Trinity, who doesn't say a word, but simply stares back. The Doctor has dropped her attention back to Sid, making sure each of the monitors is attached and functioning as it should be. Sid pays her no mind as she works, simply happy that his Family has arrived. He turns his attention to Flame, who'se face is a little different.

"What the Fuck is going on in Your head?"

Flames voice was heavy with anger, not so much towards his friend as it is towards the entire situation. It wasn't what Sid had been waiting for, but he knew it would bring itself up eventually. Flame, while being younger in age, was as close to a Parent as Sid had left, and he knew that it would not be just roses. His eyes close a little bit, ashamed of how he put himself in here, and risked the feelings of his friends in the process.

""Drinking and Driving? Out of Everyone, YOU should know better. Of all the-"

"Why don't you lay off for a second? He's been through enough tonight."

"Because it shouldn't have happened at all.If he Values our friendship so much,he Should'nt have tried to kill himself because of Impulse"

"You're right. But just because you don't say it now doens't mean you won't get to say it again. he's not going anywhere. Right Nurse?"

His gaze turns towars the Brunette still checking on Sid's vitals. Looking up from the chart in her hands, her slow head turn towards Trinity holds a little insult in it.

"No, he isn't... And it's Doctor. Doctor Bethany."

Trinity's face reddens a tad with embarassment as they're stares meet. They hold them for a second before it's broken thanks to the struggled, chalky voice of Sid only a few feet away.

"...Don't....Talk... As if.... I weren't.... here."

The three heads all turn at once, looking down upon the bloodshot eyes of Sid, seeing a weakened shadow of who the man was before. Each of them holds something different however, as the lack of past with the Doctor should leave no feeling upon her face, yet strangely a little sorrow rests in her eyes. Trinity seems almost disheveled, as if she is having trouble accepting this for the truth, while Flame is starting to boil over, the combination of anger and melancholy cuasing earthquakes within his emotions. For the first time, his eyes begin slowly filling, one little tear making it's way free before he wipes himself free of any evidence with the back of his wrist.

Nothing changes for a few seconds, as if someone had decided to press Pause momentarily, not a word or breath being released. The methodic quiet beep coming from behind Sid's head seems to go unnoticed, as does the soft hum from the flourescant lights above. The only thing important right now is...

"I'm Sorry... I'm... I'm .....Sorry."

Sid's shoulders begin to slowly jump, and his chest begins to bounce up and down, something which you can tell by the little shreak added into his crying, hurts him if only a little. As it grows Louder, Trinity and Flame both step urgently towards the Bed, Flame making it first and grabbing Sid'sleft hand and squeezing tightly with both hands. Trinity leans her right hand on the bed, just behind the taped up head of his friend. The nurse however, stands completely still, her stare truely genuine and pained.

"PAGING DR. BETHANY. DR. BETHANY TO THE FRONT DESK."

The building intercom receives a blink for her eyes, before she looks down at her feet, and then turns walking out of the room without a word or a second glance. Sid's eyes, after hearing the page, watched her, capturing the moment before looking over at the two standing beside him; the Two who Will Always stand beside him. Flame's eyes are still completely welled, however he has locked the tears away for now. He shakes his head slowly, dropping it down for a second searching for the strength to speak, before looking up again and breaking the silence.

"Why Sid?..Why?!"
---
And the scene slowly fades out, the only thing still distinguishable is the sound of a few men experiencing a lost form of hell...

So, did you bring a recent photograph of yourself?"

The question seemed mundane enough, yet the reaction it instilled was far from it. Preparing all of his tools and such, the Doctor's back is turned while he poses the question, yet it doesn't take long after the silence for him to turn his attention. Taking a step to his left and turning, he stands center stage, looking down upon the face of his patient that lays almost perpendicular, his face hidden from the camera as he not only stares the other way, but the rear of the medical chair blocks any view of his head and neck.

"Mr. Frankenstein ? Did you bring along the required photograph?"

"No."

His voice was scratchy, as if his teeth were grinding together with each word, but there is no hesitation in his voice. What there is, is a heavy mix of anger and resentment, something that can cloud a man's judgement. The look on the Doctor's face is astonishment outlined in confusion, as he stands, locked in the same position his mind beginning to spark heavily inside.

"I'm sorry, No?"

He leans in a little while asking the question, his interest completely peaked. The light dangling above shines down on the balding, horseshoe patterned greying hair giving a glare off from the smooth pinkish skin. Both his hands fidget inside the pockets of his long white Doctor's coat, anticipating a response he's never heard.

"I don't want to ever see my Real face again. So no, I didn't bring a Picture for you to work from. You have a clean slate slate to work from..."

Straightening back up, the Doctor is taken aback. He's never heard anything like that in the 22 years he has been a Surgeon, but the shine in his eye shows that the thought tickles his fancy. He ponders it for a moment, the words that were just uttered, and repercussions of any possible backlashes.

"Are you positive this is what you want Mr. Frankenstein?"

"Positive."

"I don't think you understand. You'll be looking at a new face. Something that even if you don't like it, you'll have to live with. Are you sure you're ready for that? Is that clear Mr. Frankenstein?""

"Crystal."

Still not completely comfortable with the idea, The Doctor backs up, walking to the far side of the room and opening up a drawer, removing a sheet of paper and a pen, before turning back towards Sid without even shutting the drawer behind him. He strolls back and stands before Sid again, holding the paper up a few inches from his face so that he can read the small font under the Hospital Letterhead.

it is only a few seconds that the Doctor gives him before interrupting him, his voice almost frightened with the freedom laid upon him. His eyes are wide open, his charcoal brown eyes staring deep into those of his patient...

"If you're seriously going to do this, then you have to sign off on it. This isn't the exact thing, but it's a waiver saying that you can't sue me or the hospital if you are not pleased with the turnout."

Sid reaches his left arm up slowly and weakly, gripping the paper for a moment and pulling it from the Doctor's hand. He holds it in front of his eyes for only a breath before he slowly begins crumpling it into his palm, right in front of the shocked and confused look in the Doctor's eyes

"I'm never going to look at that face again. Every time I see it I'm just going to remember that night. I'm not signing anything, but I'm not going to Sue you either. Make me look brand new..."

You can hear the tape around Sid 's head scrape against the back of the chair as he slowly tilts his head towards the Doctor, so he can see in Sid's eyes exactly how serious he is in his decision. The look obviously frightens the Doctor a bit as he jumps backwards slightly, trying with everything in him after to make it look like nothing happened. He blinks non-stop, his eyes feeling extremely dry all of a sudden, as his mind has completely been wiped of his professionalism.

After what seems like an eternity inside of his mind, the Doctor turns back towards the tray where he immediately begins prepping for what awaits, as if there had never been any mention of the subject. First pulling on the matching pale green latex gloves, he then moves to the white surgical mask which he slips over his horseshoe, and then slips into a smock-like apron above all, dressed to the teeth just before working on them... amongst other things.

"You're su-"

"Please don't patronize me with questions I've already answered."

Nodding his head in an apologetic manner, the Doctor turns away from Sid, stepping toward the rear of the chair and pulling the face mask from the Nitrous Oxide. He and then turns the nozzle on the top of the tank, slowly starting the flow of gas throughout the mask as he begins back towards Sid.

Stopping beside him, he quickly looks down at the rubber tube connecting the mask to ensure there are no kinks or coils in it, as he gently places it over the nose and mouth openings of the gauze and tape. As he places it on, he reaches over to his tray without looking, and grabs the only hypodermic needle there, before bringing it in front of his face and ensuring it's not plugged.

"Alright Mr. Frankenstein, what I want you to do is just breathe through your nose for a little while. You'll feel a bit drowsy and then we'll be putting you under the anaesthesia and beginning. Any questions before we begin?"

The same sound is heard as Sid tries to shake his head no with little to no luck. The Doctor gets the messege however, as he flicks the needle again.

"How ya feeling?"

"....Dizzy."

"Alright, I'm going to be giving you Two shots, one on each side of your neck. You won't feel anything but a pinch, and then when you wake up, you'll be as good as new..."

Sticking the needle in the right side of Sid's neck, he doesn't even blink. A slight prick is felt but nothing more noticeable then a mosquito bite. Stepping around the front of Sid only a few inches from his feet, another small tray comes into view, tools and all. Passing it, he scoops up another needle which he tests as well with a flick of his finger, before leaning in closer to Sid and delivering the drugs.

As he straightens back up, he gently removes the mask covering his nose and mouth, and begins his final stage of preparation before Surgery. His hands come upon the side view X-Ray of Sid's cranium, which he jams up into the special light, which he flicks on directly after. The sight is stunning, as if the entire middle and front of his face have been caved in, the nose bent almost parallel to his cheek. The sight makes the Doctor cringe slightly, yet as he looks back over at Sid, he sees that everything has already kicked in.

As he's slowly drifting out of consciousness, one thought reverberates inside of Sid's head; The hope and prayer since the moment the accident occurred..

'...Better then New...'
---
"It's been almost a week and a half, and he said I'd only have to keep them on for less then a week. When the fuck can I take these godamn bandages off?"

Annoyed and frustrated, the voice holds a lack of sleep in it that leaves it almost cracking. The question hangs as he turns his head from one nurse, to the other, in search of an answer from either of them. Neither of them turn to look him in his eyes, as both pretend to be too involved in the tasks at hand. Turning his disappointed and angry gaze away from the two nurses, past the new hospital room's off-white walls and 1980's throwback brown furniture, to the open blinds and out the window to the cloudless light blue sky.

It had been days since they switched Sid from the tight scrutiny of the Intensive Care Unit to a lower grade level and a higher floored room. Seven Days he'd been inside the confines of the Hospital, with only the occasional wheelchair stroll around the grounds to stave off lunacy for a little longer. His vitals had leveled off where they should be, and the pain had begun disappearing from his chest and legs, with only the uncomfortable feeling from the surgery on his face still irritating him thoroughly. Sharp pains and incessant itching sometimes even stealing sleep right from his grasp, yet through it all, the one thought he held onto was that after 5 days, it would be more special then Christmas morning.

Reaching out with his right arm, Sid grips the call button, pressing it twice, letting off a light behind the nurses desk as well as above the doorway; that one being seen by both nurses working inside of the room, which immediately turns there stares towards him.

"Is everything ok Mr. Frankenstein?"

"Fine. I need a nurse though; One who will answer my questions, not pretend they didn't hear them."

Even through the small openings for his eyes, you can feel the pressure in his Stare. Both nurses feel slightly embarrassed as well as disappointed in themselves for there actions. They both stare at Sid,then turn momentarily to look at each other before looking back at him, still without anything to say. As Sid begins shaking his head slowly in disappointment, someone enters, this one familiar to him, through the doorway to stand in-between her co-workers.

"What is it this time Sid? Diaper Rash?"

"Laugh it up Dr. Bethany. All I want to know is why these Bandages are still on. The Doctor said five days. It's been five and a half. I'm tired of them. And these two, while adept at making beds too tight for any human to possibly sleep in, can't seem to answer any question directed in there vicinity."

"Oooh, Hostile are we?"

"Tired."

Sid leans his head back from an upright position, to lay flat on the bed and stare up momentarily at the fluorescent light above. Dr. Bethany takes a few steps towards the bed, signaling for both nurses to take a little break, as at this moment they could be absolutely no help. As she approaches the bedside, she places two fingers on Sid's wrist, feeling his pulse, and shaking her head slowly as Sid watches.

"You have to keep your blood pressure down for a little bit Sid, you're still not fully recovered and with you as weak as you are, anything could set you back."

Thinking about it for a second, Sid knows she's right and nods his head begrudgingly a few times. He turns his eyes from the yellowish tinted lights high above, to the beautiful auburn hair and charcoal eyes behind her brown framed glasses. He stares into her happy eyes, which calms him down a little bit as a slight itch is starting to tick high on his right cheek.

'It never ends...'

"And I do have some good news for you actually."

"What's that?"

"Well, I just got off the phone with the Surgeon, and he said that he thinks it would be alright to take the bandages off... HOWEVER, once they're off, you won't be allowed out in the sun for a few days. So why don't we sit you in that wheel chair, and in 15 minutes when I get Lunch, I'll take you for a walk. You should get at least one glimpse of it before it's taken from you again, right?"

A slow smile begins to creep upon his face, as the hope and opportunity of being his own again, having freedom and no restraints with Life, something that is becoming more and more a reality. He turns his head away from Dr. Bethany, and looks back out at the sizzling summer sky, including the soft, scintillating breeze which is actually the feeling that Sid misses the most.

"So? What do you say?"

"I say..."

He closes his eyes, knowing full well that that possibly the only break she will be given on her twelve-hour shift is being offered up for him. For his well-being and benefit. For his self-confidence and assurance... and for his mental and emotional ascension towards acceptance. Staring hard at the black inside of his eyelids, and the dizzying patterns that wiz slowly across in an almost movie screen-type atmosphere, the thought runs through his mind to make a forceful effort NOT to smile as he thinks..

On the other side of the table, Dr Bethany has almost frozen in a frightened anticipation. Unlike the man she holds a steady stare at, she has forced a fake smile onto her beautifully tense face. It isn't the fact that she regrets offering up her time, it is more the concern and worry that he will not accept. Seconds have begun to feel like minutes as each one passes, and...

"I accept."

The difference from fake to genuine in her smiles is completely visible, and something that Sid picks up on without any recognition. He smiles back himself, lips tight together, not yet ready to trust her with his feelings; only the closet of people ever see them, and while she may be closing in inside of his mind, she wasn't there yet.

"Alright. I've got to go and check a few other rounds, but I'll be back, and we'll hit the streets. Anything else?"

"One since you mentioned it."

She raises her left eyebrow, arching it in a quizzical manner almost answering the question without words.

"What's that Sid?"

His eyes dart down for a second and then back up fast enough for Dr Bethany to not even notice the slight show of fear and worry in his body language. The two of them acting like they hadn't in almost a decade: like love struck teenagers. Sid's hands are shaking slightly under the thin, small hospital blanket, as he decides to simply, just say it.

"I was just hoping.... I mean.... I.... After the bandages are off and I'm out of the Hospital. Would you like to maybe get together for Dinner sometime?"

"I'd love to..."

The words send a sensation through him that no painkiller or medicine ever could; All the pain has disappeared for the moment, as he feels his naivety towards women slowly disappear from inside of his mind

".... But I can't. Sorry."

The dagger pierces his heart with perfect accuracy, draining him of any blissful feeling inside of him and killing the hope that had begun growing for days. His mind is blank for a few seconds, as everything inside of him takes a few seconds to recharge, the first and only feeling which overcomes him as time passes, is confusion. It was impossible to deny that she had not only gently flirted with him, but that a true vibe and connection did exist between the two. He was sure he had noticed it, and it was because of that that he was so misunderstanding of the situation.

As he stared at Bethany, he simply placed a fake smile on his face and nodded once. She seemingly did the same, and turned on her heel immediately looking down at her clipboard and walking out of the room simultaneously. He turns his head first to it's rightful position, leaving him to stare confused straight ahead at the beige painted walls, then a few degrees further to the right, and out the window at the beautiful sky.

His head slowly begins to shake side to side, knowing one thing above all else...

"Me too."

And the scene slowly fades to black.
---
"It's not bad, really... It's just.... Different?"

"Jesus, it's so.... new."

The last layer of tape had just slowly and carefully been removed from his face, and Trinity was delivering a little relief from Sid's shoulders. The surgeon who operated was busy with another procedure and couldn't be there for the unveiling, which leaves the room to the three of them, plus the added support of Dr. Bethany. The electronic hospital bed is reclined currently at a 50 degree angle, with Trinity sitting half-cheek at the very foot. Flame is across the room, sitting in the uncomfortable brown woven chairs, leaning forward with both elbows on his knees, anxious to see what unfolds.. As Dr. Belanger stands against the bedside, removing the last bit of tape attaching the bandages to the back of Sid's head and hair, she struggles valiantly to not stare too much at the face of her patient, and even goes as far as to bite her tongue to distract her momentarily.

The camera angle is such that it is almost beside Sid to his left, while still being behind just enough that his face is impossible to see, especially around the almost shoulder length shaggy and matted brown hair. As Dr Bethany takes a step backwards, wadding up the now useless gauze and moving to dispose of it immediately,Flame pushes himself to his feet, very careful to grab the small mirror from his lap before standing upright, taking the few short steps across the room to the opposite side of the bed that Trinity sits on. The second his body hits the mattress, Sid's arm extends immediately, palm open and up, looking for the mirror for a chance to see himself....

For the first time.

"This is gonna be hard. I don't mean to be all melodramatic, but-"

"Then Don't"

"I'm just saying, you may think now that it's gonna be cake, but when you see someone else's face on your body, it's going to do something to you."

"I never want to see that face again."

The sheer reminder of his previous self, the disappointment, the crash and being legally dead for a minute of Sid's experience, steals the happiness and excitement from his body leaving it dwindling in a melancholy anger. He pauses for a second, closing his eyes, and trying to calm himself, taking in a few deep breathes and letting the cool oxygen flow into his boiling blood. Opening his eyes again, he feels a little more relaxed, and nods his head as if to acknowledge that it was 'his bad'. Flame, seeing the show from his friend, does the same in return, all while simply trying to accept the new Face with no second glances or cringes; Like they said before, it is far from ugly in any sense, and actually is quite good looking... However, it isn't Dylan.

Feeling ready and able once again, eager to see what and who he will be from now on, Sid raises his arm back up again, tingles moving throughout in his arm while goose bumps become evident on upon it. Trinity looks down at the small hand held mirror in her hands, and passes it over to Sid, face down, excitement and nervousness enveloping him as well as to how one of his best friends will react.

Sid closes his fist around the thin, fake wood plastic handle of the mirror, and raises it up to just below eye level, the reflective side still facing away from him. Feeling the nervousness kick in even more, Sid takes a deep breath and exhales as his stomach starts jumping and he fights off a sudden wave of nausea. He looks over the rim of the mirror, first at the eyes of Trinity, who meet his with assurance and a simple nod, then at Flame who raises his left arm and symbolically waves him on. One last breath, and...

'Here we go...'

Spinning the mirror in his hand slowly, the sun bounces off as it passes the suns rays, and then it stops, positioned, Sid left staring at a face that is his and not, all at the same time. It's shocking, and hits him hard in the esophagus and throat, tightening both surprisingly, like Trinity had predicted earlier. After only a few seconds, the thought of breathing passed back through his mind, and he finally takes one. Blinking once, he opens his eyes, and sees the same new face, which shocks him again. His throat loosening up a little more, he gulps down a heavy breath, and stares still at his new face.

It was his old face, which automatically hurt a tiny bit,though with some hair. It was hard, an experience almost impossible to describe, and he wasn't planning on attempting; Just accepting it, and that was coming along a little slower then he had anticipated. It isn't often that he's wrong in questions related to himself, yet this time, that's the only way to describe it. He looks up from the mirror for the first time, after what seemed like a lifetime but really was only 30 seconds, and matches the eyes of both of his friends, and then above them to where Dr Bethany has stood silent and motionless for the last little bit. Dropping his glare back down to the mirror, and then at his family once again, the mirror drops down to his lap...

"The Hair has to go."

The slight joke helps with the levity in the room, leaving a lighter atmosphere as a whole for the trio. Trinity giggles softly once, while Flame smiles fully and nods his head once. Sid raises the mirror again, about to inspect himself further, however he is interrupted just as his face meets the reflection...

"You're right. It just doesn't look right anymore. You're face is too..... not long but.... Ugly?"

"Hardy Fucking Hair..."

"No really, that was funny."

The comment incites Sid's glare and a raising of his eyebrows that almost shouts, "Not Funny". Sid knows full-well that both of them are simply poking fun at a sensitive spot, a bold move he had started by making sure Flame knew that his first EX-Girlfriend had been fat and ugly long before they had broken up. At the time, Flame didn't find it that amusing...

He didn't know why he kept looking down at the reflection; it wasn't changing at all, and he had already taken every ridge and imperfection into memory, yet still, he couldn't keep his eyes away. It wasn't that he was purposely ignoring everyone around him, the need to focus on himself for a change couldn't be overpowered. Finally after over a minute, Sid finally looks away from himself, and his eyes happen to raise back up upon Dr. Bethany, who still stands across the room.

Inside of his head memories shout from only a few hours ago, imploring him with all of there power to simply leave the situation alone. While his head fights heavily to turn away, a force much stronger and more determined forces him to push forward: his heart.

"Well, how bad's the damage?"

"The Doctor did an excellent job. Seamless."

"I don't speak 'M.D.'"

She chuckles softly at the light-heartedness in his voice, and lowers her head softly. A few strands of hair fall across her face and eyes, and she gently pulls it free, tucking it back behind her ear. With a smile on her face, she uses the same hand to adjust the position of her thin framed brown glasses which were slipping off her nose, as she looks back towards Sid.

"You look great."

"Thanks. I appreciate that."

"I still stay on record saying you look like a Moose."

A little more laughter from the room, as an announcement interrupts them all from the P.A. system high above, announcing to the world that Visiting Hours on this Sunday afternoon, were coming to a close. Trinity looks down instinctively at her watch, as if not believing that time had expired, before looking back up at Sid as she pushed herself to her feet. Flame also raised himself from the bed, extending an open palm that Sid slaps and snaps so well Draco and Zimdela would be jealous. Trinity takes a step towards Sid now, grabbing him in a half-hug and letting him know, in a whisper,

"Be strong. We'll be back tomorrow sometime."

He nods his head once, as Trinity raises back up and catches up with Flame at the foot of the bed. With a last glance over there shoulder and a warm smile from each, they step through the doorway as Sid holds his arm up in a waving manner. The two of them, gone, Sid's eyes come to rest on Dr. Bethany, who for some reason, still has not left the room. She looks back from the hallway at Sid, who is now curiously staring at her, wondering why she is still here. Before he can ask however, she looks down at the chart she holds tight against her chest, and then turns on her heel and heads through the doorway to anywhere other then there.

Alone, Sid looks down at his lap where the mirror lies, and reaches for the handle again. As his hand closes around it, he can feel the warmth still in it from a few minutes ago. He holds it up, looking at himself in the mirror without even a peep, the only sound other then the fluorescent lights high above is the rhythmic sound of his breathing; in and out. In and Out. In and Out...

As the camera slowly begins to rotate clockwise, it catches the reflection of Dylan's face in the mirror, and holds steady on the picture. The eyes are the exact same as before, but everything else is completely different; The nose a tad smaller and the chin shaved down a little bit too. It's different then the Dylan Raines that grew up a dreamer, hoping beyond anything else that one day Dreaming would be his profession; The Dylan Raines' is the same, however now that it's been accomplished, the 'packaging' is a tad different. As he continues to stare at himself in the mirror, his eyes slowly begin to fill, welling up to the point that vision of himself couldn't even have been easy. As the scene slowly begins to fade out, a tear drops off and rolls peacefully down his new cheek: His first New Tear.

He had a feeling that it wouldn't be his last.
---
The scene opens up,two days later and we see Sid tearing down the highway on his Harley Davidson. He comes flying into the parking lot of a large office building.Sid hops off the Bike and goes running inside. He heads straight for the main offices, more accurately, Corey Page's. He comes bursting through the door and surprises the secretary.

" is Corey in his office?"

" I'm sorry Mr. Frankenstein, but Mr Page is not accepting visitors at this time. "

"IS HE IN?!?! "

The stunned secretary nods as she points to a door on her left. Sid heads for it, only to find the door locked, as usual. And, as usual, the door comes crashing down thanks to Sid's foot. Inside, Page is sitting behind his desk.

"You could have just knocked you know. Now I have to charge you for another door."

" What in the hell is the deal putting me against Flame at Impulse? "

"Not much for small talk I see. Not even a simple "Hello". "

Sid slams his fists down on Hardcorr's desk.

"Damn it Corey! Cut the crap! Answer me! "

"Well it should be simple! You are obviously one of the best the SW has, so why shouldn't you defend the Hardcore title? "

" I'm not stupid Corey. There's nothing more I'd like then to keep the belt around my waist, but not this way. Do you really think that this will destroymy Freindship with Flame? "

" Well....."

"Then you're a bigger fool than I thought! This is just a momentary setback. Team Sadistic is going to run this show, one way or another! No one, not even you, is going to be able to bring us down."

" We shall see Sid. Oh, and by the way, there's been a small stipulation added to your match. Just so you know, Draco is going to be the special guest referee."

"WHAT?!!"

"You heard me. Just to make sure you guys stay in line."

Sid gets a very angry look on his face, and then rushes at Corey! He grabs him by the collar, lifts him up, and holds him against the wall!

" You worthless piece of shit! I'm going to- "

" What you're going to do is let me down and keep your hands off me! Or else! "

"Or else what? "

" Or else he'll have to hurt you. "

Sid turns around and discovers the voice belongs to none other than Trav, president of wHw. Standing next to him is his "guard dog" of sorts, Xtreme Demon.Sid slowly lets go of Corey . Corey dusts himself off.

"That's better. Well then, long time no see Sid. How's it going? "

" What in the hell are you doing here, you sniveling little weasel? Or more importantly,(motions at Extreme Demon) what is HE doing here?"

" Why, i was just passing by of course. You see, i was just talking Bussiness with Corey.As for Your Match with Flame,who's idead do you think it was?Mine!.After All who knows flame beter then me? And as for Extreme Demon here, well, he's just insurance.So I would suggest you keep your hands off of Corey from now on. "

"You sonofa- "

Sid takes a step towards Trav,but Demon steps in the way. Sid stops, and locks eyes with the monster.

"Trav, be thankful that you've got him in the way. You're safe, for now. But I'm sure he won't be around all the time-Not that he could Stop me!.But When that time comes, I'll be ready and waiting. Waiting to beat you like the worthless dog you are! "

With that, Sid storms out of the office. He heads for the parking lot, jumps in his car, and squeals off as the scene fades to black.