Credits
Talk to these guys if you want a guestbook, bulletin board or chat room.
I don't recall what I got from here, but hey, these guys are cool any way.
I got a lot of my images from here...it has a very nice selection, some of it taken from AD&D books.
I took one of Larry Elmore's pictures for my web ring logo, and he's one of fantasy's best artists, so I have to give him some credit. Here's his official web page.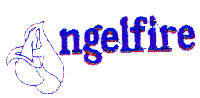 Of course, my primary supporter is Angelfire.com, the best free internet server that I have found. Let's hear it for Angelfire!