Some SoftMaple Stars
---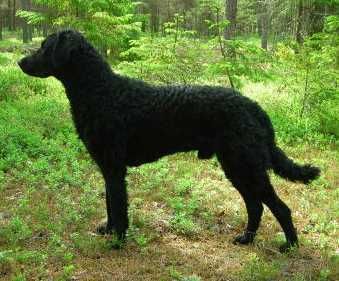 Swiper
SoftMaple Ringlets Jet-Setter
---

Softmaple Cimramin Journeyman
---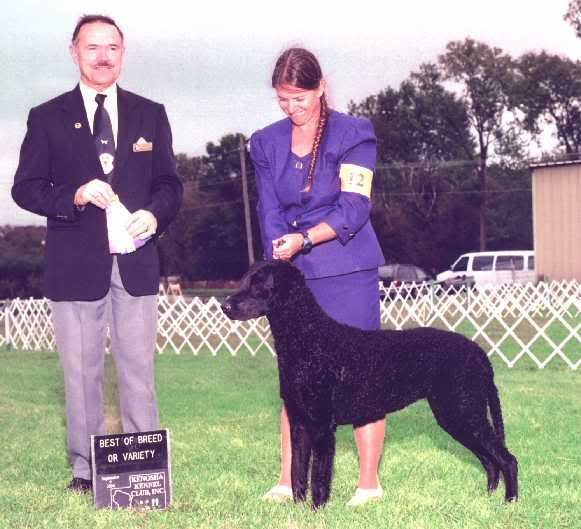 SHR CH SoftMaple's Ma Belle Bouclee CGC, WCX, JH
---

SoftMaple's Dark Star WC, JH
---

SoftMaple's American Dreamer CGC, CD, TDI
---

U-CH, UAG1, CH Ptarmigan Huron's Soft Echo CGC OFA Cardiac Clear, CERF and OFA hips good CR-CA114/17F/C-PI CR-600G24F-PI

Lives at Beltane Curlies with her half sister Darcy (Soft Maple Darcy, CGC, TDI, CD CR-CA39/24F/C)
---

CH Soft Maple Avanti Mileage Plus CR-630F25F-NOPI

Finished with three Majors in 2001.
---

Raven

Ch. Fairway Pizzazz Rendezvous CR-629G25F-PI CR-CA110/27F/C-PI
Born at SoftMaple 11-24-99 out of our International litter. (Caballus Inferno x Ch. Mathel Felicitation.)
---

Chase

Fairway European Vacation OFA - CR-623G24M-PI, OFA Heart - CA00075-16M-S-PI, Eyes - Clear
- Another member of the International litter born at SoftMaple
---

CH Avanti SM Fair Trade CGC TDI
Tessa finishes her AKC Championship title with 4 majors. Tessa came to SoftMaple as a result of a puppy swap. Tessa ended up having a heart murmur and Hip Dysplasia. She was a cherished companion in our home, until her untimely death from Cancer at age 4.

---
SoftMaple Rainwatcher (Julia)
---

CH Softmaple Sziok Seven Stars
3/28 Maia (out of CH Aberbran Bar Von Bern WC JH CR-608G24M-PI CR-CA123/37M/P-PI CH SoftMaple's International Fling CGC CR-CA134/34F/C-PI, CERF CR-640G26F-PI, CR-EL97F26-PI) earns a 4 point major going WB, BOW, and BOB over a special from the puppy class at the at the Sand and Sea Shows in NJ. Maia is Owned by Stephen Siok & Christine Roberts
---

3/28 Soft Maple Wind on Water ADC, VAADC, VMGDC, CGN Timmy, ran a clean run 17 seconds under course time to earn his first leg in Starters Titling, and a first place in the class.
7/31/2004 Soft Maple Wind on Water ADC, VAADC, VMGDC, CGN At the K-9 Cliffhangers Agility Trial Timmy ran clean in Starters Titling, 2.5 seconds under course time for a second place. He earned his Agility Dog of Canada title (ADC).

Timmy was the top Curly Coated Retriever in Canada in the AAC for 2003.
Timmy is out of CH SoftMaple's O'Dark Thirty JH, SH, MH, WC, WCX, WCQ, CD CGC, HOF CR-536G27M-T OFA cardiac, CERF and CH Charwin Evensong WCX JH CGC CD CR-CA22/41F/C CR-480F35F CERF
---

(Alfie)
CH SoftMaple Boyerie's Int Affair
SUCH Ringlets Constant Wind Cardiac clear, eyes clear, hips A/B X CH SoftMaple's Fairway Explorer CGC CR-CA74/16F/S-PI CR-EL98F28-PI CR-642G28F-PI, CERF
Finished his CH with 4 majors! Going WD/BOW/BOS over a special from the puppy classes.
---

SoftMaple's Pax Americana CR-680G24M CR-EL113M24

Out of CH SoftMaple's O'Dark Thirty MH WCQ CD CGC TT HOF CR-536G27M-T OFA cardiac, CERF (Jet) to CH Charwin Evensong WCX JH CD CGC CR-CA22/41F/C CR-480F35F CERF (Gabby)
---

CCRCA National Specialty
Follow us on Facebook
Just like Soft Maple Curly Coated Retrievers on Facebook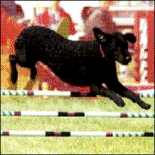 Back to SoftMaple