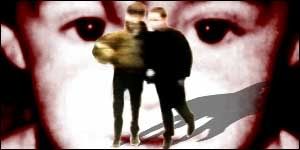 Sources
These are some books and articles I found very insightful during my time of researching the Bulger crime. Feel free to send me reviews you may wish to share with others upon reading one of these books or visiting a website =)
Books
Alot of the info, as far as the details of the murder and the background stuff on Thompson and Venables, I got from reading the Blake Morrison book and especially
Beyond All Reason: The Crime That Shocked the World
by David James Smith.
Although those are the only accounts I've had the chance to read thus far, there is another one out there I intend to read called
Every Mother's Nightmare: The Killing of James Bulger
by Mark Thomas.
The two I mentioned are both excellent books, As If being more of an in-depth psychological perspective and Beyond All Reason presenting the whole thing in narrative style. So take your pick, they're both very thorough, yet fast reads.
Articles
There are many articles out there on the subject of James's death, but these are the ones I found to be most informative.
The Death of James Bulger: Tragic Child Abduction Caught on Tape
Guardian Unlimited: The James Bulger Case
The Child Killers of James Bulger

Web Sites
Kathleen's Memorial to James, very sweet and inspiring
The Official James Bulger site, maintained by Denise Bulger-Fergus herself
Another wonderful memorial site!

Media
Here are some news clips I managed to get hold of. However, in order to view these, you'll need RealPlayer. I found this out the hard way. I loaded these up as RealPlayer files, accidentally deleted RealPlayer on my computer, went to view them the other day and couldn't. Hence I cannot view my own clips. Let me know if you have RealPlayer and this STILL doesn't work for you.

NewsClip
NewsClip2
NewsClip3
NewsClip4
NewsClip5
NewsClip6
NewsClip7