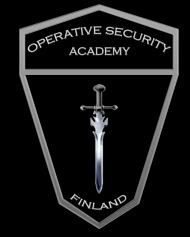 The Academy
Operative Security Academy was formed to provide training to security professionals, Law enforcement and military personnel that wish to enter the VIP Protection industry or merely want to upgrade their present knowledge and skills.

The Concept
In the country of Finland with its beautiful and rugged nature we combine the knowledge and experience of two proud and vigil nations.

The Finnish and Israeli, who have throughout time battled against overwhelming odds and prevailed. We will push our students to reach a higher level of professional competency so they can walk proudly amongst their colleagues while protecting their VIP.



Training with us

The training will mostly be conducted east of Helsinki, giving our students the possibility to focus and at the same time it will enable us to conduct training missions in a larger city.

We also offer In Country Training (ICT) where we can bring a team of instructors to your country and train your staff.
For more information about ICT please send an e-mail to: matti@opsecacademy.com





1
2
3

Our Team

"MAT" Head Instructor

Security experience since 2001, international
Finnish Coastal Ranger MP, Sub officer
Security training from Finland, Sweden, Israel and the U.K
Instructor in VIP Protection, Advanced weapons handling, Management and Intelligence



"HANNU" Senior Instructor

Security experience since 1993, Finland
Finnish Border Ranger, Sub officer
Security training from Finland
Instructor in Fire fighting, First-aid and Main Weapons instructor (for holders of Finnish Security Officer license)



"CASPER" Senior Instructor

Security experience since 2001, International
Finnish Coastal Ranger MP, Sub officer
Security training from Finland and Nepal
Instructor in Physical fitness, Surveillance/counter surveillance, Fire fighting and is also our scenario coordinator



"IGOR" Instructor

Security experience since 1999, International
Finnish Jaeger MP, Sub officer
Security training from, Finland, UK, Latvia, Georgia and Switzerland
Instructor in VIP protection, Weapons handling and Team management





1
2
3

Course Info

The Basic course consists of two stages, eight days each, and after successfully completing both stages the students will be awarded with a certificate. The main difference between the two stages is that stage 1 will give you the basics of protecting a VIP and in stage 2 we will go deeper into the different topics and the training will be more challenging.

The topics that will be covered are:

• Requirements of the VPO
• Different types of VIP΄s
• Types of threats/adversaries

Protection methods

• Roles and responsibilities within the team (SAP, RST aso.)
• Execution of the different roles
• Walking formations
• Driving formations
• Route planning
• Basic Team Leadership
• Weapons handling

• Operational First-Aid
• Basic fire fighting

The Advanced course will be more scenario oriented and will focus on putting the students into different situation/scenarios which they will have to solve together as teams utilizing their previous training and experience.


Price

The price for the Basic course is 2100€ per stage including VAT.

The price includes:

• Accommodation
• 1-3 meals/day
• Weapons and ammunition
• Vehicles
• Course materials
• Exam fees
• Certificates after successfully completing both stages
o Finnish security guard weapons qualification for those with Vartijakortti (After Stage 1)
o Fire extinguisher 1 qualification (After Stage 1)
o International VIP Protection (After Stage 2)
• One year membership in the IPSSC (The Institute of Protection Specialists & Security Contractors)

The price for the Advanced course is 2000€ including VAT.

The price includes:

• Military style accommodation (tent bed and sleeping bag)
• 1-3 meals/day
• Weapons and ammunition
• Vehicles
• Course materials
• Exam fees
• Finnish security guard weapons qualification for those with finnish security officers license (After Stage 1)
• Fire extinguisher 1 qualification (After Stage 1)
• Certificate of participation (After Stage1)
• International VIP Protection certificate (After Stage 2)
• One year membership in the IPSSC (The Institute of Protection Specialists & Security Contractors, based in the USA)


Requirements

Basic course (190h)

• Prior Military, Law enforcement or security experience
• Known as an honest and reliable person with no criminal background, exceptions may be made for old/minor offences depending on the circumstances,with personal qualities suitable for the job
• Mental stability (will be assessed by the instructor team throughout the course)
• Physical fitness
• Health certificate

Advanced course (95h)

• Same as the Basic course
• Successfull completion of the Basic course or equivalent
• Minimum of 1 y experience in the protection field


Insurance

You will not be covered by any additional insurance while training with us so you need to check that you are covered by your own insurance (which usually is the case)


Additional info

You will need to be physically fit to complete the course so we strongly recommend you to check the requirements below to see if you need to do some preparatory training.

You need to be able to:

• run 5km in less than 30 minutes
• do 40 sit-ups
• do 25 push-ups
• do 10 pull-ups
• do 12 dips
• do 70 bodyweight squats
• carry a minimum of 75kg for a distance of 100m (Evacuation)


1
2
3

Dates

Basic

2011

Stage 1
4-11/4 (11/01/01)

Stage 2
4-11/7 (11/01/02)

Advanced

Contract with administrative details is obtained by sending a request to: info@opsecacademy.com

Media
Pictures
Videos
Coming soon
Links
Equipment
Associations



The International Association of Personal Protection Agents (IAPPA)

International Contractors Association


1
2
3