WELCOME
Click Here for NEWS and ARTICLES
email: bulrichsr@aol.com
Edited By: Hardrok
Our "thanks" to Gene for his articles/reports and in-sight on hunting and fishing.
Other Fishing Report Links/Information
Virginia Marine Resources Commission
Coastal Virginia Public Boat Ramps and Fishing Piers
Virginia Hunting & Fishing Licenses
Virginia Saltwater Angler's Guide, Improved!
The BoatUS Foundation's Online Course
is the only free Online Boating Safety Course approved by the Virginia Department of Game and Inland Fisheries.
Virginia Watercraft Owner's Guide
Recent Catches @ Lake Anna Sturgeon Creek Marina
Fishing Report Kerr / Buggs Island Lake
Fishing-NC.com - North Carolina Fishing News and Resources.
Virginia Saltwater Tide Charts
Saltwater fish species in Hampton Roads and how to catch them // Freshwater fish species in Hampton Roads and how to catch them
Virginia Marine Resources Commission Recreational Fishing Online Reporting
Maryland Weekly Fishing Report Overview |
Maryland Weekly Fishing Report Overview | May 15, 2013
The weather has been oscillating back and forth recently and some inland areas even reported frost earlier this week. There was a Striped Bass spawn on the Choptank last Friday when the sun shown brightly and temperatures soared; so hopefully this event also took place on other spawning rivers and there will be a new infusion of post-spawn Striped Bass into the bay fishery this week. The forecast for the rest of this week and next week has air temperatures in the 70's and 80's so water temperatures in the freshwater, bay and ocean areas should begin to rise substantially.
Sturgeon Creek Marina – Lake Anna Virginia
Charlie Bowles- Fishing Guide
www.CVOfishing.com
Pro Staff:
Bass Pro Shops
Johnny Morris Carbonlite Rods and Reels
Lowrance Electronics
Seaguar Flourocarbon
Deep Creek Plastics
Big Mouth Lures
This month usually offers more stable weather than the previous months and allows anglers to catch fish using many different approaches. At least a third of the fish have spawned and the subsequent spawns will happen within the next few weeks. Some fish will be very aggressive as they are feeding or protecting their beds & fry, while others will be nearly impossible to catch because they are recovering from all of the stresses of laying eggs, fishing pressure, etc.
Early May
BASS
The first batch of spawner has finished as the females have pulled off the beds and are feeding heavily, especially from mid lake and down. The males are staying in shallow water protecting the fry. Fish aggressively covering lots of water from 2-10' deep. Suspending jerkbaits (hard or soft body) and slow sinking Spro swimbaits along with Senkos are working well. Very good topwater action early and late in the day using buzzbaits and poppers. The upper end still has spawners so use creature type baits in spawning areas 3-12' deep, hula grubs, baby brushhogs and crawfish. Grass beds at the Splits and up lake in the North Anna have been producing some great catches.
CC BASSN Lake Anna Fishing Reports from FaceBook
Published on Wednesday, 15 May 2013
Fishing was good until we got hammered by the downpour. That changed the rivers dramatically and then the ponds saw the influx of water as well. The river was still high as of press time. Hunting seemed to be poorer this past week as well.
Rappahannock River
The Rappahannock River was in bad shape over the weekend.
Ken's Tackle reported continued good shad fishing near Falmouth before the rain hit. Bass went on the beds and were moody. Catfish were hitting well on cutbait.
Ken Penrod's
Life Outdoors Unlimited Fishing Report
UPPER POTOMAC RIVER: *** to 0; muddy mess; 60s; reached 16 feet Thursday, and will be at 10.6 Monday. Stay away for now.
Prior to the flooding, bass fishing was on a rise but I fear that this year's spawn will be lost for all intents and purposes. It should drain-out in about a week.
TIDAL POTOMAC RIVER: ****1/2; 69 degrees; main stem is muddy and flotsam can be treacherous from upriver flooding.
Bass fishing success was at a level I haven't seen for years before the cold front and flood. The main stem is trashed as the muddy conditions move downstream. Some of the bigger coves and creeks are not affected so much. Bass are/were on beds much of the week and eagerly ate Zipper Craws and Case Magic Stiks.
JAMES/APPOMATTOX/
CHICKAHOMINY RIVERS
Lonnie from Castaway (804 706-9100) reports the following catches: Wayne Eastwood (Chesterfield) 7-pound, 2-ounce largemouth bass; Mike Oley (North Chesterfield) 6-6 largemouth bass.
Crappie are being caught in the rivers, ponds and lakes, mainly on small and medium minnows. White perch are still out there, hitting on bloodworms. Bass are starting to turn on. Crickets are the bait of choice for bream. Catfish are biting on eels and cut bait.
Ol' Hookers Mini Bass Series Wednesday night tournament results: 1. Robert Whitehurst-Walter Emerson, 13.1; 2. Doug Monday-Jody Robbins, 12.3; 3. Carl Johnson-David Stewart, 8.7. Big fish: Brian Brooks-Cindy Sumner, 4.1.
Next tournament is Wednesday at Osborne Landing at 5:30 p.m.
Wednesday, May 15, 2013 5:56 pm
By Captain Travis Patsell Cats N' Stripers Guide Service
Spring weather finally showed up, for a while. Now back to March weather, but it is supposed to be gone by mid-week. None the less, the fishing is excellent and spring patterns are in full swing. Here's what to look for.
Striper fishing is excellent right now. Many methods right now can take stripers. Look for numbers of stripers to be from the meet of the rivers, Craddock Creek and the dam areas. Stripers can be found still in the mid to upper reaches of the river arms, but look for the fishing action to be slower than the recent weeks in the upper reaches of the lake, as a lot of the fish have left for the lower reaches of the lake.
Dr. Julie Ball
Weekly Sportfishing Rundown
10 May 2013
Anglers are anxiously waiting for the water to clear up after more than a week of gusty weather and rain. Once anglers can get back out and the silt has settled, saltwater fishing should catch up to the usual springtime standards.
The spike in the drum action that usually occurs by now each Spring could happen any day now. Nice weather on the horizon for the upcoming week could present a good opportunity to wrestle a red or black drum on the Eastern Shore side of the Bay. Black drum are making a slow start, with a few larger fish coming from around the Bayside shoals, especially near buoy 13 and 16 on chowder and sea clams, but this bite has room for improvement.
POTOMAC RIVER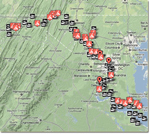 132 Boat Ramps and
Access Points!
May 15th, 2013
FISHING REPORT By Charlie Taylor
May 17, 2013
By Charlie Taylor
POTOMAC RIVER - D.C. - The herring run is winding down. Small white perch and large catfish are the order of the day at Fletcher's Boathouse. Stripers are plentiful and the fishing action is fair to good. Washington Channel has begun to produce bass along the War College Wall. Fish buzzbaits across the grass, early and late in the day. Spinnerbaits and plastic worms are the ticket if the sun is shining. Rattling crankbaits, fished along the outside edge, are taking good fish from the dropoff.
Fishing Report: Males Are Up Shallow!
May 12, 2013
By Steve Chaconas, Fishing on the Potomac
Last week more fish moved up shallow and water temperatures stayed in the mid to upper 60s. But heavy rains finally muddied the Potomac by the end of the week.
Another great week of fishing on the way with soft plastics leading the way. NBC Ch. 4 meteorologist "Weather Kim" Martucci says, "A cool start to a warm week, with highs on Monday under sunny skies around 60. A gradual warm up to 80 by Thursday with partly cloudy skies before Friday cools a few degrees with a weak front providing a slight chance of thunderstorms and showers into the weekend."
Fredericksburg Free Lance-Star
May 8, 2013, 11:55 pm
BY MICHAEL O'MALLEY / THE FREE LANCE-STAR
OVERVIEW: We needed rain, but this week's downpours are sure to muddy up the area waters and make fishing tough. Everything is wide open right now, so when the water clears, make your move.
RAPPAHANNOCK RIVER: Crappie fishing has been very good over the last week according to Ken's Tackle. Small minnows are the best bet, but small jigs also work well. Creeks in the river have been producing the best stringers. Some of the crappie are up to 2 pounds. Bass fishing has also been good. fish up to 2 pounds are being reported. Catfish have also been an easy target. Shad and herring fishing has been spotty.
Posted on May 15, 2013 by Capt. Art
Capt. Art Conway of Conway's River Rat Guide Service (804-746-2475) out of Ed Allen's Boats and Bait reported that Chickahominy Lake mid-day water temperatures were in the mid 60's to low 70's in the lower lake and low 70's in the major creeks on Wednesday (5/15/2013). The lake level was about a foot above the top of the dam. The water was dark brown and moderately cloudy in the lower lake.
Blue cats and a few channel cats were widely scattered in a variety of depths in the lower main lake and in the creeks and were hitting live minnows. Small to medium crappie were still scattered in the channels and on flats of the major creeks. A mix of sizes of crappie were also on wood cover and channel edges and near some lily pads in the main lake. Crappie were hitting live minnows, Kalin crappie scrubs, tubes, swim baits, and Wright Bait Co. and Southern Pro curlytail grubs.
Posted: Wednesday, May 15, 2013 4:28 pm
Jim Brewer
Posted: Wednesday, May 15, 2013 2:29 pm
Jim Brewer
Lake Anna. Guide Chris Craft says "shallow" is the word for bass fishing. The spawn is about 90% complete and the males are guarding fry in every cove in the lake. The females are recovering and are taking top water baits at first light. Shallow, square bill crank baits are working well. Shakey head rigged plastics and soft jerk baits are getting their fair share as well. Look for fish from 1-10 feet of water.
Jim Brewer
Oregon Inlet. The bluefish have finally arrived at Oregon Inlet, reports Capt. Reese Stecher of Beach Bum Fishing, a light tackle guide service. Capt. Stccher said this is the first year he can ever remember that the blues have arrived after the first of May. But he's not complaining. Blues up to 3 pounds (the best eating of all) are hitting lures and cut bait and, well, about anything they see. "We ought to have good casting action with them for the next several weeks," said Stecher. There are also plenty of speckled trout and puppy drum around, and some flounder are starting to get in on the action. Looks like spring is finally here.
CHESAPEAKE BAY – Trophy Rockfish season is still in effect in Va waters. Big fish are still available inside the rivers, especially the James, where we reported a 70lb+ Rockfish caught within the city limits last week. Big fish are being caught inside the Potomac River still. Tandem rigs are quite popular now. Croaker catches are on the rise inside the York River, at the JRB, HRBT, and the Poquoson area. Shrimp and blood worms seem to be working better right now. Increased catches of Speckled Trout are coming from Mobjack Bay, Lynnhaven Inlet, bay-side creeks and inlets of the Eastern Shore, and the Poquoson area.
Cinco de Mayo, 2013
"Amazing April," that's what I'm calling the fourth month of the year 2013 at Fletcher's Cove. Just a little over a month ago, in late March, the trees were bare, the ground was brown and dusty from the winter, and the river was cold, with just a hint of the life soon to fill its depths. Anglers were anxious. The annual impatient wait for the Potomac to come alive with fish from downstream waters seemed like an eternity this year.
by Mark Taylor | 981-3395
Two big factors will contribute to how this weekend shapes up for fishing.
After a chilly start to the week, temperatures are jumping way up. Most importantly, they're going to stay up. That means water temperatures will rise and fish should become more active.
Water levels are the other key. After being blown out after last week's heavy rains, rivers are falling into great shape. The forecast calls for the possibility of thunderstorms, and there could be some heavy showers associated with those events. However, it will be nothing like what we've been dealing with the past few weeks.
By Lee Tolliver
The Virginian-Pilot
© May 16, 2013
Sure, it's a little early to start talking about billfish. Spring has been a little cooler than usual, and marlin and sailfish action don't really heat up for a couple of months.
But the 19th annual Hatteras Village Offshore Open is underway and billfish are the main target.
So let's talk about billfish.
These fish with the long, pointed bills travel long distances north and south during their lives. They also provide some incredible action for bluewater trollers.