Spirit Page

This is my spirit page this is were people send me spirit
flower. This page is graphic intense! O Yeah Please Vote For my spirit page! *lol*
I'm not fighting anymore so I guess I'll just leave this up just in case I decide to fight again

Rate this site at WEEKLY TOP SPIRIT PAGES!
I made it through the bout!
I am proud to be a Dunicorn!!!
I'm a Quill, Quill Jewels to be exact

I am proud to be against blind voting you should too!

I've been enchated by magic!

I won the cheer of the day award!
This is my cheer I did!

D is for Determine

U is for Unique

N is for Number 1

I is for Integerty

C is for Cheers

O is for Over spirited

R is for Round of Spirit that we have

N is for Nice

S is for Spirit

Go Dunicorns


My spirit has rescued a Unicorn! Maybe you should too!

I became a wee one! Here are my wings! I'm Wee One Jewels!
I'm a Wee One, We One Jewels to be exact!

Look! I won the wee one of the week award! yay!


*look* I won the Wee One Spirit Page Award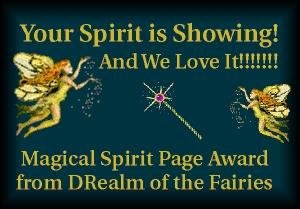 I'm a Sprite, Sprite Jewels! Whoo Hoo!

Send a Spirit Flower!

Thanks Wee One Moogles!

Send a Spirit Flower!

Thanks DAussie Angel

Send a Spirit Flower!

Thanks Fairy D' MidnightCloud

Email: jyt10@hotmail.com