United Arab Emirates
*******
19th April 2013
Bit of a summary of 2013 dives this year, all of which bar two have been over on the east coast of UAE, the other two were at the Damaniyat Islands in Oman.
Normally I am up at 05:30 on Friday morning, and on the road before 06:30 with the car packed from the previous night and usually over at Scuba 2000 or Divers Down within two hours.
Of the 20 dives I have done so far this year 14 have been solo, a couple with my mate Terry, three with Vanjie and one with my daughter Yanni.
I am also very close to doing my 100th solo dive, who do I celebrate that with? Do I dive naked? ... well at last the water is warming up :)
Seven dives on Inchcape 2, which is proving to be great for nudibranchs this year as well as other stuff such as crocodile fish and coral gobies, but my favourite find has been Dendrodoris denisoni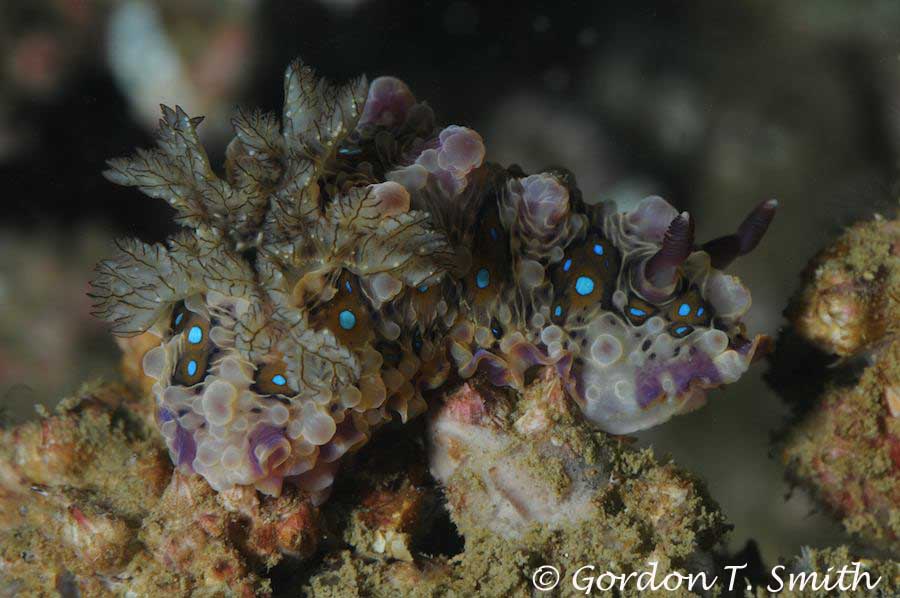 Of course it is not all nudibranchs, and I have also been playing around more with my 85mm lens and the +10 wet diopter, which gives me a reasonable flexibility to photograph tiny critters up to 10cm in length with the poor visibility here. There is some nice green whip coral on the port side of Inchcape 2 that has a population of gobies that appear to enjoy being photographed.
My mate Terry will be over again on a business trip and we are hoping to dive the Damaniyats together in May as well as a few dives here in UAE.

Hopefully the water will warm up soon, it is still 23C at the bottom with 24C at the safety stop, and I am still diving in my old 5mm semi dry, which is probably not 5mm any more, but I also use a hooded vest. I managed to pick up a 7mm semi dry in Spain when I was in Barcelona on a business trip and used that for several dives and I was very cozy, but now that air temperatures are increasing, a bit warm on the surface, plus I need more weight to get under.

_________________________________________________________________________________

*******

I arrived here from Saudi in July 1997, having been living in Jeddah for the previous 7 years and regularly diving the RED SEA, UAE diving was a BIG disappointment.

15 years later I will be reviewing the dive sites, and have already started publishing a series of articles on various East Coast Dive Sites in OutdoorUAE magazine, the first of which on Martini Rock is re-printed here through a link below.

ABU DHABI

Very interesting artificial islands with lots of Yellowbar Angels from juvenile to large adults.
DUBAI

A lot of wrecks in the Gulf, but very little coral. Viz is appaling, lucky to have 2-3 metres. Water temperatures in the summer can reach an incredible 36C, too hot. Air temperatures in Dubai reached 48C in 1998.
Recently with the construction of Palm Islands and lots of dredging etc., the viz has depreciated dramatically and 1 metre is normal.
EAST COAST



MARTINI ROCK, INCHCAPE 2, HOLE IN THE WALL, DIBBA ROCK, PINNACLES are all resonable but viz rarely exceeds 5 metres.
There are some interesting creatures to be found though, although photgraphing in this poor viz remains a challenge.
*******

*******
CLICK HERE FOR 3 Sep 2004 dives at MARTINI ROCK and INCHCAPE 2
CLICK HERE FOR 10 Sep 2004 dives at INCHCAPE 1 and ANEMONE GARDEN
CLICK HERE for 22 May 2009 Dives at DIBBA ROCK
CLICK HERE for June 2009 Dives at DIBBA ROCK
CLICK HERE for April 2011 Dives on the east coast
CLICK HERE for April & June 2011 Dives on the A300 Airbus wreck off the Palm Islands.
CLICK HERE for May 2011 Dives on the east coast
CLICK HERE for June 2011 Dives on the east coast
CLICK HERE for 2012 Dives on the east coast
LIST OF UAE DIVE SHOPS AND CENTERS HERE
CLICK BELOW TO RETURN TO THE DIVE SITES MENU

All web content and images copyright 1998-2013 Gordon T. Smith