Gypsies Cemetery
The Story: A group of Gypsies were moving though the town of Crown Point 150 years ago, when they decided to stop for a couple of weeks. As the story goes they were kicked out of town after only a couple of days. The farmers believed that the Gypsies were stealing their livestock and the townspeople just didn't like having the Gypsies around. So the townspeople came to the Gypsies and told them that they must leave by the next day. The Gypsies told the townspeople that they couldn't leave because they were sick and dying, but the townspeople didn't care. So as the Gypsies were leaving they buried the other Gypsies that had died and cast a spell on the area. Supposedly today you can find blood on the bottom of your' pants, balls of light that chase you, and many orbs can be seen.
Location: Crown Point, Indiana
Me and my friends were at this cemetery called gypsies graveyard it's located in Crown Point, Indiana. Some of the things in the picture are some things I never seen before in ghost pictures that I have seen. I have circled the objects in the pictures. don't mind the date on the side the batteries kept falling out of my digital camera we took it with. we were there on the 25th of July 2005. These pictures came straight off my digital camera onto my computer I did not do anything with the pictures. I might have missed some things in the pictures.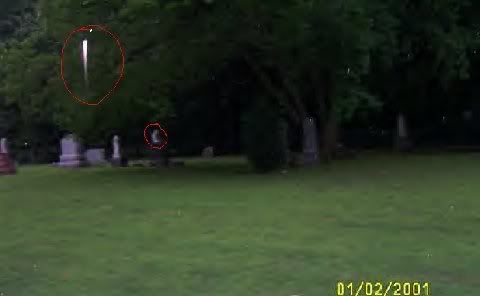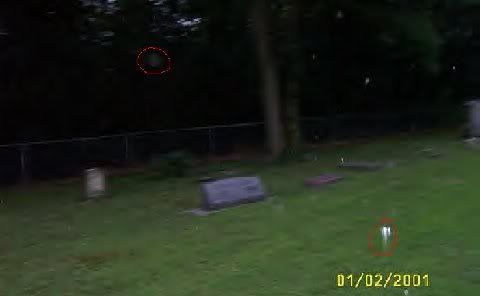 ---
Another Investigation At Gypsies Cemetery
Yesterday me and my friends want to the gypsies about desk and my two friends shann and krstaly heard some stuff and I didn't go there because I know some was wrong about going in there. I was by myself in the graveyard when my friends want into the come out running but I was in some warm spot and very cold spot then when I was in the cold I saw my breath and in other spots I didn't see my breath in the warm spot and I wont go back in there again believe me lol and this time the cops didn't come because it was at dusk. We are looking for some stuff we temperature thing and the buzz thing for tell us if something there or not yeah I'm not going back there again lol even if you guys came lol.