Balancing Female Sexual Hormones
Mood:
a-ok
Now Playing: "She's A Woman," by the Beatles
Topic: Women's Health
My
previous blog entry
regarding the various choices in
hormonal replacement therapy
discussed several options available to us. Generally speaking,
our choices
lie in three areas--
synthetic
,
bioidentical
, and
natural
.
It is good to note that choosing to use conventional hormone replacement therapy in which synthetic hormones are used, does not necessarily preclude the use of herbs. Herbs can still be used to
compliment conventional treatment
, and can help reduce side effects and prevent some of the problems which synthetic hormones may cause.
These three areas of choice face us in other areas of the female hormonal experience, not just in times of
menopause
, but throughout our entire experience of being a woman. Hormones are an issue from the time we first need a bra until the time we're wearing them hanging down close to our shoes!
Hormones
regulate our whole entire sexual and reproductive function as women. (
Men
, of course, have hormones, too, and MUCH of what I will say, also pertains to men! However, in the not too distant future, I'll write an entry aimed spefically towards their concerns.)
Balancing hormones is a key factor in regulating periods, breast development, premenstrual tension, birth control, fertility issues, pregnancy, milk production, libedo...everything having to do with the entire reproductive process, right on up to and including desire!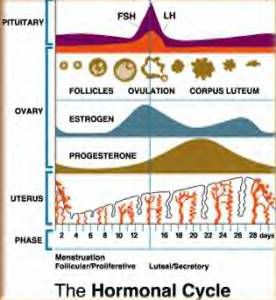 Hormone secretion is controlled by the
pituitary gland
, so any herb which nourishes the pituitary, ultimately, is good for hormonal balance, because it enables the pituitary to better do what it is designed to do.
Kelp
,
gotu kola
and
ginseng
are three herbs that work to that end.
Hormonal function and balance are very complex in women, far moreso than in men. There are three phases to a woman's cycle...the follicular (before ovulation), luteal (brought on by ovulation), and menstrual (which is when menstruation occurs), and a different hormonal substance is secreted during each seperate phase.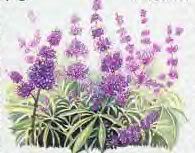 There are numerous herbs which have been historically used to help balance the female sexual hormones.
Vitex-Agnus Castus
(Chaste tree berries) is my herb of choice for purposes of balancing hormones.
Phytoestrogens
are chemicals found in some foods and herbs which reduce overall estrogen activity when estrogen levels are high, but increase estrogen activity when these levels are low. It is comming for this reason to find the same plant recommended for conditions pertaining to an excess of estrogen (like premenstrual tenstion) as well as to conditions of estrogen deficienciency (such as menopause and menstrual dysfunction).
There are some 250 plants known to be
phytoestrogen plants
, including such herbs as
licorice
,
flax seed
,
black haw
,
black cohosh
,
pomegranate
,
fennel
,
alfalfa
,
red clover
, and
squaw vine
. There are many, many more of these herbs.
Herbs work to nourish and balance the body. When this is accomplished, a myriad of good effects occur. These are "natural" effects. (Thus, the term "natural health.")
So when considering an herb like
alfalfa
, we have to take into account that alfalfa is one of the absolute most nourishing herbs that there is, because it's roots are so long. It picks almost all of the minerals up...all except for idodine, which is found in abundance in
kelp
, which was also mentioned above. Do you see what I'm getting at?
When the body is properly nourished and balanced, which is what herbs are geared to do, then everything in the body works better, and the overall state of the whole entire body's improved.
Take the example of licorice.
Licorice root
has long been used for many things. It is an antiinflammatory agent, for one. It also stimulates production of interferon which helps protect the immune system. Licorice has anti allergic properities, nourishes the adrenal glands, is a great detoxifier...it acts in many ways and is a very valuable herb, in addition to it's ability to treat menstrual problems and problems with menopause. It is a sexual stimulant, too.
Dong Quai
(Angelica sinensis) is an herb more commonly known for use in balancing hormones, and has been used in this way for thousands of years.
Dong Quai
has been historically used to balance female hormones, restore menstrual regularity, reduce symptoms of PMS and menopause, dissolve blood clots, help with endometriosis, and is said to be an excellent blood cleanser and purifier, as well as helping with blood sugar and plood pressure problems, internal bleeding and bruising, muscle cramps, migrain headaches and calming the nerves, as well as to help prevent anemia.
Evidently,
Angelica sinensis
may not actually be a phytoestrogen plant as has been thought, but it does have a very long tradition as a being a female tonic, and is referred to as the "female ginseng," due to its balancing or adaptogenic effect on the female hormonal system. It is considered the herb of choice for female problems by many.
Probably the most well-known herb of recent years for balancing hormones is
Wild yam root
. The value of this herb was brought to the forefront by
Dr. John R. Lee
, who wrote
a number of best-selling books
on the subect.
Many factors
can affect hormone balance.
Diet
, level of
stress
,
exercise
, etc. Herbs can play a major role, and can be used in many ways besides having a direct effect on hormonal production. For instance, it can be beneficial to nourish and cleanse the
liver
, and to nourish the
thyroid gland
, for these play a role in hormone balance, as well.
Milk thistle
is an herb which has been used to benefit the liver historically, and
kelp
, with its high iodine content, is very good thyroid food.
Herbs can be helpful in
preventing pregnancy
, too, as a part of a
natural plan
.
One word of warning, however! When balancing hormones, your reproductive system just might do what it was designed to do! Many a couple using herbs to prevent pregnancy, or even those previously thought to be infertile, have been known to conceive!
One combination said to be useful for helping a woman conceive is equal parts black haw, squaw vine and heloniasis made into a
tincture
. The usual dose is one tablespoon of the tincture three times a day. This formula has been in use for years, and many babies can attest to its worth! (Of course, this only works if hormonal imbalance is what's causing the problem, and even then, there are no guarantees.)
Be careful when using herbs during pregnancy, however. Some herbs are used to
abort
. It is always best to seek professional guidance when using any kind of medicine...even natural...during that most delicate time.
Happy Hormonal Health!
Mary Jo Eshelman
, ND, CTN, CNHP

The information presented is the author's personal and professional opinion, and is intended for educational purposes only. Nothing printed here is designed to take the place of a physician's advice. If you are experiencing problems with your health, it is recommended that you consult with a licensed health care professional. All Natural HealthWorks! is not responsible for any damages or ill-effects resulting from the information presented herein, nor do we make any recommendations regarding your health. We are simply here as a resource for you in making your own choices for your health yourself.