Birdgrrl's Serial Killer Page
---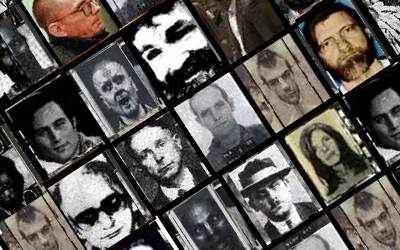 ---
This page contains content that may not be appropriate for some. If you have a weak stomach and don't like reading or seeing gross things please leave now. I'm not responsible for any mental damage caused by this page. Don't say I didn't warn you.
---
Hopefully there will be pictures and biographies coming for most of the people listed below. If there is anyone who is not on the list that you would like to be just let me know. I've updated this page a bit and there are now pictures for some of the people. I'll post the info when I get some time.
---
List of Killers
Countess Elizabeth Bathory
Joe Ball
Paul Bernardo and Karla Homolka
Kenneth Bianci and Angelo Buono
Jake Bird
Ian Brady and Myra Hindly
Jerry Brudos
Richard Chase
John Reginald Christie
Doug Clark and Carol Bundy
John Norman Collins
Dean Corll
Albert Fish
John Wayne Gacy
Gerald Gallego and Charlene Gallego
Ed Gein
Harvey Glatman
John George Haigh
Gary Heidnik
William Heirens
The I-5 Killer
Jack the Ripper
Edmund Kemper III
Peter Kurten
Leonard Lake and Charles Ng
Bobby Joe Long
Pedro Lopez
George Metesky
Ivan Milet
Herman Mudgett
Herbert Mullin
Earle Nelson
Dennis Nilsen
Clifford Olsen
Carl Panzram
Richard Ramirez
Angel Resendez
Joel Rifkin
Danny Rolling
Charles Schmid
Arthur Shawcross
Peter Sutcliffe
Joseph Vacher
Vlad the Impaler
Fred and Rose West
Wayne Williams
Aileen Wuornos
The Zodiac
---
Click here to return to the main page!
Email: birdgrrl@hotmail.com