Señoritafish's Page of Timewasting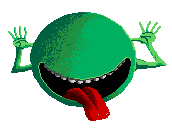 New!
2/20/05 - Man, it's been forever since I touched this page! I finally figured out how to use Photoshop to automate a photo gallery. My first project using this is a gallery of my garden club's Flower Show, which took place in October 2004.
Click Here to go to the Flower Show
7/23/03 - I discovered some banners to the The Rainforest Site, et al that I had on my LiveJournal profile were probably in violation of LJ's TOS. So I made a Links Page, where hopefully it's ok to put them. Click to donate free food, mammogram, help a child, conserve rainforest, or feed the animals for free!
7/16/03 - I had to do a Curriculum Vitae for work recently. I was wondering what I was going to put on it, but it turns out I had more brain droppings in the last few years than I thought!
Whee! Check out my first ever web page from scratch, courtesy of HP Learning Center. They have quite a few free classes if you're a rank beginner like me.
Want to know more about me? Click here.
My Favorite Methods of Wasting Time
Watching Cartoons (Anything, but especially DBZ)
Reading Science Fiction and Fantasy - especially that sick and twisted fanfiction, but legitimate, actually published stuff, too...
Looking at Gardening Books and Fantasizing about my Perfect Organic Backyard (instead of actually gardening1)
Surfing instead of Working (only at home - actually right now I should be cleaning the bathroom
Sleeping (this isn't actually time wasting, I NEED it.........Yawn!)
Sites I tend to visit regularly.......
Madhouse: Vejita & Bulma for ever!!Planet Namek went away and this one remains one of my favorite DBZ sites
Live Journal- ChickClick.com died, and I followed my friends there here
Neil Finn - Musical Genius
Radio Paradise- I switched here when WorldClassRock.com fired all their DJs.

Thanks for checking how I waste time. Waste time yourself by checking back here often - maybe I'll have more! (I'm going to have to learn more web stuff first though.)

Some stuff I hope to put here eventually...

Family stuff - most of you probably don't care, but maybe someone in my family might want to check it out.

Huntington View Garden Club - I'm the secretary so it'd be nice for us to have a web page.

Fannish stuff - Blech, I hear you say. Trek, DBZ, Babylon 5, Hornblower... whatever I may be obsessing about.

Marine Biology Tidbits - maybe a critter o' the week!

(This page only modified so Angelfire won't delete me! It may be completely different next time. Maybe I'll come up with something that isn't exactly a waste....)




Support freedom
Email: oxyjulis@cs.com