TAKE 5 HEAVEN
Hey Take 5 Lovers! Welcome to Take 5 Heaven. I hope that u enjoy my site! Feel free to look around, and if you have any comments, suggestions or anything to donate, please feel free to e-mail me at:
Siobhan
Don't forget to sign the guestbook!!!
site last
23rd April 2000
latest updates:
Schedule
,
---
---
---
Don't miss Take 5's hot, new single "Shake It Off." Available on radio May 18. Call your favorite DJ and request it NOW!
---
{sorry folks i spelt the name wrong...so its under as Take 5 Hevan}lol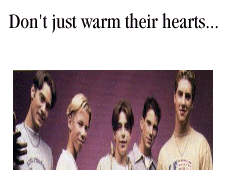 This Malaysian Take5 Webring is owned by Siobhan.

Wanna join the Malaysian Take5 Webring?

[Skip Prev] [Prev] [Next] [Skip Next] [Random][Next 5] [List Sites]