Welcome to My Dark Zone
I welcome you every1 to my little piece of paradise (a.k.a. My Dark Zone). I hope you enjoy it. I'm going to try to make it as entertaining as possible.

So I guess I'll start off by telling all of you a little about myself.I'm fifteen as of....now...lol, newayz, I'm a girl of course, I'm about 5'7", with just a little longer than shoulder length blonde hair. I have multi-colored eyes, they're blue, green, and gray. They also change between the three colors. I have a tan, which could be better, but hey I'm working on it. Leg muscles from being a soccer player and swimmer. Oh yeah I'm a Sagittarius. Okay now that I'm done with the looks I'll go into the other stuff. I like to play and watch soccer, I like to play Lacrosse (just wish my school would get a girls team), I swim (backstroke and freestyle), I also play volleyball. Oh I also TRY to Skateboard.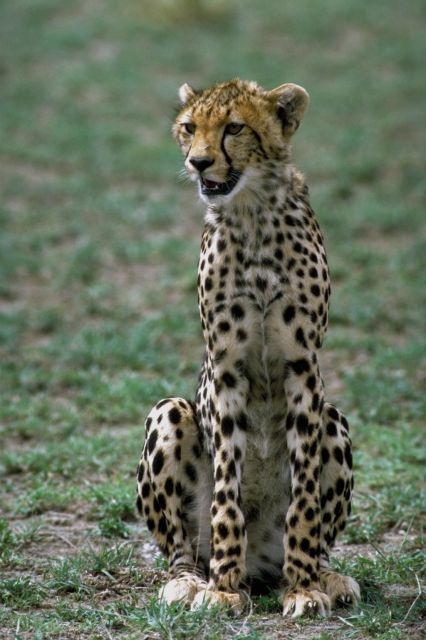 My favorite animal is the Cheetah as you can tell by the picture. I love and may be slightly obsessed with Egypt. I think guys with piercings, tattoos, and crazy hair, are extremely hot and sexy. ;D Yeah so newayz. I love music, I couldn't live without it. If I were to go deaf now I would go crazy.

Some of my favorite bands include: Good Charlotte, Ataris, Linkin Park, etc.

Some hot guys are: Benji Madden, Joel Madden, Paul McCoy, Chester Bennington, and a lot of other guys. :P

Favorite Drinks: Cherry Coke, Vanilla Coke (not the bottled stuff, it sucks), suicides (mixes).

Favorite foods: Pizza King Pizza, Milky Way tacos, Taco Bell nachos, Mily Way Grape sherbert, Salt and Vinegar chips, Shrimp Scampi, Applebee's chicken broccili Alfredo, etc.

Favorite gum: Extra Polar Ice (YUMMY!!!!)

Places I want to visit: Egypt, Bora Bora, Florida, Russia, Germany, Ibiza, Thailand, India, Australia, Hawaii.

Places I want to live, Florida, Georgia, etc

Jobs I want: Singer, Actress, Author, Vet., Surfer, etc.

Favorite movies: Matrix, Fast and the Furious, Hulk, Blue Crush, Legally Blonde, Queen of the Damned, etc.

Favorite type of guys: punk, skater, goth, also soccer players.

Favorite places to shop: Hot Topic, Pac Sun, Spencers, Best Buy, Borders, etc.

Favorite Cars: RX-7, Camaro (older version not newer), Viper, Firebird.

Favorite Anime character: Ryoko (Tenchi Muyo)

Favorite Actors: Adam Sandler, Jim Carrey, and some others.

Favorite Actresses: I don't know, to many to choose from

Favorite Breeds of dog: Pit Bull, Newfoundland, Pharaoh hound.

Religion: I don't necessarily agree with just one. Thing I couldn't possibly live without: Music and Singing.

Thing I could definately live without: Little People (young annoying kids)

Favorite girl name for babies: Rosha Marie

Favorite boy name for babies: Kaydd Alexander or Sebastian Patrick.

Favorite CD: Queen of the Damned soundtrack, Evanescence, Linkin Park, Good Charlotte, etc.

Favorite time of day: night or evening.

Favorite instrument: drums

Favorite alternative color hair: pink, blue, orange

Favorite color: siler, black, and orange.

Favorite Hair color: blonde

I guess I'll continue on with my personality: I do consider myself relatively smart. I'm extrememly sarcastic. Also quite opionated. I funny, if you like and understand my sense of humor. Also told I'm fun to be around and fun to talk to. :D

Well ever1 I guess I have said all there is to know that I can think of. Want to know more e-mail me. :) If ya got a question about nething on here e-mail me about it also with subject website.

Favorite Band?artists list(Not in any particular order): **Smile Empty Soul **Good Charlotte **Linkin Park **the Ataris **Kidneytheives **Deftones **Adema **the All American Rejects **Poison the Well **Chevelle **Crazytown **Drowning Pool **Godsmack **Evanescence **Incubus **Limp Bizkit **Metallica **Disturbed **Static-X **Puddle of Mudd **Rammstein **Staind **the Staring Line **Sum 41 **Taproot **Trapt **TaTu **Maroon 5 **There's others but I can't think of them at the moment**

A definition of me: Hopless romantic, tall, crazy, blonde, hot (thanx Chelsey), funny, intelligent, chaotic, atheletic,...to be continued.