Samplez 4
StyLe J
The Shirt Tales skirt! Heres a blast from the past! This skirt is quite the conversation starter. It helps all da kiddies around u reflect on the time they loved best...their childhood!!!
THIS HAS BEEN SOLD
Style K
This is a cute lil Wuzzle Skirt. This is a more recent item....I wanted to keep it for mahself, but I am too attached to mah wuzzle pantz...n I didn't want a matching set....*SigH*
THIS HAS BEEN SOLD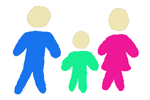 Style L
This skirt is absolutely ADORABLE in the blacklight. The lil green and yellow on the frogs and lizards shows up sooo well. Itz awesome! Itz an example of a longer skirt....and the only picture of one I have right now so I figured I may as well put it up.
THIS IS FOR SALE