Washington State Crappie Fishing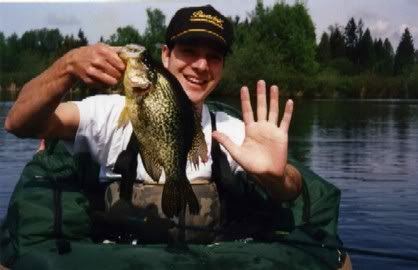 May 2010 - "It's been awhile since I've updated the site. Check back soon for updates. Detailed info for Lake Sammamish, Lake Washington, Ohop, Soda Lake, Dolloff, Lyons Ferry (Snake River) and a few others will be added this year ~ Slabking"
Welcome to the one and only website dedicated to crappie fishing in Washington State ponds, rivers, lakes and reservoirs. In the next few pages I hope to share enough tips on where and how to catch crappies in these waters that you will be able to fill a stringer next time you're out or catch that trophy 15" or better crappie. What type of water do you like to fish? Rivers? Lakes? Ponds? Creeks? Sloughs? Oxbows? Reservoirs? Washington has crappie in all of these types of waters that are dying of old age because nobody is actively fishing for them. All that is needed to catch these crappies is the time needed to properly fish these waters and a little know how of the crappies seasonal movements. It doesn't matter if you live in Canada or Florida, crappie are going to make the same seasonal movements year after year. Crappie fishing is so fun because of the challenge that these fish present. One day you can be casting to them on wood covered flats and the next day they may have moved to deep water rock reefs and will only bite at night. But one thing will always remain the same: these fish will always be near a food source and this is one of the keys to figuring out crappie in any body of water.
Click a link to learn more about:
Yearly Crappie Movements
Moses Lake
Potholes
Lake Union
WestSide Crappie Waters
Fish Photo's
Washington State Crappie Fishing Reports and Forum
The Best Forum for NW Fishermen. Gamefishin.com
Crappie Fishing Videos!!!!

Top 5 Washington Crappie Waters
Snake River
Moses Lake
Potholes Res.
Columbia River Oxbows
Lake Union