As her first new release in 2017: We present Alexis Child's epic "Devil in the Clock,"
A dark and sinister slice of the macabre horror, gothic, surreal and supernatural poetry...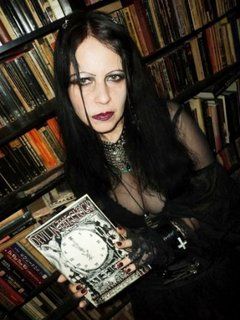 This is the authorís first collection of
poems and a long-awaited wish come true.
"Devil in the Clock" is a searing collection
of 55 poems of dark-hearted poetry: horror, gothic, surreal and supernatural mindmares that
reach out and grab you by the throat with their
tainted blend of truth. These uniquely-rendered
poems catch a moment in time so vividly that they
will play through your mind even in your own
bed at the edge of sleep. Proof that poetry
can be as deadly as anthrax. Alexis Child's
poetry and fiction has appeared on the
web, and in countless magazines.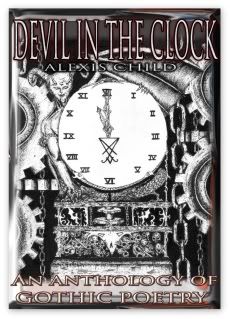 "Devil in the Clock" is Now Available for Purchase for $19.95 and all forms of payment are accepted!








Alexis Child's Gothic Horror Poetry Book, "Devil in the Clock" is available here on Amazon:


https://www.amazon.com/s/ref=nb_sb_noss?url=search-alias%3Daps&field-keywords=Alexis+Child+Devil+in+the+Clock

Alexis Child's YouTube page from her book, Devil in the Clock: https://www.youtube.com/channel/UCg6S5u4yX73kA1ZWGnKaEBA


Book Review:

Sat up by the fire one evening reading this dark little book. Paired well
with Malbec, but when phantoms cast by the snapping flames began to dance
with Child's haunting poetry, I knew I was in for a sleepless night.

With odes to Jack the Ripper, and nuances of Leilah Wendell, Child's
expressions and observations of all things sinister and wicked are quite penetrating.
One imagines a cloaked enchantress uttering these invocations from deep within her lair.
The words are alive.

In particular: Beggar's Curse Gypsy Graveyard Night Visitations: Les Incubus Broken Flowers

A talented poet, a twisted wordsmith, a connoisseur of imagery,
an architect of nightmares, Child does not disappoint.

Joseph DiFrancesco - Author of Box 3014




Copyright © 2018 Alexis Child. All Rights Reserved.

All material is copyright. It may not be stored, displayed, published,
reproduced, or used for any other purpose without permission of the Author.