The first new release from Witchfinder Press in 2012. We present Alexis Child's epic "Devil in the Clock". A dark and sinister slice of macabre gothic & horror poetry...



This is the authorís first collection of
poems and a long-awaited wish come true.
"Devil in the Clock" is a searing collection
of 55 poems of dark-hearted poetry; horror,
gothic, surreal and supernatural mindmares that
reach out and grab you by the throat with their
tainted blend of truth. These uniquely-rendered
poems catch a moment in time so vividly that they
will play through your mind even in your own
bed at the edge of sleep. Proof that poetry
can be as deadly as anthrax. Alexis Child's
poetry and fiction has appeared on the
web, and in countless magazines.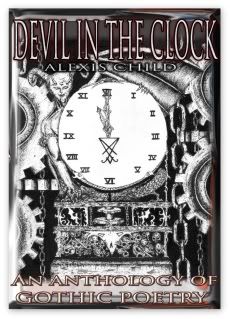 "Devil in the Clock" is soon to be released by WitchFinder Press ... www.witchfinderpress.co.uk Check back for details!




Copyright © 2005-2012 Alexis Child. All Rights Reserved.

All material is copyright. It may not be stored, displayed, published,
reproduced, or used for any other purpose without permission of the Author.