Inspiring Americans to protect wildlife for our children's future!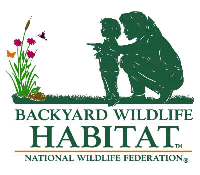 About Us
The Community Wildlife Habitat Program is a certification project as part of National Wildlife Federation's Backyard Wildlife Habitat Program. Habitat landscapes can serve to beautify our urban areas and give residents pride in their neighborhoods, as well as draw in more native wildlife. A Community Wildlife Habitat project multiplies this positive effect by creating habitat areas in backyards, schoolyards, corporate properties, community gardens, parks and other spaces.
The group will be involved in educating community members about wildlife gardening, creating wildlife habitats at schools and parks, Coordinating stream and trail clean-ups, native plant rescue, launching a local Frogwatch Program, and fundraising.