Gold Leaf Signs
We use traditional surface gilding in classically simple and creativley unorthodox contexts, adding leaf as a shiny playful accent on a graphic illustration, or as a border on the edge of a Chinese calligraphic symbol (like the gilded edge of a book page) - wherever it feels right!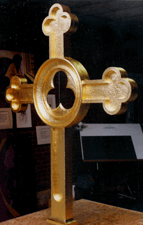 (504)525-4691
Studio/Gallery Hours:
Tues to Fri ... 10:30am-5pm
Sat ................ 10:30am-3pm
Sun & Mon .... CLOSED

Center News: Festival Time!


Font Club
Font Club will meet Saturday, May 19th at 3pm. This meeting will be a work session. Font Club is a free informal group that meets on the 3rd Saturday of every month to work on typeface design. Call Vince or Yvette at (504) 525-4691 for more information. www.fontlab.com § forum.fontlab.com
AIGA New Orleans
Visit www.aiganeworleans.org for graphic design info, events, and meetings in New Orleans.

NOLAA
The New Orleans Lettering Arts Association (NOLAA) meets on the 2nd Saturday of the month. NOLAA is a non-profit organization whose monthly meetings are mini-workshops in a variety of calligraphy techniques, well worth the $25 per year membership fee. For more information visit www.neworleanscalligraphy.org
New Orleans Academy of Fine Arts
The New Orleans Academy of Fine Arts offers classes in all styles of art-making, including calligraphy. Located at 5256 Magazine St., they can be reached directly at (504) 899-8111 or www.noafa.com

©2018 Mystic Blue Signs tel: (504)525-4691 email: mysticbluesigns@hotmail.com
Webdesign by ESP: Espèce d'Idiot Productions