The Studio & Gallery
Mystic Blue Signs opened our shop on Magazine Street in 1996, but we have been specializing in hand lettering and illustration since 1973.
New Orleans has such inspiring architecture and history that it's a natural location for a hand-painted sign shop. We use traditional methods and materials and we draw everything by hand, from logos to lettering to illustration. We hand-cut, hand-carve, hand-paint. We use wood, metal, special sign paint and sign painters' quills, flats and fitches. We use real 23 karat gold leaf sheets on signs and glass transom numbers. We even paint scenes and signs on the sides of buildings. And we ship signs all over the world.
For the last eight years, Mystic Blue has hosted regular art shows in our gallery, featuring local artists. We sell prints, paintings, posters, signs, stained-glass, jewelry and objets d'art made by our artists. Studio/Gallery hours are Tues thru Fri 10:30am-5pm and Sat 10:30am-3pm.

New York Times
We were mentioned in Seth Kugel's informative and kind New York Times Frugal Traveler's blog on New Orleans. You can view it at this link: NYTimes.com Blog


Hand-writing demo by Yvette at WWL Channel 4 for National Hand-Writing Day.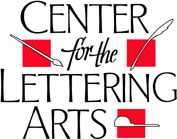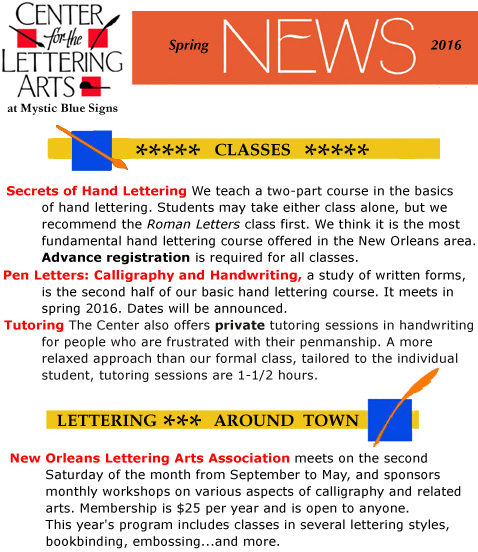 Visit the NOLAA website: www.neworleanscalligraphy.org
Daily News at Mystic Blue Signs
Special Projects We also do a considerable amount of Documents, Marriage Certificates, Wedding Invitations, Murals, Portraits and Illustrations. Here are some samples of our work. Call us at (504)525-4691 if you would like us to help you with that special project!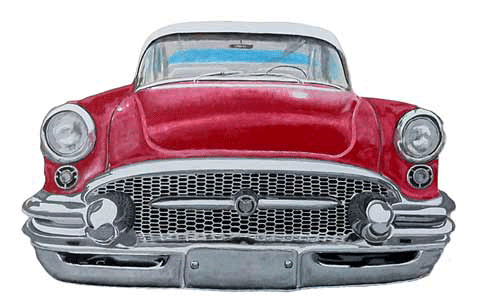 Illustration by Vince Mitchell
(504)525-4691

Center News: § Happy Spring! §


Font Club
Font Club will meet Saturday, March 19th at 3pm. This meeting will be a work session. Font Club is a free informal group that meets on the 3rd Saturday of every month to work on typeface design. Call Vince or Yvette at (504) 525-4691 for more information. www.fontlab.com § forum.fontlab.com
AIGA New Orleans
Visit www.aiganeworleans.org for graphic design info, events, and meetings in New Orleans.

NOLAA
The New Orleans Lettering Arts Association (NOLAA) will meet March 12th at 9:30am at the East Bank Regional Library (4747 West Napoleon Ave., Metairie). Maria Helena Hoksch will share tips to improve your skill with the broad edge nib. This class will be beneficial to beginners and advance calligraphers.
NOLAA meets on the 2nd Saturday of the month. NOLAA is a non-profit organization whose monthly meetings are mini-workshops in a variety of calligraphy techniques, well worth the $25 per year membership fee. For more information visit www.neworleanscalligraphy.org

Photography by Claire Hassig
We are proud to have an exhibit in the gallery of Claire's photographs capturing her unique perspectives of life.

Enter Code: MYSTIC10 for 10%off

©2016 Mystic Blue Signs tel: (504)525-4691 email: mysticbluesigns@hotmail.com
Webdesign by ESP: Espèce d'Idiot Productions