Joe Black Has Groove
Joe Black Has Groove is a standard size male (approximately 27" at shoulder) is black and rust and weighs in at 75lbs. Currently he is standing at stud to approved bitches in the Pacific Northwest, and will only be doing so for a few more months. He has sired three litters and has two coming up this spring already.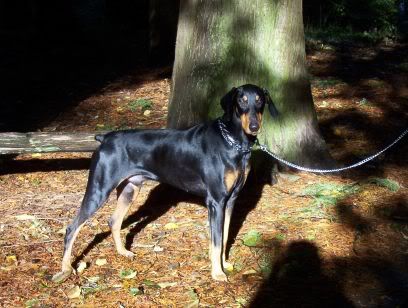 Joe Black has been a dominant color producer, even when we bred him to a fawn, he still only threw blacks and reds. No fawns or blues seem likely out of this boy. Joe Black has been health tested for the following:
Von Willebrand's - clear - test run through antech diagnostics and verified through VetGen -
Hip Dysplasia - OFA rating Excellent, PennHip DI is greater than 90% of all other dobes tested -
Hypothyroidism - Normal -
Joe Black is clear of the White or "Z" factor as well. Substantial amounts of research have been put into his pedigree by an owner of one of his sisters. If you are interested please follow the link below. He has dogs that go back to Marienburg lines (the real Marienburg) Electra's the Windwalker, Winston Von Dynasty, Erbob's Hooked on Country (bred by the legendary Pat Hastings) and others. There are many international dogs in his pedigree and many imported ones as well, which I believe contributes to his health.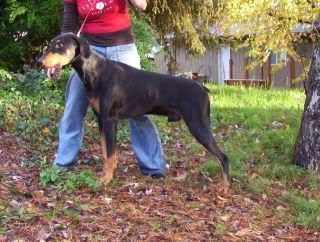 Joe Black is a great member of the Julian Family and has shown us great depths of loyalty, protection and love. He is very intelligent (to a fault it seems sometimes) and has a tempermant which is standard to the Dobe.
Picture courtesy Erickson Estate Dobermans
Killian Dobermans now Nevre'stra Dobermans is owned by Nikole and Brian Julian in Portland, Oregon
If interested in using Joe Black as a stud, please contact Nikole at annolyn@yahoo.com
Bitches must be vWD tested, clear of the white factor, in good health, current on vaccines, and have a current Brucella Canis test.
Certified Pedigree must also accompany proof of health testing and vaccines.
Copies of Joe Black's pedigree and health test are available upon request
Doberman Links
About Us
Joe's sister (extensive work on pedigree)
OFA
For Ear Cropping
White Dobermans
Health Concerns