Letter's From Our Wonderful Shih Tzu Families

And Our Friends




Lisa,

Steve and I wanted to"Thank You" so much for our new beautiful addition to our family, our dark chocolate baby girl, Coco. She is such a beautiful and sweet baby girl, full of love, energy, personality and kisses.

We truly appreciate all that you have done for us during the process of adopting Coco including daily emails, answering all our questions, sending a whole bunch of photos of her so we can see her grow, and giving us daily updates on how she was doing.

You are such a sweet, and honest person, who truly cares and loves your family, and all of your fur-babies. It is very apparent that you truly care about and have a great love for all of your shihtzus, who by the way are just adorable! :)

We love our baby girl, Coco, and she loves her new home, her brothers and sisters and mommy and daddy! :)

Thanks again for being such a true caring, honest, and kind person! You have made our first experience, at adopting our baby from the internet a memorable experience. :)

Thanks again Lisa! We will be in touch! Can't wait to visit you again in the near future!



Steve & Anita Rodgers




I just got a little shih tzu boy from Lisa and I am very impressed with "Teddy" and how well socialized he is. He is SO smart, and very cuddly and such and easy going little guy:-) He is so adorable I just wanna kiss his little smushy face..hehe.. Working with Lisa was (and still is) a pure pleasure. She is wonderful to chat with on the phone and I think I have found a friend in Lisa. I want to thank you for this wonderful little ball of fur and for getting him to us safely... .. .. If you are considering one of her puppies, do not hesitate.. And feel free to contact me for more information referring to my experience with Lisa...



Karla




A Wonderful day after Christmas!!!!

I had been looking for a perfect puppy for my family. I had been looking and came across a puppy bred by Lisa Chappel her name is Noel.I liked her picture and thought she was the ultimate cutie!! I emailed Lisa Christmas night and heard from her via telephone the very next morning.Lisa explained to me how to get a deposit to her and we planned on meeting on Friday so that I could pick up Noel.Due to medical problems my son has, it is hard for to get away.The babysitter called and told me she was sick and could not come Friday so I could go pick up Noel.I was very upset and told my friend about my bad luck.My friend offered to watch the kids if I could pick up Noel that very night! I contacted Lisa and she made arrangements for me to pick Noel up!Lisa was awesome in every way!We now have Noel and she is precious,loving and very sweet! She is beautiful.This has been a Merry Christmas after all thanks very much to Lisa Chappel.Thanks a million Lisa!



Hope Kady




I Am Louise. I live in Northeastern Ohio. I adopted a puppy,Holly, from Lisa on Jan. 13, 2008. When we decided to bring another Shih Tzu puppy to our home, I begin searching on Internet. Like everyone else, I wanted to find a healthy puppy from a reliable breeder. I searched quite a while, until I found Lisa's website. Not only is her website is well designed, the information she gives is also very detailed. After I emailed her, she called me back quickly. We had a good conversation. She is very nice and encourages you to ask questions. We drove Holly home to Ohio. On this four and a half hour trip, Holly did amazingly well. Lisa socialized her puppies at an early age, so Holly fit in very well at her new home. She is a happy and healthy baby. She has a great temperament. Since Lisa had begin training Holly in her home, we found Holly's house breaking is much easier. Considering the time and effort we are saving from her training, a few hours of driving is well invested. Lisa is a very professional and reliable Shih Tzu breeder. If we want another puppy in the future, Lisa's puppies will definitely be our first choice






WOW! We are so excited with our new puppy Toby!


I know that shihtzus are known to be a great breed of dogs,

which I agree with from experience,

but our Toby is the best beyond belief!

I truly believe that it has to do with where he came from!



We lost our family shihtzu max recently and then I found myself on the Internet

"just looking" at puppies so when we were ready again, I would know exactly where to go!

Lucky for us we came across foreverlovedshihtzus web site!

I don't know how I got there but I did!!! Never did anything like this before!

I was a little scared at first because you really don't know

what to expect on line and out of state as we are from New Jersey!

Lisa was great about getting right back to me,

showing me pictures and explaining exactly what I should expect!

We Decided not to wait and go ahead and buy a puppy!



To make a long story short - we received our puppy safely by airplane!

Its as if he's been here forever

~adjusted very well! (already crate trained!!!!)

He really is perfect! now everywhere I go,

people are asking where I got him from!!

Then when I tell them ~ no one believes me!

I I think, for me and my family,

part of the fun was waiting and watching him grow via internet,

then preparing for his arrival!

Cannot brag enough about Lisa and her shihtzu family!

Even long distance , you could just tell she is a great breeder!

Cares about every puppy that she raises!

I honestly didn't have a doubt in my mind

from day one that this wasn't right!

I felt as if I knew Lisa for a long time

and she knew exactly what we needed and wanted!



Toby is just perfect!

I would recommend Lisa and her website to anyone - even to people who don't ask ~

I tell them anyway!


Thank you so much ~Maureen from New Jersey


~March 11,2008~
Treasure weighs 1.5 lbs & is bouncy, healthy & happy....
She truly is a "Treasure"... She is perfect in every way.
Her temperament, personality & looks are all PERFECT...

She is sweet, gives U kisses all the time, is playful & hops around like a little kangaroo.
She snuggles under my chin at night & I swear never moves.
She sleeps thru the night & wakes U up with kisses in the morning.

I feel so blessed to have her in my life... She is such a joy & makes me smile just to watch her... And if that wasn't enough, she has the sweetest face...
Her little liver nose & beautiful green eyes are just gorgeous!
I thank U SO MUCH for trusting me with this little angel.

U do a stellar job in breeding your animals
to have produced such exceptional quality in both temperament & looks...
I have told everyone I know about U & how wonderful I think U R.
I have dealt with many breeders in my 30 years of Shih Tzu's & I am glad I found U!

Many Thanks from a very grateful lady who U have brought
countless hours of joy with this little dog...

She truly is EXCEPTIONAL in EVERY WAY!!!

I will always B grateful for the blessing of this little angel...



Hugs, Shay~


February 28,2008
Lisa, everything is great here and Winnie (her new name) is WONDERFUL. We are so crazy about this precious little girl. We have absolutely spoiled her to death. She's such a good puppy, she still hasn't gotten the whole house training thing down yet, but she's close. She just loves to cuddle and play. She weighs five and a half pounds now and her coat is long and so shining



Thanks so much,

Angie and Bethany


March 13,2008
Little Miss Emily





I purchased my sweet little Emily from Lisa last November. Lisa is a great breeder! I put a deposit down on Emily and Lisa sent me updated pictures of her every week up until she was shipped to me. Lisa was very helpful and willing to answer any questions I had. When I picked my new puppy up she was very well socialized, she was very clean, and her tail was wagging I could tell right away she was well taken care of. Thanks again Lisa for our sweet little girl!


Chiree


March 27,2008

Hi Lisa,

I hope you got the pictures I sent. Cammie is our spoiled baby now. She was more fun than the kids at easter. She found all the eggs and pushed them around the hardwood floor for hours. She has really completed our family. We could not have asked for anything more. She is absolutely perfect. I must admit that she is spoiled, but it is hard not to with a face like that. She sleeps with me or the boys, and goes just about everywhere with us. She loves all people and everyone that sees her loves her too.
The teachers at my sons' school get mad if I don't bring her to pick them up.

She is so easy to train and has the best temperment of all the shih tzus I have every had. She loves to play, but also listens when it is bedtime. She also seems to sense when my baby nephew is around and is more carefull with him. Even when he plays in her food she just wags that tail. She is so happy that I think she is going to wag that tail right off. I certainly hope you know just how much love you have brought into our home. Words aren't enough to say how thankful we are for you. Please know that we cherish her and thank you and your family for all the love you gave her before she came into our lives. Breeders like you are a blessing.


Elizabeth





4/15/08 Bijou & Mocha - 8 weeks old today! 2.1 pounds each!






We just got our adorable little girls from Lisa on April 8th.

We found Lisa's website and we called her up right away when we saw that she had two puppies left that were exactly the kind we were looking for.

Lisa was very gracious - she answered all of our questions in detail

and was extremely helpful....and she e-mailed us beautiful pictures of the puppies.

Lisa was even more gracious when we asked if we could come by to see the puppies

4 days earlier than we had arranged with her!

We really had no idea that we were going to come back with BOTH puppies...but when we saw both of them, it was clear that we couldn't split them up! Both were so adorable and they jumped in our laps the minute we sat down! It was also great that we got to meet the pups' Mom and Dad, Chloe and Indy. Bijou and Mocha were both wonderful on the almost two hour trip back home and they slept through that first night without a peep!

Lisa has done a great job crate-training them and they are very happy, socialized puppies.

If you're looking for a great breeder - look no further!

Lisa is the type of breeder who really cares about where her puppies are going.

She keeps in touch via e-mail with us and answers any questions that we still have.

Lisa, thanks so much for our babies! We love them so much!



Candice and Jason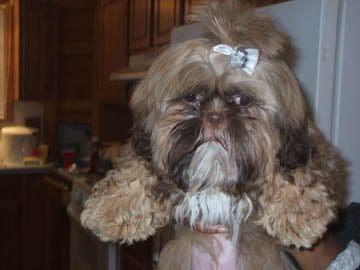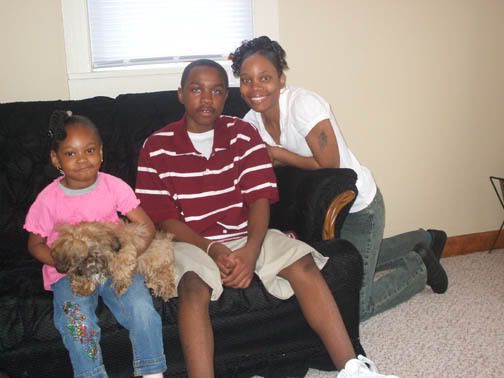 June 6,2008

Hi, I just wanted to take a moment to thank you Lisa for providing me and my children with a beautiful, sweet puppy. I had never owned a pet before ever, so I was kind of nervous about getting one! I was also a little skeptical about purchasing a puppy from online. But you turned out to be a wonderful person who obviously cares a great deal about all of the puppies. You were even kind enough to meet us at an airport. I'm glad I decided to purchase (adopt) our little Starr from you because you're very honest and made me feel at ease. If anyone is thinking of getting a new addition to their family, I say go with Lisa and you can't go wrong. Starr is very sweet and loving and extremely playful. :) She loves everyone she meets. I included a picture here of Starr after being shaved at the groomers (I had tried grooming her myself sometimes which was fine when her hair was shorter but the longer the hair got, the harder it became and she ended up with a few matted areas). Hopefully it will grow back soon. :) But I think she looks adorable this way. Anyway, thanks Lisa for a great dog!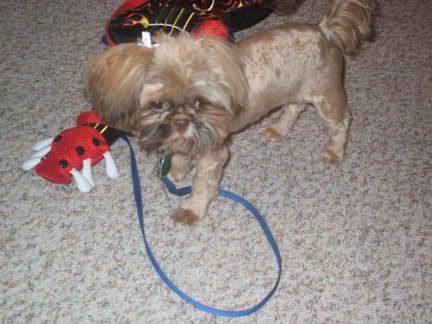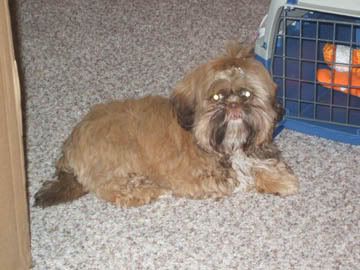 June 10,2008

Today I was blessed with the most precious picture from the Frantz Family

~Thank you so much for thinking of us~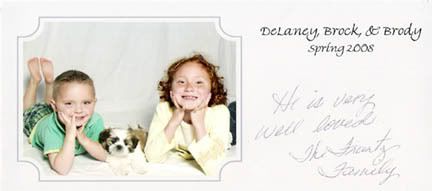 August 1st 2008



Hi Lisa,

Back in November '07, we purchased "Sugarbaby" from you. She was a birthday gift for my daughter and I and we just wanted to send you a brief update on her.

We've attached a picture for you to see. Shortly after this picture, she had her first official haircut.

We renamed her Chloe and couldn't be more proud of her! She is the best potty-trained dog we've owned. She is loving, gentle and makes us laugh everyday. A few of our favorite things about her are the way that she cocks her head when you talk to her and the cute little noise that she makes when she wants to play. We adore her!

Thank you for sharing your passion for shih tzus, for taking time to care for each little puppy and for allowing us to have such a good time being "parents" to Chloe.






Laurie, Tom, Kristin and Kimberlyn Brown

September 15,2008


Kayla and her new baby girl Bella
September 17th,2008

My family and I purchased a puppy from Lisa this past Monday
We were afraid to adopt a puppy through the internet, but Lisa Chappel has put that fear to rest.
She was very helpful and caring through our adoption process.
All her pups are provided with lots of love and care before being placed in new homes.
We love our new puppy Bella so much we wouldn't change anything, she was well worth everything.
We would highly recommend her services.

Thanks Lisa for providing us with a loving puppy and making our daughter's dreams come true.

Love,
Danielle, Sullivan, and Kayla







September 23, 2008







Lisa, I am happy to let you know that we think we got the perfect little puppy.
He is a wonderful addition to our family
and I don't think we could have gotten a more perfect fit for our family then him.
We can really tell that he came from a great place before he became a part of our family.
He has been a really good boy and I sometimes worry about him because he lets the boys do what ever they want.
They love to hold him and we watch them really close so they are careful with him.








Matt & Stacy






September 21,2008






kelsey really likes the puppy, as soon as she came in and she seen lana
she said, aww mom you got me a puppy and picked her up and started talking to her :-)








October 1st,2008

I was looking for a puppy for awhile for my daughter and I have seen Lisaís puppy and they were all so precious.
I had emailed her a few times and reviewing all her puppies, I have found the whole that was calling me.
I viewed several pictures Lisa had posted of my Lana and I just knew I had to have her.
Lisa was very helpful with all the questions I had and is knowledgeable with what she does.
I also liked that Lana was already crate trained and paper trained.
Lisaís puppies are also very sociable and children friendly.

My daughter fell in love with her and Lana is doing great.
I have seen all of Lisaís adult dogs and likes the set up she has for them.
I will recommend any and all that ask about Lisaís puppies.
She is very honest and truly cares about your furry companions.
Lana is spoiled rotten and is getting use to the tutu we have been putting on her.
Kelsey likes to change her clothes and it is a baby.
Lana is adjusting well to our cat and our busy schedule and yes Lana is taken with us almost everywhere we go.
Thank you so much Lisa for allowing our family to expand with one of your precious puppies.


Michelle








March 1st,2009

Hello Lisa

I wanted to Thank You For My new Babies
Max who is almost 7 month's old and our new addition Sheba who is 10 week's old.
I am so happy with them I had talked to a lot of people before
choosing to adopt my babies from Chappel's Forever Loved Shih Tzu's.
I had heard stories of peoples homes being filled with fleas and plain nasty.
When I arrived at the Chappel's home it was clean no fleas you could not even tell she had pet's. My loving babies were loved and cared for.
It was a nice loving home my babies where in Excellent health.
We had Max for four months and realized we should have gotten 2 Babies he needed company outside us.
It was a hard adjustment for Max at first to adjust to MS Sheba but now they are inseperable.
I would reccoment Chappel's Forever Loved Shih Tzu's to everyone and I have to everyone who has wanted to keep my Beautiful babies.

Thank You again Lisa for my Lovely Babies and keep up the good work.






De'Shawn





November 20,2008


We picked up Geno back in September and he has been the light of our lives ever since.
Lisa took very good care of him and he was pretty much housebroken since day one.
He is a very pleasant little boy who has stolen everyones hearts!!!
We couldn't ask for anything more.
Lisa is a wonderful breeder who is always there if you have any questions, day or night, by phone or email.
Thanks Lisa for giving my husband and I more joy than we could have wished for!!


Barbara





January 3,2009


Got our boy from Lisa...


We were lucky enough to run across Lisa and her lovely dogs when we were searching to add an adult male to our home for future breeding with our girls. Lisa not only had a lovely friendly well behaved well proven male but she was able to match his pedigree to our girls for the best future litters. We now have wonderful Charlie, he's a 3 yr old Liver, great tail set, good bite, nice head, good conformation.
We are excited to have him as our new sire.
Lisa was easy to work with and was nice enough to meet us half way so we didn't have to make a 6 hour round trip car ride


Thank You Lisa, from Alex and her girls, Shadow and Ruby






March 8,2009


Dear Prospective Buyers,

I am a small out of state breeder that has recently purchased a dog from Lisa. Buying a dog over the internet and out of state is a really scary thing but rest assured you will find that buying a puppy from Lisa is a great experience. Lisa always responds to phone calls or emails right away and is willing to answer as many questions you may have before and after you get your puppy. Lisa will also share with you as many photos as she has of your new puppy and it is so fun to watch them grow up! I purchased a young adult from Lisa and she has obviously been spoiled and loved by Lisa's family. Her tail is always wagging and she is a happy wonderful girl. When it came time to fly her the cost was going to be higher than we had discussed because the airline Lisa normally uses only VIP to the airport close to me. Lisa paid for this extra expense herself to ensure that "Honey would have the shortest time flying and the easiest flight possible. She called immediately to make sure she arrived safe and sound, Lisa is someone who truly loves and cares for her dogs. I would not hesitate to purchase from her again.


Thanks again Lisa!
Kim De Lano





April 2,2009

Hi Lisa!

I have been meaning to email you about my sweet little boys, but it seems like something always manages to distract me!

I want to thank you for making the experience of adopting my first shih tzus such a positive one! I could not be happier than I am every time Jack gives me his belly or Teddy licks my face. There is no therapy in the world like that!

I decided that since both boys have such amazing personalities and laid back temperaments to begin using them as therapy dogs. They have been to a nursing home a couple of times in the past month and have done such an amazing job. You should be very proud of both of them and yourself for giving the world 2 gracious and amazing spirits in my boys. I have the coolest little dogs in the world!

xo Tanya




July 23,2009


I purchased my baby girl Kookie from Lisa Chappel. I wanted to say I could not be more than happy with her.
Her pictures did not do her justice. She was more beautiful when I meet her in person.
She came to me in excellent health. My vet was pleased with her and had to take her around to show her off.
She adjusted very well into our family. She came to us already potty trained. She sleeps with us at night with no accidents
She lets us know when she needs to potty. She is such a smart puppy.
She is a very sweet and loving lil girl. We love her soo much.
Thank you Lisa for new baby Doll Kookie.


Sharon




August 7,2009


Hi Lisa,

Gypsy is so very friendly, happy and just plain full of cuddles!

I am so very pleased with her training but also the way you have raised her with your children and the other puppies in your home which gives her such a character. She is so SWEET!

Gypsy is a joy to own and so energenic - a delight and and a charmer. - I really love her.

To buy a puppy from Lisa guarantees a quality puppy and a real treasure.

Thanks so much for my wee Angel!

Blessings, Shirley






August 5,2009


Hi Lisa,

I hope you are having a good summer! I just wanted to let you know how much we love Kookie. She is a MESS!! I weighed her a few weeks ago, and she weighs about 4 lbs. She has the cutest face! I put her hair up on Monday and this is the only picture she would allow me to take. She was too busy trying to get the bow out of her hair.
Holly





September 2, 2010




Dear Lisa!

Thanks so much for our wonderful 'Lil Boss! He is everything we expected him to be and more!

He is so much wrapped up in a tiny package! He struts around w/ the 'big kids' (older shih tzu) just as if he has always been here! AND he already knows who his girl friend is! AND a couple of others HE has taking a liking to LOL ;)

Lisa has been wonderful to work with. Always answered every e-mail quickly and I would always get my questions answered! AND when it looked as if (through situations here at home) we were not going to be able to get our 'Lil Boss, she had a solution that would work perfectly! Thanks so much Lisa for going above and beyond!

'Lil Boss had his vet check and was very healthy! He is well socialized and plays well with all the other kids . . . and humans seem to get along w/ him too! LOL! He gets along w/ everyone! You can tell he has been around children and that Lisa has done a wonderful job w/ her babies!

He is using his 'piddle pad'! Yeah!
He is quite the 'lover & snuggler'!

I will continue to keep my eyes on Lisa's website for future pups for our small home breeding program. They are adorable!

Thanks again Lisa!

Your friends @ Goochie's Poochies Shih Tzu!

Lori & Kevin Gooch




September 4, 2010






Thank you Lisa and family for all the love and great care put into your puppies.

Gracie and Hannah are happy healthy social puppies and very loving puppies with lots of kisses anf waggly tails.

Lisa does a wonderful job in preparing her babies for life in their new homes.

Not only are they beautiful but lively and smart they adjusted to their new home with us quickly.

Thank you Lisa





December 6, 2010






Hi Lisa,

Just a short note to say Hi. When we got home we changed Tartís name to Piper. She is the most amazing little dog. She is the joy of my life.

She hasnít grown very much, she is still very small. She has so much attitude for such a little girl. She loves to play with her toys.

She has been a very busy little traveler. We took her to Florida with us in late October to a motorcycle rally. She was the hit of the campground. We have a new 5th wheel toy hauler, and I didnít know how she would handle the new surroundings, but in about a day she was ruling the roost. There were several older people at the campground and of course lots of bikers. She was buddies with EVERYONE. By the time we left she had about 10 presents of Harley Davidson collars, coats, hats and goggles.

She has also been to Louisiana to visit my grandsons. They loved her and boy did she have a ball with them. She is the happiest little girl and loves everyone. I canít go to neighbors without her.
My neighbor and I watch your website for new babies all the time. She says she would live to have one of your puppies.

Hope you and your family have a very Merry Christmas. I will continue to spoil her rotten.





Pattie Patterson


Update On Piper-June 17,2011





Hi Lisa,

Just a quick note and picture of Piper. She is the best little dog we have ever had. She has so much personality we just adore her. I recently had to travel out of the country and Mark was out of the country as well so we had to find a sitter for her. We had 3 neighbors wanting her. They all decided to share her. By the time I got back she was so spoiled it was sad. Apparently, she never lacked for attention because if she is not the center of attention she will cry until you hold her. As you can see she has really creamed out. She still has the cutest little liver nose and gorgeous light brown eyes. Thought I would share with you.

Pattie Patterson




January 27,2011

Hi Lisa,

I just wanted to drop you a note to tell you how much I absolutely love Joey from you litter with Black Jack and Annie.

He's the best little dog and has given me so much pleasure that sometimes when I look at him I just want to burst. He goes most everywhere with me except to work and the grocery store! I thought I'd send you some pictures to update you on one of your 2 1/2 year olds.

Hope everything is going well with you and your family.





Stephanie




February 22,2011

Hi Lisa,

I just wanted to let you know Gizmo has adjusted very well to our family, last Monday he had his first vet appointment and everything checked out fine, he was 3lbs. 1oz.

Our Riley has taken over the "fatherly" roll. They play, eat and sleep together and we find Riley will clean Gizmo daily. Within these two short weeks we see Gizmo following Rileys leads. They are a great match, and we love him dearly. We took our pups up to our daughters in Sault Saint Marie this week-end and he loved playing with our grandchildren.

Thanks again,
Cindi

June 13, 2011

Hi Lisa,

Hope your doing well. My name is Sophia. I purchase one of your Liver / Chocolate Shish Tzu puppies last year in September 2011. I want to stay in touch with you to let you know how Mylie, now known as Sophie is doing. My husband and I well let me rephrase that, my entire family spoils her. She is our little girl. She has the best personality, and she is ultra sweet & loveable. The last time she was at the veterinary, which was around April she just was weighting in at 6 lbs so, Iím thinking sheís close to 7 lbs now.

Iíve been feeding Pro Plan and a little chicken breast in the evenings. She is such a social eater, only eating when someone is in the kitchen with her. My only regret is that, I should have purchase one of her sisters. Hereís a picture of our little beauty queen and two are attached above. Thank you again for allowing us, to purchase Mylie/Sophie from you.

We just love her and we receive so many compliments on how beautiful she isÖ..





May 16,2012


We have adopted two adult retired Shih Tzus from Lisa, and also just purchased a puppy.
She is wonderful to deal with and knows everything about the breed.
We have had nothing but great experiences with her. Indy Ellie and our new baby (not sure on the name yet) are the best companions ever.....I highly recommend!