The Best Place in the World for quality products and service.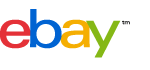 eBay Online Auctions
Crabtree & Dean Online entered the global market via the internet in 2006. Historically, business has been done either by store front businesses or by direct marketing. Recognizing the advent of the online auction house, and the powerful marketing concepts involved in direct marketing, we decided to select eBay as our online outlet to market merchandise at affordable costs to the consumer.
The online auction giant eBay has proven itself as a reliable outlet for both individuals and businesses alike to sell and purchase various merchandise. eBay has people who do business from all over the world, from all walks of life, and with diverse interests. Whether you want to buy or sell baseball cards, computers, dolls, or even automobile parts, eBay has become the leader in online auctioning. This is why Crabtree & Dean Online selected eBay as its auctioning outlet.
We hope that you, the customer, enjoy the quality of our products and the reliability of our services. Feel free to venture our website to see if there is anything you like. And be sure to visit our partner stores.