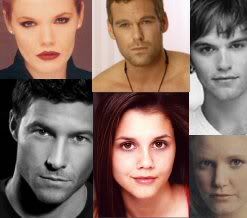 Welcome to Planet As The World Turns!
A picture site dedicated to actors and former actors of the Soap Opera As The World Turns (CBS)
Stay Tuned for Lay Out changes
For now, check out the photoalbums:








Today's updates:

Current Stars: Marie Wilson *new*, Ellen Dolan *updated*, Maura West *updated*, Alexandra Chando *updated*, Cassidy Hinkle *new*, Kelley Hensley *updated*

Past Stars: Peyton List *updated*, Lesli Kay *Link to website*, Cady McClain *updated*, Hunt Block *new*

Banners



Note that for the Former ATWT actors I only make albums for the, in my opinion, most memorable ones. If you feel you miss a photoalbum for your favorite past star, please email me at the address provided below.



Email the webmistress HERE


Sign the guestbook here!