Schnellzeichner - Portraitist - Karikaturist für Ihre Veranstaltung!
GAGE: bis 150 Euro pro Stunde (inkl MwSt) für kurzfristige Auftritte
und bis 100 Euro für jede Extrastunde nach 3 Stunden Arbeitszeit
Live & nach Foto: Portraits, Karikaturen und Schnellzeichnung!
GESCHWINDIGKEIT: Schnellkarikatur ab 4-8 Minuten pro Person

Kontakt: amelkin@gmx.de
Handy: +49(163)3004481
Webseite: amelkin.de
Lassen Sie sich von dem professionellen Schnellzeichner,
Portraitist und Karikaturist Alexander Amelkin
charmant und gekonnt auf Papier verwirklichen.
In nur wenigen Minuten entsteht von Ihnen
ein ganz individuelles Kunstwerk -
"Portrait der inneren Schönheit".
FORMING OF CONTROLLED LIVING MICROENVIRONMENTS
An Effect of Aeroionized and Ozonized Media upon Food Substances and Agricultural Raw Materials
http://www.scs-europe.net/services/esm2003/PDF/BM-01.pdf
Abstract of research on effects of aeroionized and ozonized media and of other external factors upon metabolic processes of aerobic organisms
(both procaryote and eukaryote)
((c) SCS Europe BVBA, 2003)
The purpose of the present work is to work out an approach for the development of software and the choice of hardware structures when designing subsystems for automatic control of technological processes realized in living objects containing limited space (microenvironment).
The subsystems for automatic control of the microenvironment (SACME) under development use the Devices for Air Prophylactic Treatment, Aeroionization, and Purification (DAPTAP) as execution units for increasing the level of safety and quality of agricultural raw material and foodstuffs, for reducing the losses of agricultural produce during storage and cultivation, as well as for intensifying the processes of activation of agricultural produce and industrial microorganisms. A set of interconnected SACMEs works within the framework of a general microenvironmental system (MES). In this research, the population of baker's yeast is chosen as a basic object of control under the industrial fed-batch cultivation in a bubbling bioreactor.
This project is an example of a minimum cost automation approach. The microenvironment optimal control problem for baker's yeast cultivation is reduced from a profit maximum to the maximization of overall yield by the reason that the material flow-oriented specific cost correlates closely with the reciprocal value of the overall yield. Implementation of the project partially solves a local sustainability problem and supports a balance of microeconomical, microecological and microsocial systems within a technological subsystem realized in a microenvironment maintaining an optimal value of economical criterion (e.g. minimum material, flow-oriented specific cost) and ensuring:
(a) economical growth (profit increase, raw material saving);

(b) high security, safety and quality of agricultural raw material during storage process and of food produce during a technological process; elimination of the contact of gaseous harmful substances with a subproduct during various technological stages;

(c) improvement of labor conditions for industrial personnel from an ecological point of view (positive effect of air aeroionization and purification on human organism promoting strengthened health and an increase in life duration, pulverulent and gaseous chemical and biological impurity removal).


An alternative aspect of a controlled living microenvironment forming is considered.
Keywords: aeroionizer; agricultural raw materials; agriculture; air purifier; baker's yeast; barley; environmental engineering; feed and aeration rates; feedback control system; food processing; material flow-oriented specific cost; mathematical model; microenvironment; overall yield
SOLODARBIETUNG "AGNES" oder "DAS GEHEIMNIS VON SCHLOSS BLUTENBURG"
im Rahmen des Festjahres "1200 Jahre Menzing"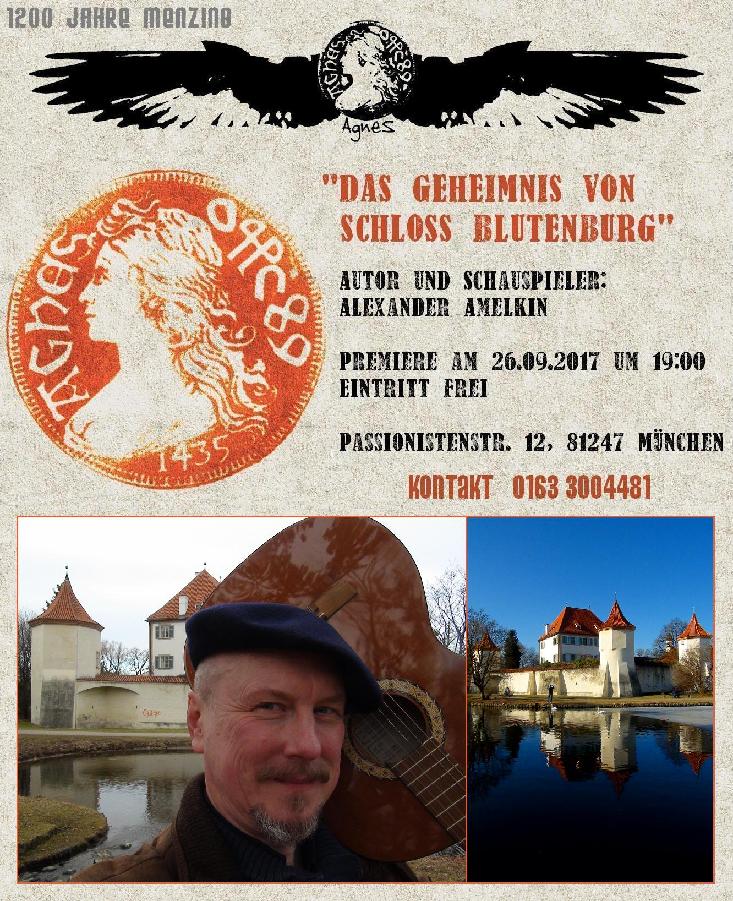 Autor, Regisseur, Bühnenbildner, Schauspieler, Portraitist und Komponist:
Alexander Amelkin
Co-Autoren:
Jörg Hahn
,
Anna Neumann
und
Albert Zwilling
Musik- und Gesangscoach:
Cornelia Kreitmeier
DAS IDEALE GESCHENK - PORTRAIT ODER KARIKATUR
Wenn Sie ein Portrait / eine Karikatur verschenken möchten,
bestellen Sie bitte rechtzeitig: das heißt 3-4 Wochen vorher!
Eilaufträge werden - je nach Dringlichkeit - mit einem Aufschlag von 10-50% berechnet.

Ihre BESTELLUNG ist per Post, E-mail, Telefon und Handy möglich!

Anschrift: Alexander Amelkin, Postfach 60 01 16, 81201 München, Deutschland
Tel.: 089 / 82 000 908
Tel.-2: 089 / 420 365 75
Handy: 0163 / 300 44 81 (Telekom)
E-mail: amelkin@gmx.de
Webseite-1:
http://schnellzeichner-karikaturist.com
Webseite-2:
http://www.duo-amelkin.de
Webseite-3:
http://www.spassportraet.de
Webseite-4:
http://www.feericci.de
Twitter:
http://twitter.com/spassportraet
XING:
http://xing.com/profile/Alexander_Amelkin
YouTube:
http://www.youtube.com/user/amelkin
LiveJournal:
http://amelkin.livejournal.com
WordPress:
https://amelkin.wordpress.com
Blogger:
http://schnellzeichner-amelkin.blogspot.de